A thoughtful exploration of the public sector jobs crisis in Italy, exacerbated by the pandemic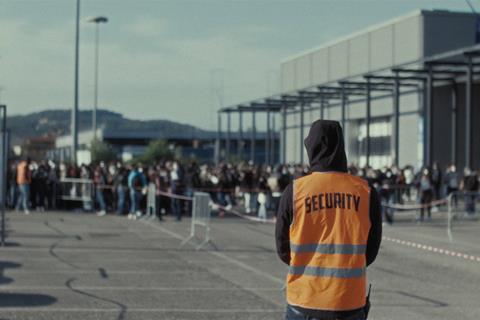 Dirs: Mattia Colombo, Gianluca Matarrese. Italy/France. 2022. 76 mins.
This engaging documentary borrows its Italian title from Ermanno Olmi's Il posto (The Job), a neo-realist drama from 1961 that shone a bleak light on one poor young Italian's search for a 'job for life'. That is also the underlying theme of A Steady Job – the difference being that it's a documentary about thousands of poor young and not-so-young Italians' search for a job that will last for – if all goes well – six months.
The odds are stacked high against them: there can be as many as 15,000 applicants for 120 places, one candidate reveals.
On the one hand, this revealing documentary sheds light on a phenomenon most viewers will absorb with a mixture of fascination and horror: the mass examinations, often held in sports arenas, that aspiring nurses – and all others searching for public sector work – are required to pass in Italy in order to land the steady job of the title. On the other, it is a thoughtful and sometimes dreamlike odyssey that shows how seemingly unbridgeable the gulf is between the country's prosperous north (where exams for the most coveted positions take place) and its underdeveloped south (where a large proportion of the applicants live).
It is the sapient blend of these two strands that gives A Steady Job its audience appeal, despite a pared-back storyline centred on two return coach trips, each with an exam in the middle, that makes the film's 76-minute running time feel almost generous. Debuting at Visions du Reel before heading to Hot Docs, this warm and intriguing road-doc is sure to score more festival action and could potentially tempt a few speciality or even mainstream streaming services.
This is the two directors' first collaboration. Matarrese has been most prolific recently: his BDSM-themed La derniere seance (The Last Chapter) closed Venice Critics Week last year and won the Queer Lion, while his fashion-world documentary, Fashion Babylon, was recently unveiled at CPH:DOX.
When it picked up two in-progress awards at Thessaloniki's Agora Doc Market in March 2020, part of the film had already been shot. But the pandemic that had just exploded when it won those prizes would go on to play a major part in the finished documentary. Opening images juxtapose a hall where rows of conference chairs stretch into the far distance, with a coach driver washing down his bus at night. The edit is soon explained in a series of captions that fill us in on southern Italy's unemployment problem (one in two young adults don't have jobs) and the exploitation and risible pay rates that face many of those who do work. Even the public health sector, we are told, fails to offer anything like job security these days – but still, it is enough of a pull to persuade thousands of qualified southern nurses to sit for the exams in central and northern Italy (where pay rates and conditions are better). The odds are stacked high against them: there can be as many as 15,000 applicants for 120 places, one candidate reveals.
Naturally, these supplicants first need to get to the exam venue while spending as little money on the trip as possible. And here the filmmakers play an ace card, in the form of Raffaele – a trained nurse from the town of Cava de' Tirreni, south of Naples, who, while trying and failing to get a coveted place in a public hospital had a bright idea: why not set up a transport company to bus the hundreds of others like him to and from the exam venues overnight, so they don't need to pay for accommodation?
Far from a smooth-talking entrepreneur, Raffaele turns out to be a stressed small businessman running a company on the thinnest of margins, subject to bouts of melancholy that intensify when the pandemic hits. All in-person public service exams are cancelled, and his business threatens to tank – just as the demand for nurses is surging. His co-star is Peppe, the scrawny driver who becomes a father figure to those he ferries to and from their appointments with destiny, asking solicitously about how the exam went, dispensing words of comfort. He and Raffaele reminisce about the far-off golden days when 12 buses were chartered just for one exam in Genoa.
The supporting cast is made up of those who take the journey. A Steady Job takes two round trips – one in September 2018 and the second two years later – and splinters them into impressionistic fragments, evoking in the process a pilgrimage that has been going on for well over a century, the northwards drift of southern Italians who are searching for a better life. Never seemingly conscious of the camera, the passengers exchange cautionary tales of life in private nursing, where contract-less carers can be asked to work for as little as two euros an hour. From a night journey that is made more eerie and evocative by shots of lorry sidelights blurring into dashes like tracer fire, and by electronic artist Cantautoma's spacey ambient soundtrack, these supplicants are decanted into the dazzling daylight or neon flicker of huge sports arenas and trade fair complexes, where Orwellian clocks count down the time remaining. Yet it is the sensitivity and solidarity with which they bond and hold on to the things that matter – family, love, food – that is this heartfelt documentary's most salient message.
Production company: Altara Films, Bocalupo Films
Inernational sales: Amarena Film, info@amarenafilm.it
Producer: Giovanni Donfrancesco
Cinematography: Jacopo Loiodice
Editing: Valentina Cicogna, Giorgia Villa,
Music: Cantautoma