Dir. Neasa Ni Chianain. Ireland/Spain, 2016, 99 mins.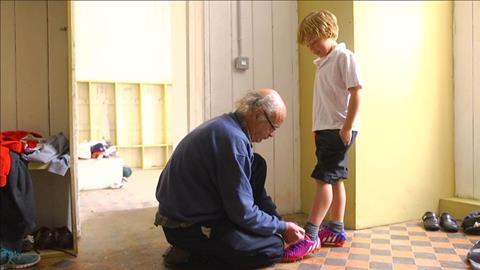 Neasa Ní Chianáin's documentary In Loco Parentis visits a highly unusual Irish prep school which boards local and international children from the bracingly tender age of 7 and sees them off the rambling Georgian house and grounds at the age of 12, again in tears.
Childhood is a mystery we endlessly come back to and a place the Leydens have never fully left
Everything in and about this film is eccentric, old-fashioned, charmingly anachronistic – although with education so politicised and private schooling so polemical, viewers will dip in and out of In Loco Parentis with a range of reactions. Without doubt, though, in the ageing and endearingly oddball teachers John and Amanda Leyden, who met and married in Headfort School in Kells more than 45 years ago, all viewers will recognise a beloved figure from their own school years.
Neasa Ní Chianáin's remarkable level of access – including scenes shot inside the dorms - is unusual and will help In Loco Parentis stand out in the marketplace. Much of what transpires between pupil and teacher, especially at this age, is out of bounds to the adult world and her portrait of the alluringly ramshackle Headfort is surprisingly intimate and frank, a result of two years spent in situ and an open-minded head, Dermot Dix (who was himself taught by the Leydens).
Ní Chianáin's lens is also steadfastly non-judgmental, which should win over broadcast audiences for In Loco Parentis – perhaps those who followed the privileged children of Harrow: A Very British School, although this is a much more tender-hearted portrait of two people who have devoted their lives to caring for young children in and out of the classroom.
Ní Chianáin's camera beds down at the start of the school year with the ageing, wild-haired Latin master John Leyden and his wife Amanda, who literally wears hearts on her sleeve in a colourful back-to-school jumper. (She also has an eyebrow piercing).
There are tears ("I'm not seeing my mum til half-term!"), and the Leydens initially seem quite eccentric in their approach to the job. "Bloody hell, you're high off the ground," says John to children swinging themselves around the forest with reckless abandon. This seems, frankly, like a Swallows & Amazons land – unacquainted with Health and Safety or political correctness – a feeling which intensifies when the camera visits John's grubby after-school den where he auditions for a band and art students create murals. (Amanda reads Enid Blyton with her children).
Eventually Ní Chianáin settles on a few youngsters to give her breezy narrative some bones: clever Eliza, who is the picture of mute misery; Ted, who is dyslexic and given to roaming the grounds by himself; and beautiful Florrie, who arrives half-way through the year. The Leydens, who live in a grace-and-favour cottage in the school grounds but would like to own their own home, are prone to taking cigarette breaks in which the improbably incisive Amanda helps the alarmingly kind John to cope with the children's needs. The fact they are special, in fact remarkable, people is highlighted during a school performance of Hamlet where Amanda's joy in Ted's success is so eloquently captured.
The first Irish doc to compete at IDFA, In Loco Parentis is also the second film about Irish boarding school life this year after the fictional Handsome Devil. While it's undeniably a small film, it's precisely made: music is subtle and sympathetic and there's a solid sense of time and place in sequences set on the foggy playing fields, the forest, or the cold stone halls. Childhood is a mystery we endlessly come back to and a place the Leydens have never fully left; Ní Chianáin gives the viewer an intimate view of it in this unusual little story.
Co-director/producer/sound: David Rane
Production companies: : Soilsiú Films, Grismedia
International sales: Soilsiú Films info@soilsiu.com
Cinematographer: Neasa Ni Chianain
Editor: Mirjam Strugalla
Sound design: Reto Stamm
Music: Eryck Abecassis