Dir. Eric Khoo. Hong Kong, Singapore. 2015.103mins.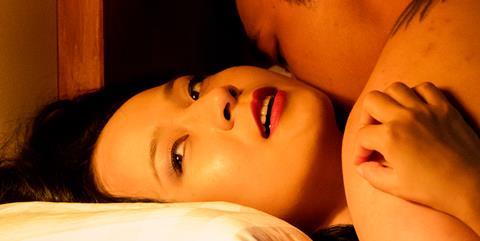 Singaporean director Eric Khoo tests the limits of his country's famously touchy censors with the erotically charged In The Room whose six main stories, and sundry lurid vignettes, are all linked by a location: room 27 of the once grand, now faded Hotel Singapura.
The tale of a Thai transsexual's last night before transitioning is an unexpectedly touching – and candid – high point
It's a neat idea: the passions and secrets that undress and unfold between these all-seeing walls leave traces that linger on through the decades that follow. But the film is hampered by a wildly uneven tone. At times, it plays out like a stridently melodramatic soft core version of The Red Violin. At others it's a riot of filthy camp, equipped with feather boas and, ahem, high velocity ping pong balls. And then to further confuse matters, it pillages a fair few horror movie tropes. Despite Khoo's reputation and the warm reception for his last feature, the well-liked animated homage to mangaka Yoshihiro Tatsumi, the film's prospects outside the festival circuit look slim.
It doesn't help that the opening segment, a too-crisp and pristine-looking black and white assignation between an English rubber agent (Daniel Jenkins) and his married male lover (Boon Pin Koh), is the most dramatically inert of the lot. This is the earliest tale in a series that unfolds chronologically; the backdrop is the 1942 Japanese invasion of Singapore. A stilted conversation over lots of unhappy clinking of ice cubes in whisky reveals that parting is inevitable and British colonialism has had its chips.
The tonal shift between this too-tastefully muted melodrama and the 60s-set segment that follows is stark. A formidable Madame (Josie Ho) offers to school a coterie of simpering working girls in 'the amazing power of the inner sanctum' - put crudely 'pussy power'. Colour-popping art direction, a whimsical cod-Latin score and a whole lot of montage make this a decidedly iffy section in this curate's egg of a picture.
A pivotal section is set on New Year's Eve, sometime in the late 60s. A local band are celebrating their chart success with groupies, champagne and pot so strong it leaves songwriter Damien (Ian Tan) clinging to the flock wallpaper for support. Damien is based on the late writer and musician Damien Sin, who wrote Khoo's breakthrough picture Mee Pok Man and to whom this film is dedicated. After a fleeting connection with a young hotel maid called Imrah (Nadia Ar), Damien dies of an overdose. His spirit remains in the room thereafter.
Whle Damien is obviously intended as a benign presence, there is something a little creepy about the way he regularly looms up behind Imrah , who continues to work in the hotel throughout subsequent stories, to cop the occasional grope from beyond the grave. Or indeed the supernatural sexual massage that he provides for non-orgasmic nympho Seo Yun (Kim Kkobbi) in a later section.
The sentimental score, full of twinkly piano and weepy strings, indulges and accentuates the worst histrionic impulses of the screenplay and performances. It's a bland veneer to material which, for the domestic market at least, tends towards the controversial: a segment about a married Japanese woman and her younger lover is almost entirely composed of photogenic sex; and the tale of a Thai transsexual's last night before transitioning is an unexpectedly touching – and candid – high point.
Production company: A Really Good Film Company Limited, Zhao Wei Films PTE Ltd
International sales: Distribution Workshop dw@distributionworkshop.com
Producers: Nansun Shi
Screenplay: Jonathan Lim, Andrew Hook
Cinematography: Brian Gothong Tang
Editor: Natalie Soh
Production design: Arthur Chua
Main cast: Josie Ho, Ian Tan, Woo Shik Choi, Khobbi Kim, Boon Pin Koh, Daniel Jenkins, Nishino Show