Dir. Ron Howard. US, 2016, 120 mins.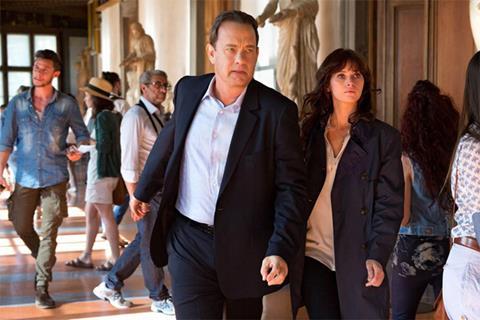 Tom Hanks wakes up in a hospital in Florence to find himself in the middle of the expertly-mounted Dan Brown thriller Inferno, Brian Grazer/Ron Howard's Renaissance-flavoured cinematic comfort food. As amnesia, paranoia, Dante and disease thread their way through its two-hour running time, Inferno is never in any real danger: confident hands, from Grazer and Howard through to screenwriter David Koepp, Hanks and a pleasingly international array of actors from Omar Sy to Sidse Babett Knudsen, Irrfan Khan and young Felicity Jones, dash urgently around Italian monuments to clue the viewer in.
With red herrings, feints and u-turns throughout, belief is not so much suspended as surrendered at gunpoint
The headline news is that religion has drained out of the series, which saw The Da Vinci Code take $750m worldwide for the same team a decade ago, dropping to $485m by sequel Angels And Demons in 2009. What's left is a boilerplate thriller plot in which a crazy billionaire (Ben Foster) sets out to kill half the world with a deadly virus. Two hours may seem excessive for such a routine scenario, but Brown/Koepp/Howard blow up a dense smokescreen as Hanks rushes around museums in Florence, Venice and Istanbul trying to decode an unnecessarily – but enjoyably – convoluted trail left by the madman.
There seems no reason why Inferno shouldn't set fire to the competition – Ben Affleck in The Accountant, Tom Cruise in Jack Reacher - just by preaching to the converted when it starts its worldwide rollout in the UK on October 14 through Sony. The film's casting is carefully calibrated to complement its high-art window-dressing (Dante! Botticelli!) and attract sophisticated international audiences, both young and old - possibly with the exception of Italy, which isn't awarded much respect as a custodian of its own artistic heritage.
The ever-dependable Hanks, now 60, resumes the role of Harvard professor and internationally renowned symbologist Dr Robert Langdon in Inferno. It's fair to say that he spends less time actually running in this chase thriller, but in all other respects, the decade since The Da Vinci Code has treated the actor kindly. While he's paired with Jones, as a brainy ER doctor working in Florence, for the purposes of hunting for clues, he has a back-story with the age-appropriate Knudsen, playing the head of the WHO task force chasing after the maniacal millionaire, while France's Omar Sy is her team-mate. Rounding out the cast is Irrfan Khan, who makes the most of his late-entry as the head of a shadowy security firm.
Howard and Grazer (this is billed as "A Brian Grazer production") know how to open a film; as Foster, playing Bertrand Zorbist, zips us through his backstory in an efficient opening credit sequence, a battered Langdon wakes up in a hospital bed suffering from deliciously dire apocalyptic hallucinations. It transpires he is reimagining Dante's Inferno, as depicted by Botticelli, and he's in Florence, with the Duomo beckoning from his window. Whispered voices on the soundtrack suggest that he should "seek and find", and that "humanity is the disease – Inferno is the killer". Soon there's a crooked caribineri (Ana Ularu) charging down the corridor Terminator-style, and the chase is on – across Florence and, eventually, the crumbling monuments and world heritage sites of Venice and Istanbul.
Production credits here are immaculate; while the film also used Budapest as a double, there's a lovely blend of "real" and staged which is as good as seamless that you'll find in a blockbuster today. Designer Peter Wenham has delivered a world that seduces the viewer throughout the running time into blind acceptance, with CG bells and whistles pulled right back to the dream sequences. Hans Zimmer scores and there's some nice early work with sound editing, particularly in the hospital as Langdon wakes up with some rather selective amnesia.
What's not so completely robust is Inferno's plot; with red herrings, feints and u-turns throughout, belief is not so much suspended as surrendered at gunpoint. Koepp has managed a brisk adaptation, although some of the dialogue can feel very forced, particularly when it comes to the clue-solving set-ups. Still, Howard keeps the viewer constantly occupied, Felicity Jones is an engaging sidekick, and there's clearly a lot more mileage left for Tom Hanks in this franchise's tank - one of Dan Brown's Robert Langdon novels (The Lost Symbol) has still yet to filmed, but perhaps not for long.
Production companies: Columbia Pictures, Imagine Entertainment
Contact: Sony Pictures
Producers: Brian Grazer, Ron Howard
Executive producers: David Householter, Dan Brown, William M. Connor, Anna Culp, Ben Waisbren
Screenplay: David Koepp
Cinematography: Salvatore Totino
Production design: Peter Wenham
Editors: Dan Hanley, Tom Elkins
Music: Howard Shore
Main cast: Tom Hanks, Felicity Jones, Omar Sy, Irrfan Khan, Sidse Babett Knudsen, Ben Foster