Viesturs Kairiss paints a rather sombre picture of adolescence in the political turbulence of early-90s Latvia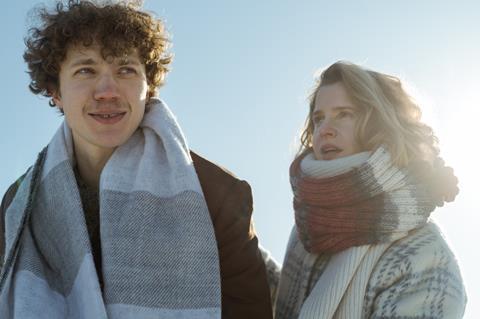 Dir: Viesturs Kairiss. Latvia/Lithuania/Poland. 2022. 95mins
A spiky punk energy drives this semi-autobiographical tale of first love and a search for identity that plays out against the turbulent backdrop of Latvia's 1991 fight for independence. The inclusion of archive footage and Super-8 film not only nods to January's celebration of the bravery of filmmakers of the era but also provides a much needed injection of life given that Jazis (Karlis Arnolds Avots), the mopey central character, remains a curiously blank slate until the film's more emotionally cohesive final act.
Cinematographer Wojciech Staron uses shallow focus or crowding the Academy-ratio frame so that it adds to the general feeling of oppression
Having turned his attentions to Latvia in wartime in his previous films The Sign Painter and The Chronicles of Melanie, Viesturs Kairiss, directing from a script co-written with Estonians Andris Feldmanis and Livia Ulman (both of whom collaborated on Juho Kuosmanen's Compartment No. 6), is likely to garner additional festival interest after its win in Tribeca's International Narrative Competition, especially given January's resonance with current events in Ukraine. Although its blend of visuals will work best on the big screen, a wider VoD release seems a more likely prospect given the low key nature of the dramatic elements and its familiar coming-of-age themes.
Nineteen-year-old Jazis has a drifting quality – even his bum fluff moustache is half-hearted. Apolitical in a household where his pro-independence mum (Baiba Broka) and Communist dad (Aleksas Kazanavicius) gently spar about their beliefs – one of the most nicely realised elements – the teenager's one passion is filmmaking. From the start, we see how Jazis is driven to capture Russian aggression on camera despite the risk due to his love of the craft itself rather than for ideological reasons. Attending film school, he meets Anna (Alise Dzene), a fellow wannabe filmmaker with a rebellious streak a mile wide, and the pair of them are soon bonding over Jim Jarmusch and larking about in Super-8.
When Anna gets an assistant's job with documentarian Jazzes Podnieks (a real-life filmmaker who was beaten up capturing the sort of footage Jazis shoots, and played here by Juhan Ulfsak) it creates a rift with Jazis but, oddly for a film that has an autobiographical element, Kairiss shows little interest in how this affects the younger man emotionally beyond a basic petulant reaction. While Kairiss captures the ambience of the era more generally, the director, who was also 19 in 1991, seems reluctant to show us what made teenagers like him tick at that time. Beyond romance, Jazis is equally noncommittal in his day-to-day life, apparently agreeing to his Russian army conscription as much through a lack of impulse to rebel as anything else.
At one point, Podnieks tells Janis, "We have to get the viewer so close that they won't remain indifferent." Kairiss and cinematographer Wojciech Staron generally take the advice, often using shallow focus or crowding the Academy-ratio frame so that it adds to the general feeling of oppression. The chilly feel of the eponymous month also seeps into the mood via the snowy exterior colour palette, contrasted with the warmer nostalgia-tinged and soft-lit interiors.
There's a coolness, too, in the frosty, pulsing electro score from Juste Janulyte that mixes with Latvian punk and indie rock hits from the era from the likes of Zig Zag and Aurora. Visually, this aural blend and the mix of footage styles hold the interest, but the nuts and bolts of the drama suffer from the fact that, despite the film revolving around him, Jazis remains more of an observer than a participant; although there is more of a sense of self beginning to finally take shape when he finds himself at the barricades. "I'm never gonna find out who I am," he says – the trouble is, neither do we.
Production companies: Mistrus Media
International sales: Steven Bestwick, Yellow Affair steven@yellowaffair.com
Producers: Inese Boka-Grube, Gints Grube
Screenplay: Viesturs Kairiss, Andris Feldmanis, Livia Ulman
Cinematography: Wojciech Staron
Production design: Ieva Jurjane
Editing: Armands Zacs
Music: Juste Janulyte
Main cast: Karlis Arnolds Avots, Alise Dzene, Baiba Broka, Aleksas Kazanavicius, Juhan Ulfsak, Sandis Runge