Opening the Galway Fleadh, Emer Reynolds' somewhat contrived feelgood drama stars Olivia Colman and newcomer Charlie Reid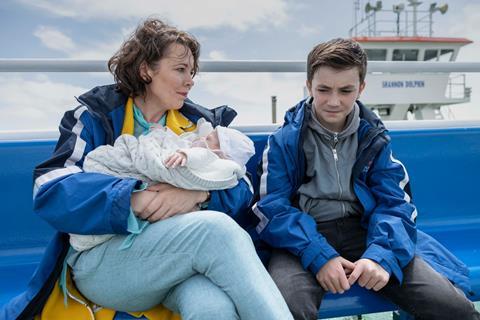 Dir: Emer Reynolds. Ireland. 2021. 94 mins
A committed Olivia Colman brings some heft to the otherwise lightweight Joyride. Sporting a light Irish accent, she is nicely matched by lively newcomer Charlie Reid in an odd couple road movie that travels along entirely familiar lines. Emer Reynolds' unpretentious heartwarmer would seem a natural fit for home consumption but Vertigo Releasing has bought it for the UK and will release in cinemas on July 29th following a world premiere as the opening night of the 2022 Galway Fleadh. Sony Pictures Worldwide Entertainment hold the rights for the rest of the world, excluding the UK and North America.
Ailbhe Keogan's undernourished screenplay never develops its full potential
Joyride begins with bright promise. Singing his heart out, 12 year-old Mully (Redi) is the darling of the crowd at a charity fundraiser to honour his dear departed mother. Fearing that his feckless father James (O'Mearain) will make off with the proceeds, he steals the money and jumps into an idling taxi. Driving off, he discovers that the back seat is occupied by slumbering, hungover Irish solicitor Joy (Colman) and her newborn baby. It is a great premise for a film but Ailbhe Keogan's undernourished screenplay never develops its full potential.
Joy is not a natural mother and regards her baby (born nine months after the death of her own mother) to be an inconvenience. Her plan is to leave the girl with her best friend and then jet off to Lanzarote. Mully is an unexpected spanner in the works.
There is a lovely chemistry between Colman and impressive newcomer Charlie Reid. Joy is tetchy and sarcastic whilst the foul-mouthed Mully has a heart of gold. A virtual father to his young niece, Mully knows exactly what to do when it comes to feeding, nappy-changing and nurturing. In one of the best scenes, he even helps Joy to successfully breast feed for the first time. It takes his caring ways and vulnerability to eventually arouse her own maternal instincts.
Keogan's screenplay resorts to countless contrivances to keep the duo on the road. Events are predictable enough to elicit the odd groan as the fugitives run out of petrol, rely on the kindness of strangers and encounter police roadblocks that oblige them to take the long way round. Filmed in Country Kerry, the meandering journey does unfold in some scenic, very attractive locations.
There is a simplicity to the characterisation and plotting with the father a one-note wastrel thumping his car bonnet in frustration as the duo slips from his grasp. A robin makes regular appearances as a symbol of hope and an inspiration for the baby's name. It is inevitable that Joy's relationship with her mother and past trauma have made her so averse to the responsibilities of parenthood. She is also loathe to make the same mistakes, repeatedly stating: "I'm going forward, not back."
Director Emer Reynolds, an Emmy winner for the documentary The Farthest (2017), favours both slow-motion flashbacks and a pace that seems to rush towards a happy ending. It is like betting on momentum to paper over the cracks of a story designed to provide second chances as history repeats itself. Ray Harman's sentimental score, and a jaunty selection of hit songs (including the theme to Australian soap Home And Away) all add to the assault on the heartstrings.
Colman and Reid successfully hold the film together. Colman's expressive eyes and sure touch make Joy an entirely sympathetic figure whilst Reid is quite the find. He displays skill and sensitivity in the more demanding dramatic scenes and gives his all to a mean rendition of the Cab Calloway signature song 'Minnie The Moocher'. You just wish the film had given them both a little more depth and complexity to deal with as it heads towards its fairytale, feel good, all's well that ends well conclusion.
Production company: Subotica
International sales: Embankment Films. info@embankmentfilms.com
Producers: Aoife O'Sullivan, Tristan Orpen Lynch
Screenplay: Ailbhe Keogan
Cinematography: James Mather
Production design: Joe Fallover
Editing: Tony Cranstoun
Music: Ray Harman
Main cast: Olivia Colman, Charlie Reid, Lochlann O'Mearain, Olwen Fouere.