George Ovashvili returns with an examination of humanity and power set in a remote and beautiful Georgia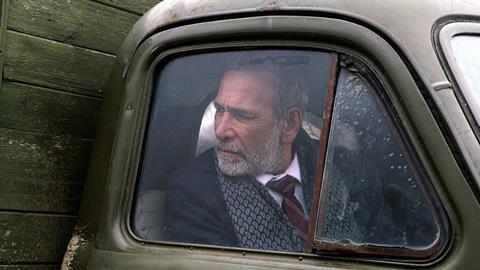 Dir. George Ovashvili. Georgia/Germany/France. 2017. 98 mins
Ostensibly based on the final few months in the life of Georgian President Zviad Gamsachurdia – who, after only a few months in office, was deposed in a 1991 coup – the latest film from George Ovashvili initially feels as if it's historically accurate. But as Khibula goes on, it becomes apparent that Ovashvili is less concerned with presenting a straight political biopic and more with deconstructing the symbols of power and examining the individual behind said symbols.
Those who are prepared for an existential examination of power as opposed to a lesson in Georgian history will find much to admire here.
Khibula sees Ovashvili returning to compete in Karlovy Vary – where he won the festival's top prize in 2014 for the film Corn Island. Running on the strenght of his name, and the fact that Georgian cinema is currently enjoying something of a mini-renaissance, a healthy festival run seems assured alongside some interest from arthouse distributors.
The President (Hossein Mahjoob) has been deposed in a coup. Fleeing to the mountains with a group of loyal followers and soldiers, he is sure that he will be returned to power soon to lead his people. As he and his retinue trudge through inhospitable terrain, worrying about advancing rebel forces, the only respite they have is to stop in small villages and find shelter. In these uneasy moments, the President reflects on his situation and his belief that his power will be restored. But as the journey once again continues he begins to wonder if his conviction is misplaced.
From its very opening shots, Khibula presents us with an individual who is somewhat out-of-kilter with the rest of the world. As his followers march around him, all decked out in army fatigues, the President strides through the landscape with a smart coat and a briefcase. His status as being somewhat removed is reinforced by the fact that he is never referred to by name throughout the film: he's just 'Mr President'. His position as a figurehead and a leader is more important than his humanity.
But as the film wears on and the situation becomes gradually more untenable, he gradually divests himself of the symbols that represented his power and his character begins to emarge. His humanity is emphasised in the final shots of the film as he cuts himself shaving – the former man of power now bleeding.
Mahjoob does a wonderful job in the lead role, eschewing a depiction of arrogance and instead portraying a man of quiet dignity who does not quite understand the circumstances that have led to this situation. The moments of introspection and interaction with local villagers also reflect a man of determination and the belief that he is doing right. It's only when caught in a seemingly endless cycle of escaping and hiding that his self-doubt begins to seep through.
Enrico Lucidi's cinematography is also impressive, lending the remote Georgian mountains a brutal beauty. He also makes good use in the shifts of space, from the wide open forests and mountain ranges to the small and claustrophobic villages as the contrast between the grand and the intimate reflect the juxtaposition between the President's status and his humanity.
Some may find the lack of historical context frustrating – most concrete information is given out in snippets, via reports on the radio and the like – but those who are prepared for an existential examination of power as opposed to a lesson in Georgian history will find much to admire here.
Production company: Alamdary
International sales: Pluto Film Distribution, info@plutofilm.de
Producers: George Ovashvili, Eike Goreczka, Christoph Kukula, Guillaume de Seille
Screenplay: Roelof-Jan Minneboo, George Ovashvili
Cinematography: Enrico Lucidi
Editor: Sun-Min Kim
Music: Joseph Bardanashvili
Main cast: Hossein Mahjoob, Kishvard Manvelishvili, Nodar Dzidziguri, Zurab Antelava