Dir/scr. Damien Chazelle. US, 2016, 128 mins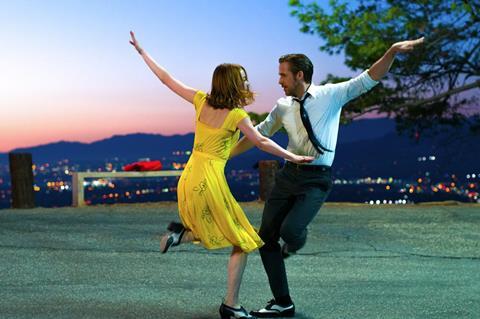 Starry-eyed and saturated with pure romance, La La Land re-visits many of the narrative themes of Damien Chazelle's debut, Guy and Madeline On A Park Bench, for a jazz-infused, jewel-coloured musical infectiously scored by Justin Hurwitz. Suffused with love – for Los Angeles, the films of MGM's golden age and Jacques Demy, and its intensely appealing star-crossed leads Emma Stone and Ryan Gosling – Chazelle's dream-like follow-up to Whiplash is as la-la-light as its title, tap-dancing its way into the hearts of incurable romantics everywhere.
For Chazelle, the story is a slight rib around which he builds a modern rhapsody
The film's energetic ambition can't entirely paper over a story-telling softness at its core, though Linus Sandren's driving camera works hard to distract. If Whiplash – also scored by Hurtwitz, like Guy and Madeline – cracked with tension, La La Land is its polar opposite. There is so much love and lightness here Chazelle's film could - and does - take to the air.
Offering the most simple of boy-meets-girl plots, Chazelle relies heavily on his leads and Stone and Gosling to work their movie-star charisma to a punishing level. As the modern yet timeless lovers Mia and Sebastian they sing, affectingly, they dance, well enough - they're immediate romantic icons, faces full of love and longing, torn between life and their art. Opening the Venice Film Festival before moving on to Toronto and the kind of Christmas release that marketing dreams are made of, La La Land would like to dance down the path to the Oscars first taken by The Artist. It will take sensitive handling to achieve that goal, and not over-burdening what turns out to be a delicate reverie - despite its barnstorming moments – with too much hype.
La La Land is classic escapism from the dream factory, shot on the Warner Bros lot in anamorphic Cinemascope in 35mil (in an unusual 2.52:1 ratio). A long-gestating project for Chazelle, it riffs, like Guy and Madeleine - on two lovers whose dreams may not be compatible with their art. She's an actress; he's a jazz pianist (John Legend, a co-producer, plays a band leader who buckles up the score).
As a drama, this is less nourishing than the heritage it pays tribute to. But for Chazelle, the story is just a slight rib around which he builds a modern rhapsody. With its tributes to Los Angeles, movies, actors, music, and Paris, it feels like the giant adoring love child of everything from the Umbrellas of Cherbourg to Round Midnight to An American In Paris, Singing in the Rain, to even The Cotton Club or, perhaps, Young Man With A Horn. Baz Luhrmann's Moulin Rouge is in there too, all sparkly and blue.
Chazelle sets out his stall – and the film's strong colour choices - with an exhilarating opening sequence set on a gridlocked LA freeway. Starting with the sounds of car radios switching their stations until their inhabitants emerge to break out in the full, FAME-style production number Traffic, this is fluid, bravura film-making, a joy to watch.
The sequence is built around Sebastian (Gosling) and Mia (Stone), motorists who have a hostile encounter before she goes to her job in a café on the Warner Brothers lot, a depressing audition, and then home to her apartment, where a giant picture of Ingrid Bergman watches over her bed. Mia and her flatmates then swing into an irresistable rendition of Someone In The Crowd, complete with a dizzying Hollywood pool sequence.
La La Land isn't without its issues. The track back from this show-stopper to Sebastian's unfulfilled life in an unfurnished apartment opposite a jazz club is a hard cut, and the film's momentum stalls until the couple sees each other again in JK Simmons' restaurant where Sebastian is thumping out Christmas carols. A fun piece at a party where Sebastian plays I Ran picks up the pace again, and soon they're dancing in the moonlight, driving up to the Griffith Observatory, and things – literally – take off.
The film is also deliberately over-aestheticised: from silhouettes to chiaroscuro, dissolves, backlighting, spotlighting, intense saturations, an intensely popping colour palette from Mia's primary-coloured dresses on down. While Park Bench - a thesis film - was shot in black and white, Whiplash showed some strong choices in a limited palette, but this is almost colour-plus.
La La Land is preoccupied with wink-wink cinematic references where it could spend a little more time with supporting cast, for example, who barely register - even John Legend as Sebastian's band leader fails to make a mark. Emma Stone and Ryan Gosling are perfectly cast and committed, though, both delivering the type of tentative, wistful yearning which suits performances from actors who are not professional dancers or musicians.
Moving airily through the seasons, La La Land acquires its poignant topnote through Epilogue, a late what-if thread which is beautifully played out by Chazelle and matches precisely the themes of Park Bench with its lingering regret and longing. A clear line runs through Chazelle's three features, each hammering away at his theme: music, love and art, can they live together? He's fond of dropping the lights until everything in the film fades out beyond a solitary figure; at the end of La La Land, the film falls away but the thoughts behind it linger on. Perhaps it's not that la-la light after all.
Production company: Summit Entertainment
International sales: Lionsgate
Producers: Fred Berger, Gary Gilbert, Jordan Horowitz, Marc Platt
Executive producers: Michael Beugg, Jeffrey Harlacker, Mike Jackson, John Legend, Ty Stiklorious
Screenplay: Damien Chazelle
Cinematography: Linus Sandgren
Production design: David Wasco
Editor: Tom Cross
Original music: Justin Hurwitz, lyrics by Benj Pasek and Justin Paul
Main cast: Emma Stone, Ryan Gosling, JK Simmons, Finn Wittrock, Rosemarie DeWitt, John Legend