Shunji Iwai captures the mood in China with his first film to be set and filmed there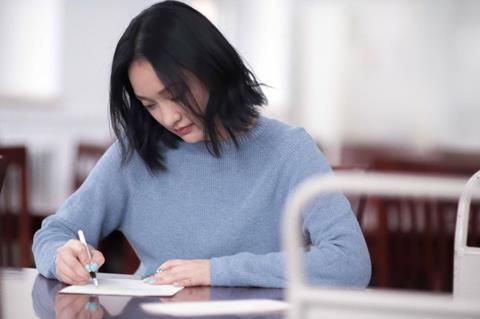 Dir/scr/ed/music: Shunji Iwai. China. 2018. 114 mins
Last Letter marks the first Chinese language film by Japanese auteur Shunji Iwai whose dreamlike dramas have run the gamut from the sweetness of Love Letter (1995) to the nihilism of All about Lily Chou-chou (2001). Last Letter is snugly nestled at the sugarcoated end of the director's tonal spectrum with its tale of a family tragedy which revives a high school love triangle decades after it had seemingly ended in heartbreaking fashion. Superbly anchored by the ever-watchable Zhou Xun, it otherwise finds Iwai relying on his graceful aesthetic to make the cultural transition. This shouldn't be a problem, though, as Iwai has a cult following in China where April Story (1998) and Hana and Alice (2004) have become university film club staples.
The kind of tastefully sentimental item that often proves quietly profitable
Produced by Peter Chan, whose directorial outings American Dreams in China (2013) and Dearest (2014) demonstrated a savvy awareness of the maturing taste of China's cinemagoers, Last Letter is the kind of tastefully sentimental item that often proves quietly profitable. Domestic marketing materials have emphasised that this is 'pure Iwai' with the director cutting the trailer and designing the poster, as with his Japanese productions, so his fans should be engaged. A release date just ahead of Singles' Day (a day on which Chinese citizens celebrate their pride in being single, mostly through shopping or leisure activities) will also help to generate word of mouth. Receiving a limited international release from China Lion, its appeal elsewhere may be modest.
Taking place in the run-up to Chinese New Year, it opens solemnly with the funeral of Yuan Zhinan, who has left behind two children now in the care of her younger sister Zhihua (Zhou). When an invitation to a school reunion arrives for the deceased, Zhihua decides to attend in order to inform Zhinan's former classmates of her passing. Unfortunately, she is unable to do so when everyone gathered immediately mistakes Zhihua for her more popular sister, including struggling novelist Yin Chuan (Qin Hao) who had a crush on Zhinan.
Seeking to renew their acquaintance, Yin Chuan eagerly suggests they exchange contact details, which creates a dilemma for Zhihua as she had deep feelings for him that were crushed once she realised he preferred her sister. Nonetheless, she begins a letter correspondence with him while on breaks at her library job. These cathartic handwritten confessionals cause further complications when her own daughter, Saran (Zhang Zifeng), and Zhinan's daughter, Mumu (Deng Enxi), find out about them. Bittersweet flashbacks ensue with Zhang and Deng also playing, respectively, the teenage versions of Zhihua and Zhinan.
It may seem a curious choice to cast Zhou, who was so memorably obsessed over in Lou Ye's Suzhou River (2000), as the overlooked sister. However, her unaffected style of performance fits nicely into Iwai's observational aesthetic, which favors long takes, natural lighting, and overly intimate close-ups that seek to reveal every suppressed emotion. Playing a character who can't quite let go of past romantic disappointment despite her apparent present day happiness, Zhou credibly grounds a scenario so lightweight that it often seems about to float away. Qin is adequate by comparison. Those familiar with Iwai's studiously low-key persona may find the actor's appearance distracting since his long hair, rumpled clothes, glasses, and soft-spoken manner seem modeled on the director. Still, the scenes between Qin and Zhou hit the right emotional notes, especially when the unintentional deception is discovered.
This thematic preoccupation with missed chances ensures that Iwai adapts almost seamlessly to China's current mainstream cinema where nostalgic yearning and pent-up recriminations are evergreen elements. His trademark omnipresent tinkling piano music and scenes that play out in otherwise empty streets so the camera can swirl around the protagonists are present and will be as enchanting or as cloying as always, depending on one's disposition. Iwai's one discernible concession is to sidestep the fraught aspects of family life, which are usually found in even his most innocent films. The only moment of strife here occurs when Zhihua's generally easygoing husband, Zhou Wentou (Du Jiang), smashes her cellphone after discovering text messages from Yin Chuan, but this fleeting fit of rage is merely a contrivance to justify private letter writing in the electronic age.
This expression of the virtues of traditional communication may resonate in China, where lives increasingly revolve around technology (the most locally popular messaging app, WeChat, is name-checked here). While it's unlikely to cause widespread disconnection, Last Letter is at least sincere enough that teary-eyed viewers may be prompted to pick up a pen.
Production companies: Alibaba Pictures, Beijing J.Q. Rockwell Eyes, Spring Pictures, We Pictures
International sales: We Distribution, sales@wedistribution.com
Producers: Peter Chan, Shunji Iwai, Qin Hong
Screenplay: Shunji Iwai
Production design: Ben Luk, Zhao Yu
Editing: Shunji Iwai
Cinematography: Kambe Chigi
Music: Shunji Iwai
Main cast: Zhou Xun, Qin Hao, Zhang Zifeng, Deng Enxi, Wu Yanshu, Du Jiang