A loving London-based Portuguese couple battle to regain custody of their children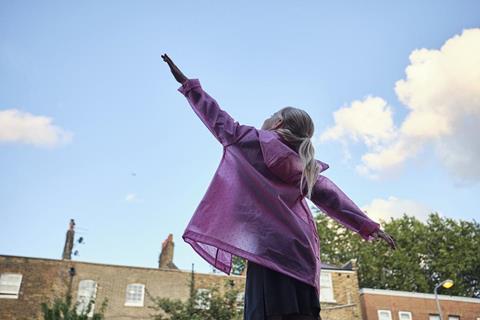 Dir. Ana Rocha de Sousa. UK/Portugal. 2020. 74 mins
When London-based Portuguese couple Bela (Lúcia Moniz) and Jota (Ruben Garcia) reached out to Social Services for help, they didn't anticipate they would be judged to be the main risk to their three children. But what they expected to be a routine visit turns out to be the enforcement of an emergency order removing the children from their care. This heartfelt drama follows the couple's anguished attempts to regain custody of their own kids, one of whom is deaf and can only communicate through sign language. But, with its black and white characterisation, the film approaches its complex theme in a way which may seem a little too simplistic to be fully satisfying.
A schematic and exaggerated portrayal of a complex and emotionally charged subject
This first feature from actress-turned-filmmaker Ana Rocha de Sousa, Listen follows in the footsteps of films like Ken Loach's Ladybird, Ladybird in its depiction of a family deemed unfit through a combination of hardship, bad luck and bad decisions. The focus on a non-native family and on the plight of a child with a disability adds two previously unexplored elements to a familiar story. Following on from its premiere in Venice's Horizons, the film could find further interest at festivals, in particular at events emphasising social issues. Listen's intimate scope and gritty aesthetic might make it suitable for television or streaming platforms.
Cinematographer Hatti Beanland zeros in on the little details which suggest that life is a constant struggle for Bela and Jota – the unopened post and wind-blown leaves which have accumulated on the doormat; the washing hung out and defeated by the persistent drizzle. But although they are harassed – their daughter's hearing aid has broken; their baby greets her bottle with squalls of protest – the couple's warmth around their children is evident.
With Jota owed wages from his job, there is no money for shopping. So Bela hides her deaf daughter Lu (Maisie Sly) and her baby on a piece of cardboard behind some wheelie bins and shoplifts some bread and cheese to feed them. It's a curious detail to include when we are otherwise encouraged to sympathise with the family. Sure, she's desperate, and certainly in extraordinary circumstances we make bad decisions. But it's not clear why she couldn't have left the kids with Jota, who is at home caring for the oldest child. Ultimately, however, it's not the bin episode which lands them in trouble, but the mysterious bruises on Lu's back.
Their children wrenched from them, Jota and Bela alternate between strident recriminations and exhausted, flatlining grief. But it's not until they are briefly reunited with the kids that the film delivers on its potent emotional promise. They are told to communicate in English only. Not in Portuguese and certainly not in sign language. This is devastating for their daughter, who has been unable to talk to anyone apart from her brother since she was taken into care. Jota and Bela find themselves trapped in what is depicted as a needlessly, almost maliciously, cruel system which is geared up to fast-track the forced adoption of the children in what comes across as a schematic and exaggerated portrayal of a complex and emotionally charged subject.
Production companies: Pinball London, Bando á Parte
International Sales: Magnolia Pictures International LTorres@magpictures.com
Producers: Paula Vaccaro, Aaron Brookner, Rodrigo Areias
Screenplay: Ana Rocha de Sousa, Paula Vaccaro, Aaron Brookner
Editing: Tomás Baltazar
Cinematography: Hatti Beanland
Production design: Belle Mundi
Music: Nessi Gomes
Main cast: Lúcia Moniz, Sophia Myles, Ruben Garcia, Maisie Sly, James Felner, Kiran Sonia Sawar, Lola & Kiki Weeks, Brian Bovell