London-set pandemic crime drama stars Anne Hathaway and Chiwetel Ejiofor and climaxes in a closed Harrods department store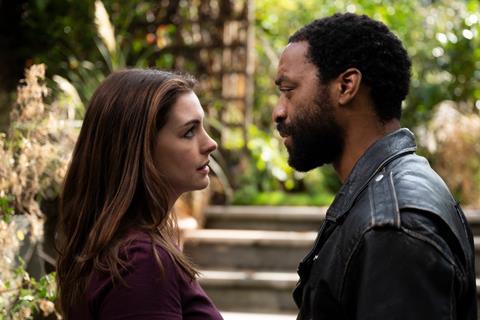 Dir: Doug Liman. US. 2021. 118mins.
Nothing brings a couple together like a heist. Or a quarantine. Or both. In the scattershot Locked Down, Anne Hathaway and Chiwetel Ejiofor are intermittently appealing as London partners who have decided they'll officially terminate their relationship by stealing an exotic diamond. Set and filmed during the pandemic, Doug Liman's talky lockdown comedy capably evokes the early months of the COVID crisis — when the surrealism of this new reality still felt novel — before eventually shifting gears to become a cheeky Ocean's Eleven-style caper. But the picture's just-a-lark tone, emphasised by the quick turnaround from script to final product, proves to be a double-edged sword: Locked Down feels like a fleetingly fun experiment that would have benefited from more time.
A curious memento from a strange, scary moment in human history
Available on HBO Max in the US starting January 14 — current plans are to screen theatrically in the UK at a later date — this Warner Bros. release will be bolstered by its two leads, complemented by an ensemble of starry cameos from the likes of Ben Stiller, Stephen Merchant, Mindy Kaling and Ben Kingsley. The film's heist/love story premise should attract audiences, although the project's potential escapism may be undercut by the pandemic backdrop.
Hathaway plays Linda, a high-powered executive working at home due to COVID restrictions, who shares a London townhouse with her partner of 10 years, Paxton (Ejiofor), a lowly driver whose life has never recovered from a prison sentence for assault. It's spring 2020, which means that the lockdown has just begun, forcing this once-happy couple to remain in close proximity. (Indeed, they had planned on splitting up before the pandemic took hold.)
Written by Steven Knight (Locke, Peaky Blinders), who reportedly conceived of the storyline over the summer, with filming taking place in the fall, Locked Down is largely a relationship film in which Linda and Paxton dissect what went wrong while coping with the lockdown. In the last few months, Hollywood has produced a fair share of quarantine entertainment, leaning heavily on Zoom-centric, actorly pieces that are inherently intimate and stagy. Thankfully, Liman mostly avoids the gimmicky nature of these recent shows and films, although the picture has its share of scenes where isolated characters are videoconferencing with one another and, therefore, illustrating how distanced we all feel from one another.
For the most part, Hathaway and Ejiofor share the same space as their characters fall into old, bad habits because of the pandemic. (The film is especially good at depicting the rise of daytime drinking.) Unfortunately, the banter isn't quite as engaging as the unusual circumstances that went into Locked Down's rushed production, and as such the picture is probably best appreciated as a quirky filmmaking exercise. Even the hammy cameos — particularly Stiller as Linda's pretentious boss and Kingsley as Paxton's working-class supervisor — give off the impression that Locked Down is a breezy stunt not to be taken too seriously. But at nearly two hours, the film stumbles more often than it sings.
That said, the lead actors commit to Liman's legitimate-theatre staging, performing their soul-baring monologues with a reasonable amount of naturalism. Knight's script requires Hathaway to give a big performance as a tightly controlled woman slowly unraveling in lockdown, and the Oscar-winning actress can be delightfully brash and cutting. By comparison, Ejiofor is more reserved, which is fitting for his soulful, poetry-spouting character who is devastated about their relationship's demise. They have a weathered rapport, but ultimately neither character is particularly compelling, which makes their romantic woes (and their eventual scheme) hard to fully invest in.
As Locked Down moves along, a plot starts to take shape. Linda's job has a connection to the posh department store Harrods, which has to close because of the pandemic, meaning that an exquisite diamond in its care might be ripe for stealing. Indicative of the film's laidback attitude, her and Paxton's plan to pilfer the jewel is almost intentionally slipshod — in theory, the particulars of the heist are less important than seeing these actors waltz around a nearly deserted Harrods as ersatz burglars trying to pull off the perfect crime.
The heist has its clever moments — including one that's amusingly (if nonsensically) based around the fact that nobody knows who Edgar Allan Poe is anymore. But throughout Locked Down, one is struck by the thought that this entire enterprise may mostly serve as a curious memento from a strange, scary moment in human history. The diamond the characters swipe is timeless, but this film probably won't follow suit.
Production companies: AGC Studios, Storyteller Productions
Worldwide distribution: Warner Bros.
Producers: P.J. van Sandwijk, Alison Winter, Michael Lesslie
Screenplay: Steven Knight
Production design: Laura Conway Gordon
Editing: Saar Klein
Cinematography: Remi Adefarasin
Music: John Powell
Main cast: Anne Hathaway, Chiwetel Ejiofor, Stephen Merchant, Mindy Kaling, Lucy Boynton, Mark Gatiss, Claes Bang, Ben Stiller, Ben Kingsley