The first part of Paolo Sorrentino's take on Silvio Berlusconi - starring Toni Servillo - gets an Italy-only release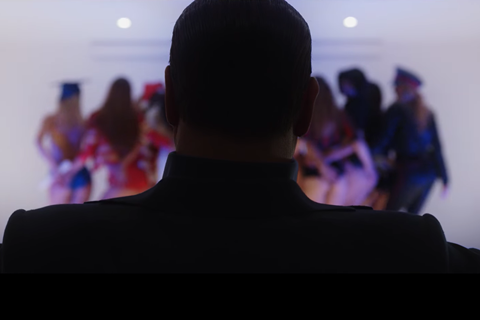 Dir: Paolo Sorrentino. Italy-France. 2018. 104mins
Paolo Sorrentino's Berlusconi-inspired Loro - one of the titles which failed to turn up in the 2018 Cannes lineup - is set for a two-part release in Italy, and a one-picture edit for the rest of the world, sold by Pathe. And, certainly, a view of episode one of the Italian director's sprawling portrait of the Italian media-magnate-turned-premier fails to make a case for the merits of releasing a long film in two installments. Released in Italy on April 24 by Universal, to be followed by Loro 2 on May 10, this doesn't really bother to create a satisfying dramatic arc within its 104-minute running time. At the end, it feels like viewers have been sent out for a very long popcorn break.
A mix of revulsion and attraction for the world portrayed – on the part of the audience, as much as the director
All the signs are that this problem will be fixed by the time international audiences get to see the film in the shorter international edit. That's certainly to be hoped for, as, paradoxically, behind an overload of by-now familiar mannerisms, beyond the flashy pop-video editing, the playlist of indie hits and Euro house classics, the kilometres of cocaine sniffed in the course of the film and the sordid male-gaze leer at sexualised female bodies, Loro 1 offers glimpses of a quieter Sorrentino, a return to the melancholic, pessimistic humanism of his early mood pieces One Man Up and The Consequences of Love.
It's still a rangy, unbalanced mess, but that impression may be corrected once the second Loro has unspooled, and in the meantime, there's some nourishment here for fans of the director – though little to attract new recruits.
An initial on-screen caption informs us that some of the characters we are about to meet are based on real people, while others aren't (the concept is driven home by a quote from Italian author Giorgio Manganelli: "Everything is documented. Everything is arbitrary"). It's clear from the get-go that Loro is not a Berlusconi biopic but a series of sketches of the odd human fauna that sprouted around this former cruise-ship entertainer once he doubled up his already considerable business heft by becoming prime minister.
In fact, we don't even see 'Lui' ('He' or 'Him'), as Berlusconi is referred to by most of the other characters, until an hour into part one. 'Loro' ('They' or 'Them') are explained in a line of dialogue to be "those who count" – though in this deeply insecure world of outer, inner and innermost circles, it's suggested that nobody except Him really knows who They are.
International audiences' inability to play the who's who game is no big thing here, any more than it was in Sorrentino's more spry and sparkle-toed cinematic opera of the Andreotti years, Il Divo. Even dates are largely dispensed with: you'll need an extra-textual grasp of recent Italian political history to work out that the film begins in 2006, just after the end of Berlusconi's second stint as Italian prime minister. Half in love with its object of ridicule, Sorrentino's film takes off, in other words, exactly where Nanni Moretti's savage, anger-fuelled Berlusconi-era drama-satire, The Cayman (released, controversially, during that 2006 electoral campaign) left off.
The first long section is spent in the company of refreshingly honest, borderline likeable pimp Sergio Morra (Riccardo Scamarcio), an ambitious young Puglian property developer whose real business is running an escort ring. Italian audiences will identify him with Gianpaolo Tarantini, a Bari businessman who was convicted of providing girls for cocaine-fuelled parties in Berlusconi's Sardinian villa. They'll also conclude that sleazy minister Recchia (Fabrizio Bentivoglio) is possibly Berlusconi's once-faithful political henchman Sandro Bondi – both are bald, have bad taste in shirts, and are fond of improvising poetic eulogies to the dear leader.
Said figurehead is an absent presence at first as Morra tries to get close, pleading with unattainably high-class hooker Kira (Kasia Smutniak) to arrange an intro, leaving tiramisùs for the premier at his office, finally renting the villa opposite Berlusconi's Sardinian retreat so he can display his leggy, busty wares in the course of a never-ending, MDMA-fuelled pool party, filmed with lewd widescreen gusto, that makes the opening party sequence of The Great Beauty look like Strictly Come Dancing. Meanwhile, Morra's trashy-but-smart partner Tamara (a notable performance from Euridice Axen, who also featured in Sorrentino's TV series The Young Pope) snorts coke while microwaving meals for their two kids, before heading out for a tryst with her besotted courtier, Recchia.
When Berlusconi finally arrives on screen in the unmistakable form of go-to Sorrentino leading man Toni Servillo, it's difficult not to stare. The look chosen by the director for Servillo's take on Andreotti in Il Divo veered absorbingly between caricature (those winged ears, that lack of a neck) and character. Whether deliberately or because of shortcomings in the make-up department, Sorrentino pushes the caricature this time round – arguably to stress the distinctly odd look of late-period Berlusconi himself, whose puffy skin, penchant for dark-brown hair dye with a faint orange tinge, and history of nips and tucks, raise the challenge of how you make up the most made-up of men.
If the Morra villa across the valley is party central, the Sardinian retreat the surprisingly erudite Berlusconi shares with his estranged wife of sixteen years, former actress Veronica Lario (Elena Sofia Ricci), is a reign of verdant calm – though it's a calm that feels as fake as everything else in this manicured world of clipped lawns and strange playthings. The latter include a working mini-volcano, an old-fashioned merry-go-round, a Neapolitan crooner who acts as Berlusconi's personal minstrel, and an odd man-in-white fixer figure who introduces himself to Recchia as "the man who knows".
In Elena Sofia Ricci's nicely subdued account, Veronica is a world-weary reader of serious literature who is disgusted by her husband's dalliances with younger women and stages puppet shows for their kids so they don't have to watch their dad's brainlessly populist TV channels.
Berlusconi – first seen in fancy-dress drag as a hamming odalisque – is a man desperate to woo back the woman who has finally moved on from him, precisely because she has finally moved on from him. For beyond the directorial tics (which include a pet sheep's showdown with an air-conditioning unit), Loro Part 1 is, deep down, the first half of a film that seems to be essentially about men who have, by every fault of their own, lost their way, swapping a meaningful chance for happiness with a life partner for a self-harming vortex of decadence. It's a common theme that stretches back through The Great Beauty to Fellini's La Dolce Vita, and it's one that always involves a mix of revulsion and attraction for the world portrayed – on the part of the audience, as much as the director.
Production companies: Indigo Film, Pathé, France 2
International Sales: Pathé
Producers: Carlotta Carlori, Francesca Cima, Nicola Giiuliano, Viola Prestieri, Ardavan Safaee, Muriel Sauzay, Jérôme Seydoux
Screenplay: Paolo Sorrentino, Umberto Contarello
Cinematography: Luca Bigazzi
Production design: Stefania Cella
Editor: Cristiano Travaglioli
Music: Lele Marchitelli
Main cast: Toni Servillo, Riccardo Scamarcio, Euridice Axen, Elena Sofia Ricci, Fabrizio Bentivoglio, Kasia Smutniak