Our verdict on the second part of Paolo Sorrentino's Berlusconi biopic. Given a split release in Italy only, international territories await a single edit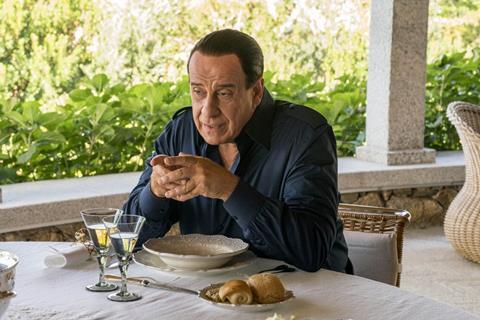 Dir: Paolo Sorrentino. Italy-France. 2018. 100mins
After a two-week interval, Italian audiences were finally allowed to return from the foyer of their daily lives to watch part two of Paolo Sorrentino's sprawling Berlusconi biopic in mid-May. Was it worth the wait? Certainly, we can now take the full measure of what The Great Beauty director Sorrentino is attempting in this almost three-and-a-half hour (between both parts) study of a businessman turned party leader who is still, 24 years after he was first elected as prime minister, a force to be reckoned with in Italian politics. Loro is revealed as a character study driven by a mix of horror and fascination, an attempt to hang, onto the known facts of the Italian media magnate and political leader's passions, phobias and peccadillos, the story of a sad and lonely man.
Loro – parts 1 and 2 – might be subtitled 'Berlusconi Confidential'.
The split release (that makes little artistic sense, with next to no attempt being made to give the two parts of Loro a separate identity and story arc), has turned out to be a relative commercial success for Universal. The two films placed respectively second and fifth in the Italian box office on the weekend that Loro 2 was released, though at the time of writing it seemed clear (from the takings gap) that many of those who turned up for Loro 1 never made it back to the cinema for part 2. This will all be history by the time audiences outside Italy get to see the film, with Pathé currently readying a single-part cut for international release.
Loro – parts 1 and 2 – might be subtitled 'Berlusconi Confidential'. It's an attempt to sketch in the inner life of a man who at times seems all surface, bluster, off-colour jokiness and crass appetites, even in 'private' moments like his well publicised dalliance with escorts and under-age girls at his Sardinian villa, an episode that is given extended, bum-twerking play in Loro 2. Other items in part two of a film that spans the two years before and after Berlusconi's return to power (for the fourth time in twelve years) in April 2008 include the politician's steadily deteriorating relationship with his wife, Veroncia Lario (Elena Sofia Ricci), his attempt to buy off eight senators to give his party a majority in the Italian upper house and bring down the centre-left government of Romano Prodi, and the devastating 2009 L'Aquila earthquake – an episode treated here in a distastefully superficial way.
But Loro is tugged at by two opposing impulses that Sorrentino never quite resolves. The first is the desire to do a Peter Morgan – to present the emotional backstage of a public personage, an operation that relies heavily on the creation of a believable character. The second is Sorrentino's apparently irresistible urge to theatricalise life, turning it into a comic operetta (Il Divo), a Baroque urban tragicomedy (The Great Beauty), a melancholy cabaret (Youth) – an operation that, as in the great Italian tradition of the Commedia dell'Arte, is all about masks and caricatures.
Toni Servillo's Berlusconi is the junction of these two centrifugal forces. His make-up, even more ghoulish than the heavily modified face of the man he's playing, seems designed to remind us that this lost soul whose marriage is falling apart and who no longer believes in the political dance that he's leading is trapped behind a mask. Or is Sorrentino telling us that Berlusconi is so much in the public eye, and so much a willing enabler of that process, that, as with Donald Trump, it's impossible to detach the man from the mask?
Just occasionally Servillo, and Sorrentino, shake off their deliberately mannered approach to the man, notably in a fantastic scene where Berlusconi rediscovers his love of salesmanship. Dialing a random number in a random Italian town, and posing as a real estate agent, he proceeds to sell a non-existent luxury apartment to a suspicious middle-aged divorcee, growing into the role as he does so. It's a brilliant moment, one of the least staged in the film, though it touches on both politics and merchandising as a form of theatre, and explains why Berlusconi is good at both.
Sergio Morra, the likeable pimp and party organiser played by Roberto Scamarcio, who dominated the running time of Loro 1, takes a back seat here as his dream of getting his girls noticed by his powerful Sardinian neighbor bears fruit. Sorrentino plays this long-awaited arrival at the salacious heart of the matter as a deliberate let-down, a variation on the voyeuristic look-but-don't-touch old men of Youth. Berlusconi's idea of a good time with the leggy, busty beauties Morra lays on for the premier's pool parties consists of leading them in sentimental Neapolitan songs, and the one time he does get intimate with a partially naked young thing, she ruins everything by telling him that his breath smells just like her grandfather's.
Scored with Sorrentino's usual restless desire to cram as much of his favourite playlist music as possible onto to a soundtrack, and ravishingly shot by Luca Bigazzi with generous helping of those carefully composed symmetrical tableaux that Sorrentino loves, Loro 1 & 2 is both entertaining and oddly unrevealing. We come out of the cinema knowing very little more about Berlusconi than we did when we went in. But perhaps that's the point.
Production companies: Indigo Film, Pathé, France 2
International Sales: Pathé
Producers: Carlotta Carlori, Francesca Cima, Nicola Giiuliano, Viola Prestieri, Ardavan Safaee, Muriel Sauzay, Jérôme Seydoux
Screenplay: Paolo Sorrentino, Umberto Contarello
Cinematography: Luca Bigazzi
Production design: Stefania Cella
Editor: Cristiano Travaglioli
Music: Lele Marchitelli
Main cast: Toni Servillo, Riccardo Scamarcio, Euridice Axen, Elena Sofia Ricci, Fabrizio Bentivoglio, Kasia Smutniak