Dir/scr. Peng Sanyuan. China, 2015, 108 mins.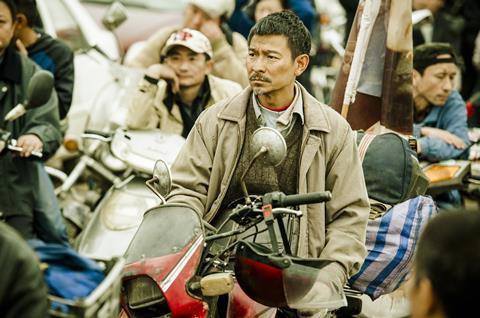 Lost And Love is a sad, tender-hearted ode to China's missing children, trafficked in their thousands every year. More than 14 years after his toddler was snatched, Andy Lau's heartbroken father still drives through China on his motorbike, flying flags bearing his son's face which flap hopelessly in the wind behind him.
As the pair weave their way out of the cities and through the glowing countryside, there's a sense that the film is moving to the essence of the issue, the damaged heart and soul of China.
There are no official statistics regarding this epidemic, which is estimated to run to hundreds of thousands of cases every year and is, only partly, explained as an unintended consequence of China's one-child policy. In once scene, a smuggler tries to sell a baby girl, dropping her price and telling the prospective buyer that "girls can be sold when they get older" – Lost And Love knows there's more to the issue than finding children for desperate would-be parents.
Directed and written by the novelist Peng Sanyuan and shot beautifully by Mark Lee Pin-bing (Norwegian Wood), Lost And Love is a wistful elegy whose commercial prospects are undoubtedly boosted by the appearance of superstar Andy Lau playing against type as a Chinese peasant farmer. China Lion Distribution will give this a multi-city release in the US and Canada timed day-and-date with its March 20 China release, and Lost And Love's prospects in other markets will largely depend on how this Huayi Bros production is marketed. There is certainly an arthouse potential for this insightful Chinese road movie with Andy Lau giving an Asian twist on the lost parent seeking a child most memorably embodied by Missing's Jack Lemmon.
While at times she can almost inevitably veer towards the overwrought – but nowhere near the levels reached by Peter Chan's 2014 abduction drama Dearest - Peng Sanyuan has a firm sense of the film's tone throughout. Bookended by slightly garish segments involving a mother looking desperately for her baby, the main part of Lost And Love is apparently based on a true story.
The film covers a swathe of China, from Quanzhou in Fujian Province to Sichuan, when Lau's anguished dad Lei Zekuan meets up with an abducted boy named Zeng Shuai (the promising young actor Jing Boran, from Rise Of The Legend), now working as a mechanic, and they start to search together. Sandra Ng and Tony Leung Chiu-wai have cameo roles.
Some social aspects of their plight are keenly felt – without identified parents, for example, Zeng cannot get his papers, meaning he is not permitted to even board a train. Unstated is the fact that without a death certificate, bereft parents cannot have another child, but the guilt and anguish of those left forever searching is clearly-etched on the actors' faces. Social media has a stake in events, reaching far into the heartland.
Andy Lau reinvents himself here as a poor and desperate villager, unrecogisable in long-shot although Lau's face is too distinctive to ever be mistaken in close-up. It's a strong performance, softened by Jing Boran's soft, youthful confusion. As the pair weave their way out of the cities and through the glowing countryside, there's a sense that the film is moving to the essence of the issue, the damaged heart and soul of China. Once they get there they discover the past has gone, however; a bridge has been destroyed to make way for progress and the bamboo slashed and removed. You can never go back.
Having previously worked as a TV writer, this is Peng Sanyuan's first feature. While there are admittedly some jarring notes, Lost And Love is an ambitious and assured debut, and sounds a note for Peng as a name to watch.
Production companies: Huayi Brothers, Young and Saint Films, Focus Films.
International sales: IM Global: info@imglobalfilm.com
Producers: Wang Zhonglei, Chan Pui-wah, Zhang Dajun
Screenplay: Peng Sanyuan
Cine: Mark Lee Ping-bin
Editor: Angie Lam
Music: Zbigniew Preisner
Main cast: Andy Lau, Jing Boran, Ni Jingyang, Tony Leung Ka-fai, Sandra Ng.