Xavier Giannoli directs an opulent take on Balzac's sprawling opus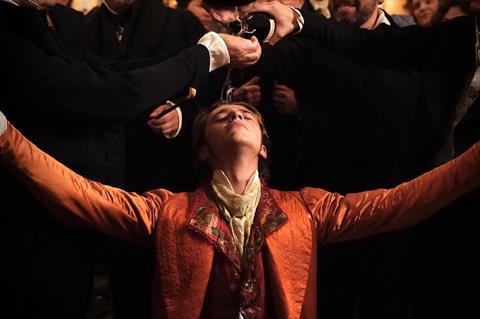 Dir. Xavier Giannoli. France. 2021. 144 mins.
With his sprawling narratives and obsession with detailed description, Honoré de Balzac ranks among one of the most recalcitrantly unadaptable of 19th-century novelists. So all credit is due to writer-director Xavier Giannoli (The Singer, Marguerite) for both honouring the spirit of his vast novel Lost Illusions – written between 1837 and 1843 – and paring the book down to the essential, highlighting its resounding relevance for today. Balzac's ruthless anatomy of the temptations of fame and the corruption of the media world couldn't be more à propos for the internet era. That's why it's a shame that Giannoli's film, while ambitious, confidently executed and more than honourable, nevertheless feels like something of a relic.
Clickbait, sponsored content, fake news, trolling – it's all already there in Balzac's Paris
This large-scale production looks back to precursors like Carné's Les Enfants Du Paradis – overtly nodded to – but suffers from a somewhat airless old-school feel, never quite managing to infuse the costume drama tradition with significant new energies. With its de luxe cast, it's likely to register as a prestige piece in France, where it opens in October, but elsewhere is most likely to be adopted mainly by outlets with a strictly traditionally-minded constituency.
Bringing a dash of youth to a slightly elderly-feeling film is lead Benjamin Voisin, from François Ozon's Summer of 85 , playing the character of Lucien de Rubempré, an aspiring poet from Angoulême who becomes a local celebrity and wins the heart of aristocratic culture vulture Louise de Bargeton (Cécile de France, making the most of a somewhat pallid role). When their affair threatens to become a scandal, the pair runs off to Paris, with Lucien dreaming of love and literary fame. But Louise is advised by her cousin the Marquise d'Espard (a slyly lofty Jeanne Balibar) that the liaison risks her being compromised, and so distances herself from her beau, who is forced to make his own way in the jungle of Parisian life.
As it happens, Lucien has arrived in town at a time when an independent press is booming, thanks to the printing industry and the rise of capitalism. Under the guidance of cynical journalist Etienne Lousteau (Vincent Lacoste, excellently snaky), Lucien puts his flowery poetry on the back burner and masters the art of literary and theatre criticism – honing the one-line zinger and writing raves review or caustic put-downs for money. It will lead him to glory, for a while, but his own vanity, increasing corruption, greed for the good life and thirst for revenge will inexorably lead him astray.
Wisely focusing on the second section of Balzac's ungainly triptych novel, Giannoli and his co-writers bring to the fore everything that makes the book so remarkably prescient in its depiction of the origins of the tabloid press and its application to our own media age. Clickbait, sponsored content, fake news, trolling – it's all already there in Balzac's Paris, where careers made and destroyed depending on who is signing the cheque. This is sometimes conveyed elegantly and wittily – the late great Jean-François Stévenin excels mischievously as the king of the Paris claques, the orchestrator of the crowds paid to cheer or boo at the theatre.
There's plenty of dramatic juice and a vivid evocation of the journalistic, theatrical and salon worlds alike – with Riton Dupire-Clément's production design catching every last detail down to the specific look of newspapers, posters and creditors' bills. The acting is also exceptional. Gérard Depardieu makes one of his more worthwhile recent appearances as a grocer turned publisher with his eye on the bottom dollar, André Marcon is a provincial aristo who becomes one of Lucien's most redoutable enemies, and overall, everyone fits most convincingly into Balzac's universe. Especially notable is name-to-watch Salomé Dewaels as Coralie, the budding stage star who becomes Lucien's mistress and whose history brings a glimpse of a me-too story typical of its age (ironically, it's this actress who proves the most candid and trustworthy figure in the story, to her peril. Dewaels bringing out her strength and poignancy to potent effect. Likewise Voisin scores, playing the whole range of Lucien's registers, from starry-eyed dreamer to tarnished phrase-maker to neurotically vain, almost popstar-like man of the moment (and of course, it's only a moment).
Yet, for all its considerable virtues, Lost Illusions is an unwieldy, excessively sombre piece which might have worked brilliantly as a judiciously paced mini-series, but overstays its welcome by cramming too much into a demanding running time. And, while it attempts to catch the tone of Balzac's distinctively omniscient authorial voice, it's a very awkward case of telling versus showing, with a voice-over narrator (whose identity emerges in a final reveal) providing cumbersomely prolix exposition of the era and its workings.
Christophe Beaucarne's cinematography is magnificent and evocative, with excellent use of Paris locations, yet the muted colour palette dulls the film's vivacity, except in the odd flamboyant theatreland sequence where it comes to life. Coupled with the precision of the period recreation, this makes for a certain archival staidness that the film can never quite cast off.
Production companies: Curiosa Films, Gaumont
International sales: Gaumont, alexis.cassanet@gaumont.com
Producers: Olivier Delbosc, Sidonie Dumas
Screenplay: Xavier Giannoli, Jacques Fieschi, Yves Stavridès, from Balzac
Cinematography: Christophe Beaucarne
Production design: Riton Dupire-Clément
Main cast: Benjamin Voisin, Cécile de France, Vincent Lacoste, Xavier Dolan