A dark and seductive story delivered by the twin talents of Viola Davis and Chadwick Boseman, in his last role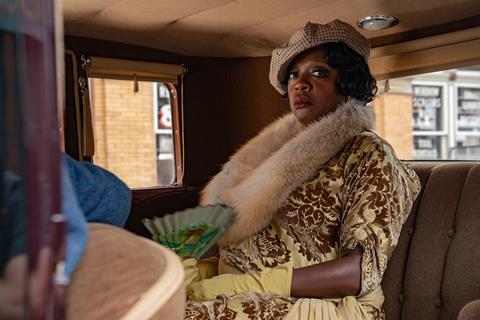 Dir. George C. Wolfe. US. 2020. 93 mins.
There's something biblical about Ma Rainey's Black Bottom, a parable acted out under the weight of America's original sin. An abundance of monologues gives a clear indication as to the stage origins of this Jazz Age-story, but they also add to the fire-and-brimstone feeling accentuated by director George C. Wolfe's darkly enticing adaptation. If you can manage to tear your eyes away from the late Chadwick Boseman's ambitious, hairtrigger young trumpet player Leevee, it will only be to rest on Viola Davis's almost brutish Ma Rainey as they come together for a recording session in 1927 Chicago.
As Ma Rainey, Davis confirms how wide-ranging her talent is
Sharp-eyed and nimble at 93 minutes, Ma Rainey paints a picture of the "Mother of the Blues" as she battles to preserve her hard-fought-for status with her oleaginous white manager while Levee eyes up her crown and her girlfriend. Set to screen globally on Netflix on December 18, this film fully justifies advance word-of-mouth for the wily, agile Boseman and the immovable force of nature that is Davis, both of whom should receive awards attention. Although it initially looks to be conventionally staged, that proves to be quite deceptive. Ma Rainey slowly inches away from a naturalistic story into the subterranean shadows where its dark, theatrical edges cut and probe, much like Levee himself.
It is to be hoped that Netflix can manage some big-screen outings for George C. Wolfe's adaptation in the current climate: a noted theatre director, he's given this chamber piece a larger-than-life feel. The setting is simple: it's the complicated people, their history, and the circumstances they are living in, who provide subtext. The film's very first shots underline that, with their depiction of young, raggedy-trousered black men running full-pelt through the woods at night. They are not being chased, it transpires, but racing to a tented performance by a full-throated Ma Rainey. In a few seconds, the film has already effectively wrong-footed the viewer and established the context without any dialogue being spoken. The first words are sung.
Born in Alabama sometime in the 1880s, Ma Rainey's career as a blues singer started in her early teens when she sang in vaudeville (she was part of the only black minstrel troupe) before she became widely known through a record deal with Paramount, which invested heavily in marketing her music. In Wolfe's film, adapted from August Wilson's play, she is in Chicago, well established as a star, and recording live – amongst other tracks – the anthem 'Black Bottom' for Paramount and her white manager Irvin (Jeremy Shamos).
His job seems mostly to placate her volcanic assertiveness, born out of need: if she doesn't protect herself, it seems clear that he won't, and neither will Paramount. As she points out, he's her manager, but he's never as much as eaten a meal with her. She can afford to stay at a fancy hotel, but people stare: she proves her worth by making outrageous demands, arriving late, constantly threatening to walk off, and insisting her young nephew, who has a speech impediment, introduces the live recording.
The gig involves her band, comprising the well-rehearsed Cutler, Toledo, Slow Drag, and and the younger LeeVee, who has new shoes on his feet and new songs in his head for the new century. He's had a look at the limelight, and he likes it; he thinks he's got one over on his team-mates when it comes to providing a modern arrangement for 'Black Bottom', but he's going to have to get out of bed earlier to best Ma Rainey. His youth and ambition rub up against the band – he looks for cracks and fissures and craves excitement, which he finds briefly with Ma's much younger girlfriend Dussie Mae (Taylour Paige). He thinks Ma and his bandmates are trapped in the old ways and he's the future, but nobody here has achieved the acceptance they crave, not even Ma.
Boseman is a revelation: if you weren't looking out for the star of Black Panther, you could be forgiven for not recognising him in the lanky physicality of Leevee, his hair oiled and parted in a conk and his new $4 shoes a sign of better things he knows are to come. As we move through Leevee's story, which gives the film its arc, we learn more about his past and become much less convinced of his future. Ma Rainey's been through what he's been through, knows what her power means, and won't brook being challenged: you get the feeling that Leevee's talent won't bypass the school of hard knocks long before his impulsiveness begins to curdle his ambition.
As Ma Rainey, Davis confirms how wide-ranging her talent is. She goes beyond the physical aspects – the way she carries that bosom, the teeth, the ruined, almost Gothic make-up – to convey the weariness of a proud, talented woman tired of defending herself from all those who would take from her. Long before Ma Rainey verbalises any of her rationale, it's already captured in Davis's performance.
Ma Rainey is one of 10 plays in the 'Pittsburgh Cycle' by Wilson (and the only one not to be set in that city). Set in 1927, it's got an enticing Cotton Club visual allure but feels fresh all the same .It may be a parable, but that's for the viewer to come to understand: the gift of those monologues isn't to hector but to highlight. There are very few external shots, making it a clear theatrical companion to Regina King's current film adaptation of One Night In Miami, set 40 years later. But there's an atmosphere here, awarded by Wolfe's tight but fluid direction, DoP Tobias A. Schliessler's work in confined quarters, and the costume and make-up departments which showcases a tight unit singing from the same song sheet. And the slap-in-the-face ending reverberates, or jelly rolls, its way through time.
Production companies: Mundy Lane Entertainment, Escape Artists
International distribution: Netflix
Producers: Todd Black, Denzel Washington, Dany Wolf
Screenplay: Ruben Santiago-Hudson, from the play by August Wilson
Cinematography: Tobias A. Schliessler
Editing: Andrew Monshein
Production design: Mark Ricker
Music: Branford Marsalis
Main cast: Viola Davis, Chadwick Boseman, Glynn Turman, Jeremy Shamos, Colman Domingo, Taylour Paige, Jonny Coyne