Crisp, cool and lavish, 'Mademoiselle' is cut from the same cloth as 'Dangerous Liaisons'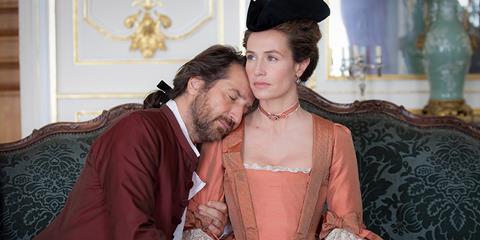 Dir. Emmanuel Mouret. France. 2018. 110 mins
The courtship between noted philanderer Marquis des Arcis (Edouard Baer) and Madame de La Pommeraye (Cécile de France), a widowed beauty, is a leisurely affair. She parries his attentions for months on end, before finally inviting a kiss. But the Marquis is fickle, and after a couple of years of assurances of undying passion, his attention starts to wander. Wounded, and wealthy enough to bring real dedication to her vengeance, Madame de La Pommeraye recruits a mother and daughter prostitute double act, Madame and Mademoiselle de Joncquières, to teach her former lover the error of his ways.
The look of the film is as crisp and bright as freshly laundered linen
Crisply cruel, and lavish in its use of sweeping, manicured landscapes and elegant interiors, this adaptation of an eighteenth century story by Denis Diderot doesn't quite deliver the proto-feminist air-punch of retribution that some audience members might hope for. The sympathies of the film ultimately lie with the male protagonist, who, deeply-flawed narcissist wind bag that he is, finds unexpected redemption in the final act.
It's not the first time that the story, which is told by an innkeeper in Denis Diderot's novel, 'Jacques le Fataliste', has been adapted into a film. Previously Robert Bresson gave the tale a 1940s backdrop in Les Dames Du Bois De Boulogne. But by setting the story in the eighteenth century, Mouret draws more obvious comparisons with the likes of Dangerous Liaisons and Valmont, both based on Les Liaisons Dangereuses by Diderot's contemporary Pierre Choderlos de Laclos. While the story of Mademoiselle de Joncquières doesn't lack for elegant treachery, it doesn't quite match Dangerous Liaisons for jaded cynicism or in the star power which could propel this handsome but languid arthouse title to break-out commercial success.
It's a simple story garnished with the kind of flamboyantly ornate dialogue which captures the era's propensity for verbose self-examination and verbal jousting, but slows the pace of the picture to a languorous promenade. De France and Baer wrangle the screenplay admirably, peeling back layers of subtext and social point-scoring from under the flowery curlicues of chit chat. That said, this is an uncommonly talky picture which perhaps overestimates the fascination of forensically thorough analyses of 18th century society gossip.
The exquisitely pretty Mademoiselle de Joncquières (Alice Isaaz, who has something of the sulky sensuality of a young Emmanuelle Beart), gives the film its title but is a muted presence in the story until the final act. It's only when Madame de La Pommeraye's nefarious scheme looks set to come to fruition that the Mademoiselle reveals herself to the only honourable character in the story, forced by unfortunate circumstance into a dishonourable life.
In contrast to the grubby machinations of the story, the look of the film is as crisp and bright as freshly laundered linen. A delicately subdued colour palette perfectly co-ordinates Madame's china blue dress with the upholstery of her chair as she sips her tea and plots to destroy her former lover. And the score, fussy with Vivaldi and string quartets, is equally polite and tasteful.
Production company: Moby Dick Films
International sales: Indie Sales www.indiesales.eu
Producer: Frédéric Niedermayer
Screenplay: Emmanuel Mouret
Production Design: David Faivre
Editing: Martial Salomon
Cinematography: Laurent Desmet
Main cast: Cécile De France, Edouard Baer, Alice Isaaz, Laure Calamy, Natalia Dontcheva