Matt Smith convinces as the controversial photographer in Ondi Timoner's guilty-pleasure biopic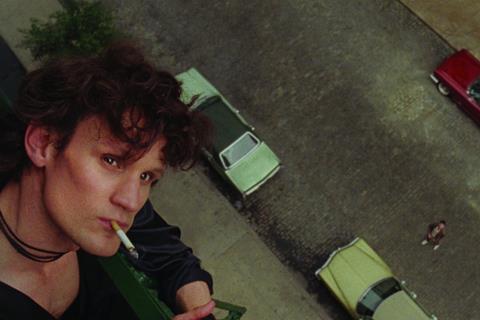 Dir. Ondi Timoner. US. 2018. 95 minutes
Robert Mapplethorpe's homo-erotic photographs were a battle cry in American politics, mostly after his death at the age 42 in 1989 from an AIDS-related illness. Ondi Timoner's guilty pleasure of a bio-pic eyes the brash man who made them. Like a tabloid saga, her film that tugs you in is likeable, yet its subject isn't. The film mourns him; many in the audience won't. A lean and intense Matt Smith seizes the attention as Mapplethorpe, and this film that's been 12 years in the making should circulate in festivals, art houses and the art world, immediately following on from HBO's successful doc Mapplethorpe: Look At The Picture in 2016. Mapplethorpe's photographs are as recognisable as Jean-Michel Basquiat's paintings, although less valuable.
Timoner offers a deft observation of Mapplethorpe's evolving manipulation of his own image, in his pictures and his life, from Polaroids to penises
Timoner's bio-pic begins with Mapplethorpe's childhood in Floral Park, New York, raised Catholic by a gruff father who scorned his photography. It ends with the photographer sick with HIV in 1989, in a wheelchair with well-wishers clutching his hand. Ardent critics and supporters would fuel the Mapplethorpe myth.
In focusing on Mapplethorpe's life, Timoner stops short of the culture wars that made him a cause and an epithet She relegates that legacy to text before the end credits roll. Instead, with Matt Smith (Dr. Who, The Crown), in the lead, she follows him through early adulthood to years with Patti Smith (Marianne Rendon), who rebuffed the filmmaker. If Patti Smith's poetry or music influenced Mapplethorpe, we miss it here.
Mapplethorpe's stylish mix of classicism and homo-erotic bravado takes shape as his sexual identity emerges and Patti Smith decamps. Bedding the respected collector Sam Wagstaff (John Benjamin Hickey), the young man cracks the resistance of wary art dealers, who show the work. Scandal brings success, just as AIDS kills a generation of his peers. Wagstaff, who also died of AIDS, tells him, "Your pictures are quickly becoming a gallery of the dead."
Smith plays the photographer as a cocky rebel with Caravaggio's tousled curls who leverages his untested work as collateral at the Chelsea Hotel to lodge himself and Patti. His Mapplethorpe is also nasty and cruel, yet seeks the approval of the parents whom he fled. Timoner leaves the man's martyrdom ambiguous, with most of his suffering self-inflicted. He snorts cocaine constantly and has unprotected sex with men while carrying the AIDS virus.
Smith gives us a credible, flawed, gifted Mapplethorpe over two decades, an unlikeable man who hires his brother as an assistant and then torments him. His pictures championed gay liberation, but he was a stern autocrat in his personal and professional life. The 12-year project – commissioned by the Robert Mapplethorpe Foundation – is evidence that Timoner, who made documentaries before, can craft a nuanced dramatic feature, shot in Super 16 mm, with faux-documentary moments in 8 mm. She offers a deft observation of Mapplethorpe's evolving manipulation of his own image, in his pictures and his life, from Polaroids to penises.
And while Timoner films signature images of flowers, men and male genitalia, she mostly avoids his self-portraits, another crucial Mapplethorpe trademark, and a major gap here. Timoner may be concentrating on the man rather than on the posthumous mythology, but she is also weaving her own myth here, and that myth is built on the image of Matt Smith as Mapplethorpe.
As Sam Wagstaff, John Benjamin Hickey has the refinement of an aesthete who is seduced by Mapplethorpe's eye (and his youthful allure) and then left behind for younger bodies. As the brother and photographer Edward Mapplethorpe, who Robert forced to change his name, Brandon Sklenar is a fragile mix of awe and fear. Marianne Rendon as Patti Smith has a devilish smile. We could have seen more of her and her role as a muse.
Manhattan interiors from the 1970's and 1980's (once Mapplethorpe leaves the Chelsea Hotel) are a generic mix of sleek luxury and abandon, often decorated by Mapplethorpe's photographs. The film reminds us that those pictures don't shock the way they once did. If Mapplethorpe isn't part of the Pantheon quite yet, he's certainly part of the woodwork.
Production companies: Boston Diva Productions, Interloper Films, Silver Lining Entertainment, You're Outta Control Films
International sales: the exchange brian@theexchange.ws
Producers: Eliza Dushku, Ondi Timoner, Nathaniel Dushku, Richard J. Bosner
Screenplay: Ondi Timoner, Mikko Alanne (based on a screenplay by Bruce Goodrich)
Production design: Tom Broecker
Editing: Lee Percy, John Allen, Ondi Timoner
Cinematography: Nancy Schreiber
Music: Marcelo Zarvos
Main cast: Matt Smith, Marianne Rendón, John Benjamin Hickey, Brandon Sklenar, McKinley Belcher III, Mark Moses