Killed in the city he portrays, the final film from the late Mantas Kvedaravicius was finished by his Ukrainian partner Hanna Bilobrova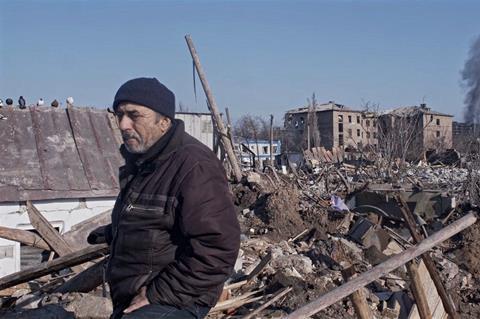 Dir: Mantas Kvedaravicius. Lithuania/France/Germany. 2022. 112 mins.
What would you be prepared to do if the place you lived in became a war zone like Mariupol in Odessa? Would you move the dead bodies of a couple from the porch of their house so you could take the portable generator you knew was inside? Would it make a difference to the ethics of your actions if you were planning to use the generator to provide power for all the people – including many children – who were taking refuge in your church?
Mariupolis 2 is about human resilience while life is put on hold.
Unlike TV news reports, which mostly deliver the daily death toll and the tears of those who are left behind to grieve, Lithuanian director Mantas Kvedaravicius' fourth feature is more interested in what, to adapt Hannah Arendt's famous phrase, we might call 'the banality of war' – or how everyday life goes on in unimaginable circumstances. Tragically, Mariupolis 2 is also the final feature of a filmmaker who was starting to make a name for himself on the festival scene. Kvedaravicius was killed in Mariupol at the beginning of April while making the film, allegedly shot in the stomach by Russian soldiers.
Added to Cannes' official selection just days before the festival started, the documentary was completed by Kvedaravicius' Ukrainian partner Hanna Bilobrova, who, after the opening title 'a film by Mantas Kvedaravicius', is credited as co-director.
Although it has generated intense media interest, Mariupolis 2 is very much in the measured, austere, thoughtful vein of the director's previous two documentary features, the Chechnya-set Barzakh (2011), and his first study of life in the Ukrainian Black Sea port city, called simply Mariupolis, which premiered in the Panorama section at the 2016 Berlinale. With a PhD in anthropology from Cambridge University, Kvedaravicius liked to refer to his films as 'fieldwork'. The challenge for distributors will be to balance the posthumous interest the film is garnering against the fact that it is a slow, patient watch aimed at resilient cineastes with all the time in the world.
It is shot entirely in and around the Evangelical church in an unidentified suburb of Mariupol where the director and Bilobrova seem to have become 'embedded', along with a group of locals who were taking refuge there, when they returned to the ravaged Ukrainian city at the beginning of March to make the film. There is no introductory context and there are no explanatory captions to distract us, no talking heads, no music – not even, we realise after a while, from any diegetic source inside the film's world.
What we get is something different again from Kvedaravicius' first Mariupol documentary. That was a study of a city that was under threat, but which had, at that stage, only briefly come under fire by pro-Russian forces in the Donbas region. Rather like Gianfranco Rosi's Notturno, it was about life in a place where a war is just off-stage, waiting in the wings. In was a carefully composed collage; we saw a father taking his daughter on a Black Sea fishing trip or followed a group of young musicians and dancers rehearsing a concert. Whether Mariupolis 2 is the film the director would have made had he survived is impossible to say. But it is to the credit of Bilobrova and editor Dounia Sichov that they have allowed the changed circumstances to generate a radically other kind of documentary – one in which the fact of being trapped, and waiting, becomes the story, and filters into the viewing experience.
There are endless shots, through windows, of smoke billowing across the sky on the horizon, and several evocative moments with daylight streams through a door from the outside - a sight that for those taking refuge underground carries both hope and fear. We become familiar with the brick-built church itself, both outside and in, where elderly people, mothers and children sleep, play, and risk external forays to cook big pots of soup on a makeshift wood-burning stove. Talk is mostly subdued. A man with a weathered face, perhaps a church warden, recounts how it was three days before he could move the maimed body of his neighbour from his own roof, where it had been blown in a missile strike, to the neighbour's back yard. He knew it was him, he reveals, because of the white gardening gloves.
Mostly, though, Mariupolis 2 is about human resilience while life is put on hold. A woman talks of people repairing windows as bombs fall around them. The sweeping of the dust- and rubble-strewn church yard becomes a Sisyphean task, one that is repeated patiently day after day. The sound of two bright blue brooms chasing grit across the floor is part of the film's prominent soundscape, one that is underpinned by a bassline of booms, rumbles and tracer fire. But there are other noises too: the barking of dogs that still need to be fed and the cooing of homing pigeons perching on what's left of the façade of their owner's property. Even though the rest of his house is a pile of rubble, he still feeds them and calls out to them – because what else can you do?
Production companies: Studio Uljana Kim, Extimacy Films, Easy Riders Films, Twenty Twenty Vision
International sales: The Match Factory, sales@matchfactory.de

Producers: Uljana Kim, Mantas Kvedaravicius, Nadia Turincev, Omar El Kadi, Thanassis Karathanos, Martin Hampel
Co-direction: Hanna Bilobrova
Editing: Dounia Sichov
Cinematography: Mantas Kvedaravicius