A delightful dog's story for all the family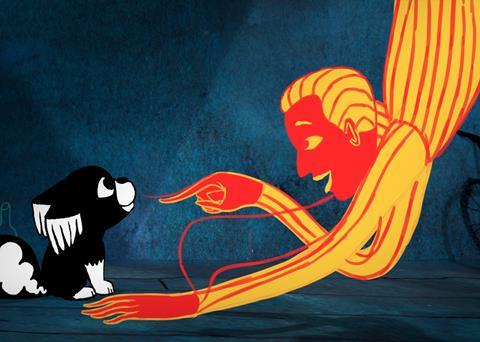 Dir. Anca Damian. Romania/France/Belgium, 2019. 92 mins
Who can resist an indomitable mutt? The simple joys and sorrows of a dog's life provide fertile ground for Anca Damian in the picaresque animated feature Marona's Fantastic Tale. Told with charm, wit and invention, this is family entertainment with an appeal that should cross the generations. GKIDS bought North American rights to the film from its premiere at Annecy.
"Lick your human's face every day as if it is the last"
Damian takes a risk by beginning the story at the end. Struck by a car and now just "a smudge on the asphalt", a dying dog looks back on a life filled with unconditional devotion to its passing owners. The dog's inevitable demise lends a melancholy undercurrent to a film that strives to avoid sentimentality but still manages to set the lower lip trembling.
The final puppy in a litter of nine, our heroine (voiced by Lizzie Brocheré) is given several names over the course of the film. Acrobat Manole (Bruno Salomone) calls her Ana. Construction worker Istvan (Thierry Hanusse) names her Sara. Little girl Solange (Shyrelle Mai Yvart) provides her with a more permanent home and the moniker of Marona. Throughout her life, the philosophical little canine comes to understand that happiness constitutes shelter, a loving owner and a good bone.
Using cut outs, 2D and 3D animation techniques, Marona's Fantastic Tale manages to convey a great deal of character and emotion through straight and fluid lines, angles, perspective and scale. Marona's haughty father Ralph (a Dogo Argentino) is drawn with a proud, erect bearing that crumbles when he meets her mother. Acrobat Manole is all vertical stripes and floppy movements. Istvan is a gentle giant who takes up all the space in a setting. He can appear taller than the van he drives. Vivid ginger tom cat Martzofel is given a giant close-up when he first encounters Marona.
There is a constant delight in the flexibility of animation to convey information and confirm a mood. Marona herself is an inky bundle of black and white. Elderly characters introduced throughout the film (Istvan's ailing mother, Solange's grumpy grandfather) have a slate grey pallor and the scrunched up appearance of a pickled walnut.
Marona's narration adds another layer to the story as she learns to survive the years of love and abandonment. Her love is unconditional even if her human owners are rarely as committed in their feelings. When Marona becomes an inconvenience, a hindrance to a relationship or personal ambitions then she knows it is time to move on. She meets elation and despair with quiet determination, concluding that dogs are best advised to "lick your human's face every day as if it is the last."
Marona's Fantastic Tale might appear slight but the quality of the lively, vibrant animation and the depth of feelings make it entirely engaging. The closing song 'Happiness' from Isabel Sorling and Pablo Pico effectively captures the delicate charm and poignancy of the film.
Production companies: apArte, Sacrebleu Productions, Minds Meet
International sales: Charades sales@charades.eu
Producers: Anca Damian, Ron Dyens, Tomas Leyers
Screenplay: Anghel Damian based on an idea by Anca Damian
Music: Pablo Pico
Graphic content consultant/character design: Brecht Evens
Background artists: Gina Thorstensen, Sarah Mazzetti
Main voice cast: Lizzie Brocheré, Bruno Salomone, Thierry Hanuss