Xavier Dolan returns to Cannes Competition with a tale of two men and one kiss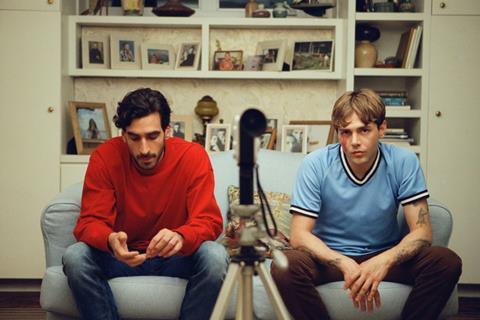 Dir/scr: Xavier Dolan. Canada. 2019. 120mins.
In Matthias & Maxime, Xavier Dolan chronicles the obstacles that keep us from finding love and happiness, although his film suffers from the same impetuousness that may doom its characters. Depicting the disintegration of a lifelong friendship due to a single kiss, this earnest drama aspires to the sweeping, grandiose heights of Dolan's best work, lamenting the anxieties of young adulthood while simultaneously crafting a generational snapshot. On occasion, the sincerity and unabashed emotion can be bracing, but more often this rambunctiously enthusiastic writer-director overestimates how compelling his protagonists' plight is, giving us a florid melodrama without enough grit underneath the operatics.
Neither character is defined much beyond his angst
Returning to Cannes' Official Competition for the first time since 2016's It's Only The End Of The World, which received a mixed reception but went on to win the Grand Prix, Dolan will continue to cater to an audience that embraces his messy, passionate films. Unlike ...World, Matthias & Maxime doesn't feature big names, however, so more modest commercial results seem likely.
As Matthias & Maxime begins, Maxime (Dolan) is weeks away from leaving his hometown of Montreal for Australia, where he hopes to make a fresh start. His friends are sad about his departure, especially his closest pal Matthias (Gabriel D'Almeida Freitas), a successful lawyer who is beginning to wonder whether he wants more out of life than a corner office. One night, Matthias and Maxime agree to take part in an experimental student film where they have to kiss. After it happens, a strange change occurs between them — one they can't quite articulate but can certainl detect.
In films such as Mommy, Dolan has thumbed his nose at restraint, giving audiences a vibrant look at compulsive characters who feel deeply within films that are equally combustible. But Matthias & Maxime demonstrates what happens when he doesn't have quite as much to say — and when audiences have become inured to his cinematic flourishes.
Instead of pulling us inside Matthias and Maxime's anxiety, Dolan indulges their most mopey tendencies, treating their gloominess as proof of their authenticity. Matthias & Maxime doesn't offer insight but, rather, theatrics, pummelling us with shouting matches, musical montages and on-the-nose speeches that conveniently clue us in on the movie's themes. As in the past, sometimes these moments can be affecting — precisely because Dolan unabashedly cranks his scenes to 11, always seeking maximum dramatic impact. There's an unbridled, almost childlike verve to his filmmaking that's reflected in his impatient, overly sensitive characters.
Very few directors, for better or worse, more acutely capture the bratty, exuberant energy of twentysomethings, and Matthias & Maxime often feels like a melancholy farewell to that life phase as Dolan's protagonists grapple with their looming, uncertain 30s.
Unfortunately, neither character is defined much beyond his angst. Matthias has a happy romantic relationship and a good job, but D'Almeida Freitas can't quite embody the ineffable sadness that nonetheless consumes this young man. Dolan can be a competent actor, but his Maxime is mostly just another sad-eyed malcontent. (And the choice to give the character a prominent facial birthmark seems needlessly quirky.)
Although Matthias and Maxime are ostensibly straight, their kiss — which we never see — is meant to trigger unacknowledged feelings between them, imperilling their delicate platonic-heterosexual relationship. Matthias & Maxime builds to a few touching scenes that examine how straight men navigate the trickiness of intimacy, but elsewhere the script overdoes its critique of male bonding rituals, relying on broad characterisations and obvious commentary. Dolan's film is so awash in the chaos of these men that it fails to provide a little focus to their blurry lives.
Production company: Sons Of Manual
International sales: Seville International, anickp@filmsseville.com
Producers: Nancy Grant, Xavier Dolan
Production design: Colombe Raby
Editing: Xavier Dolan
Cinematography: André Turpin
Music: Jean-Michel Blais
Main cast: Gabriel D'Almeida Freitas, Xavier Dolan, Pier-Luc Funk, Samuel Gauthi