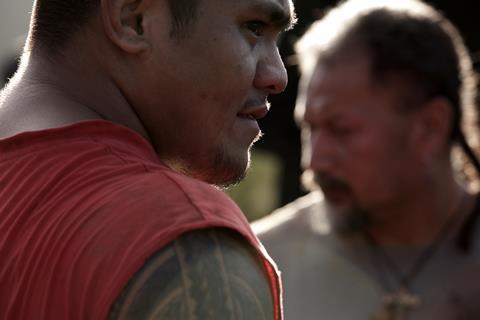 In Mercenary (Mercenaire), a 19-year-old yough built like a tattooed refrigerator is scouted from New Caledonia to play rugby for a club in France — a mere 10,000 miles away. Writer-director Sacha Wolff elicits effective performances from an almost entirely non-professional cast in this eventful tale of standing up for oneself in tricky circumstances. This offbeat and involving mini-saga of self-reliance is a nice bet for festivals and art house distributors tempted by a story centered on people of Polynesian heritage who may be French citizens but are inevitably seen as exotic outsiders.
Although his new life seems like a radical change of pace, Soane comes up against the truth that wherever you go, there you are
The stocky Wallisian build is ideal for the position of prop forward (they form a minority community in New Caledonia). When the first choice of sports talent scout Abraham (Laurent Pakihivatau) is arrested he plucks Soane (Toki Pilioko) off the field and offers him a position on a French mainland team. Unlike in most sports dramas, Soane doesn't seem driven to turn pro. This unexpected opportunity would take him a world away from the tropical vistas of his low-key island home. Soane is tempted but says his father, Léoné (Petelo Sealeu, riveting), will object.
Léoné, a tough buzzard who keeps his rifle handy, objects alright. When Soane announces that he's leaving anyway, fierce disciplinarian dad gives him a vicious, scarifying, whipping with an electrical cord, holds a religious ceremony and farewell feast, then declares his son dead and chases him off his property.
When Soane arrives in France, the local rugby team official takes one look, deems him too short and 20 kilos too light and advises Soane to fly right back where he came from. That's not an option.
Soane makes his way to Agen in Southwest France where a fellow islander's cousin has rugby connections. In short order Soane goes from a hog butchering and grass skirt environment in New Caledonia to the rigors of training with a club where he's hazed and obliged to start doping. He also works nights as a club bouncer and starts sleeping with chubby free spirit Coralie (Iliana Zabeth, one of just two professional actors in the cast).
Although his new life seems like a radical change of pace, Soane comes up against the truth that wherever you go, there you are. Menacing Abraham demands to be reimbursed for Soane's plane ticket, the rugby club has problems and Soane worries about how his violent father is treating the younger brother who begged to leave with him.
Soane's troubles and the decisions he makes to remedy them feel organic and fairly fresh. Soane may be French but he looks like a Maori who took a wrong turn. Since it's impossible to disguise his identity, he embraces it.
One of the film's most interesting aspects is the ways in which church-going Catholicism co-exists with pagan-style rituals governing revenge and forgiveness.
With his curvy lips, broad torso and tree trunk thighs, Pilioko is a riveting physical presence as Soane. Location shooting radiates a strong sense of place.
Director: Sacha Wolff
Production companies: Timshell Productions, 3B Productions
International sales: Be For Films Pamela Leu pamela@beforfilms.com
Producers: Claire Bodechon, Jean Brehat
Screenplay: Sacha Wolff
Cinematography: Samuel Lahu
Editor: Laurence Manheimer
Production design: Thomas Ducos, Mathilde Poncet
Music: Luc Meilland
Main cast: Toki Pilioko, , Iliana Zabeth, Laurent Pakihivatau, Petelo Sealeu, MikaeleTuugahala, Maoni Talalua, Stephan Castang