Eva Weber looks at the life of the former German Chancellor with an eye on both the personal and the political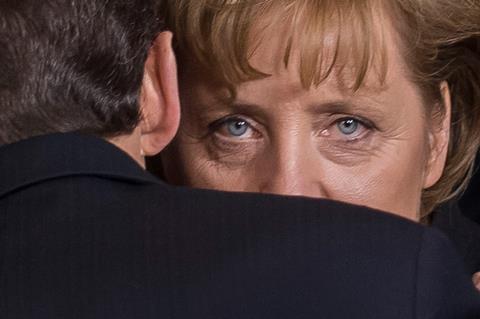 Dir: Eva Weber. UK/Denmark/Germany. 2022. 96 mins.
With more than 30 years in politics, including 16 as the German Chancellor, Angela Merkel's career could prove an embarrassment of riches for a documentarian but Eva Weber's film glides through it like a warm knife through butter. Making short-subject documentaries in the past has evidently allowed the German-born, UK-based Weber to hone her skills in making careful selections and keeping her focus tight, giving her feature-length debut a sprightly air as she examines Merkel's rise to power with an eye on the personal as well as the political.
Weber may be offering a broad sweep, but there's delight in the detail
The filmmaker sets her sights on offering a solid understanding of what makes Merkel tick to an international audience, rather than a deep dive for a domestic one. This, along with backing from the Curzon CM Development Fund, a slick presentation and the wealth of big names present – including Hillary Clinton, Tony Blair and Condoleezza Rice – should see it enjoy wide distribution after its world premiere at Telluride.
It could be said Merkel's rise in politics came as a surprise even to her. Born in East Germany, she had a life as a physicist before the fall of the Berlin Wall in 1989. It's a career, she notes in just one of the many snippets of archive interviews presented here, that was chosen because it was based on immutable facts such as two plus two equalling four, and therefore less susceptible to dictatorship politics. After reunification, in 1991, with just two years in politics and one in the Christian Democratic Union Party, Merkel was made minister for women and youth. It was a pretty big step back then for a woman from the former GDR, but it would prove to be the first of many.
Weber's film isn't afraid to move backwards and forwards in time, so that we can see how Merkel shaped herself for politics, moving from an apparently shy but intensely observant thirtysomething to a politician who was behind many of the current political trends in Europe. The director is helped enormously by keen editing from Daniel Greenway which often juxtaposes ideas, such as a speech near the start of the film in which Merkel's plea to "tear down the walls of ignorance" is intercut with a speech from President Donald Trump in which his supporters chant, "Build that wall!".
Later, when we see a farewell honours ceremony for her, for which she selected the music, Weber starts with footage of the brass band playing a pop song from Merkel's youth, only to cut to the song itself, a GDR punk number by Nina Hagen and Automobile entitled, 'Du hast den Farbfilm vergessen' (You Forgot The Colour Film). This neatly takes us away from the event, per se, and more into Merkel's headspace, indicating a wry sense of humour that is on show repeatedly in the interviews Weber presents.
Blair talks about Merkel's "absence of ego", while others note how she was "continuously underestimated"; something that one contributor suggests she actively cultivated so that she would over-deliver. While Weber checks off key landmarks in Merkel's career, mainly focusing on her relationships with Trump, his predecessor Barack Obama and Russian president Vladimir Putin, she is always looking for ways to illustrate Merkel's personality. Sometimes, that's in evidence in how she acts politically – such as when Putin tried to intimidate her with a dog – but at others it's simply in the way she chooses pixieish answers to interview questions. When asked whether she thinks people could handle silence better in the past, for example, Merkel spins off into an amusing reverie on why she dislikes music in supermarkets.
Weber keeps up the pace by avoiding commentary in favour of simple captions to help keep us oriented, while Jon Opstad's unobtrusive string-driven score adds just the right mount of momentum. The documentarian also keeps the talking head snippets from the worlds of politics and journalism short and sweet enough to leave room for more quirky inclusions, including a lovely archive interview with Merkel's mother. Weber may be offering a broad sweep, but there's delight in the detail.
Production companies: Passion Pictures, Odd Girl Out Productions
International sales: jason@cineticmedia.com
Producers: Lizzie Gillett, Eva Weber, Sonja Henrici, Sigrid Dyekjaer
Cinematography: Reinhold Vorschneider, Kondrad Waldmann
Editing: Daniel Greenway
Music: Jon Opstad