The 2007 financial collapse serves as the backdrop for this intriguing, insect-laden drama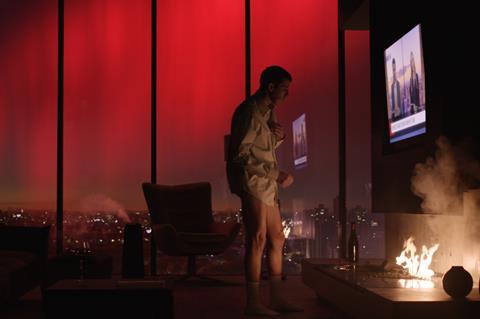 Dir. Filip Jan Rymsza. Poland/US. 2020. 100 mins.
Mosquitos are a gift of a theme for conceptual horror. Everyone, bar devoted entomologists, loathes them for their droning persistence and noxious irritant effect. Heaven forbid that viewers should feel quite this way about Filip Jan Rymsza's Mosquito State, but in all fairness, the film is hard to enjoy, not least because its handful of intriguing ideas are so self-indulgently gussied up with ostentatious visual execution.
Unlikely to get under your skin
Polish writer-director Rymsza previously made two related features, Sandcastles and Dustclouds (2004-7), but is best known as producer on the reconstructed Orson Welles feature The Other Side Of The Wind (2018) and the interview documentary Hopper/Welles, screening out of competition in Venice this year. Mosquito State itself is hardly Wellesian in any way except in a certain enthusiasm for artifice.
Set in New York in August 2007, Mosquito State offers a nightmarish alternative version of that year's financial crash. It begins with microscopic imagery of mosquitos hatching out of larvae, before a CGI sequence follows a single insect across town to a corporate party where it bites the neck of financial analyst Richard Boca (Beau Knapp). A nervous, ungainly man-boy, this genius at reading patterns is regarded as a 'golden goose' by his boss, smoothie broker Edward Werner (French heartthrob Olivier Martinez, here rocking a silver-fox look). Improbably, Richard attracts the friendly, seemingly flirtatious attention of student and wine specialist Lena (Charlotte Vega), and they repair to his vast, soulless luxury apartment to discuss their mutual interest in ecosystems before the alarm clock triggers Richard's early morning freakout.
As mosquito bites cover his face and body with grotesque swellings, Richard becomes obsessed with the insects, and by ominous financial signs on his computer screen. Behaving erratically at work (which is putting it mildly: you almost wonder when he's going to start roaring, "The bells! The bells!"), Richard lapses into paranoid megalomania, convinced that only he can read patterns complex beyond human understanding. Meanwhile, he cultivates a swarm of mosquitos in his increasingly inhospitable apartment.
There are clearly the makings of an intriguing drama here, but Mosquito State lacks sting for several reasons. One is that it feels too much like a knowing mash-up of familiar tropes: Cronenbergian body horror, Manhattan social satire in the vein of American Psycho, and genre-based studies of psychological collapse, most closely echoing Darren Aronofsky's maths-themed Pi. There's also the problem of Knapp's lead performance: he starts out eccentrically, over-emphasising Richard's awkwardness (he twists and shuffles so much early on that he almost seems to be dancing), and takes off from there into full-on overkill. All in all, the film relies on paper-thin off-the-peg characterisations - empathetic nice girl, feral Wall Street wolf, corporate macho man forever swinging a baseball bat – and even the possibility that this might be a deliberate wink at genre conventions doesn't excuse that.
As for the stylistic gloss, it feels a little tacky, certainly surplus to narrative requirements. The production design tends to overwhelm the drama, while some hyper-vivid colour effects - a blood-red Manhattan sky, Richard's bedroom steeped in plague-pit shades of queasy green – are arresting, but jar as part of a coherent whole. The CGI has a distracting, somewhat dated look, and other visual touches are misguided, like the ugly chapter headings in which the images freeze into paintings. Knowing references to the period in TV footage – a pre-presidential Obama, Trump as a game-show star, financier-pundit Nassim Nicholas Taleb expounding his 'black swan' theory – feel pedantically obtrusive. The microscopic nature footage is genuinely unnerving, but the rest is unlikely to get under your skin.
Production companies: WFDiF, Royal Road Entertainment, Lightcraft, Bottleship VFX
International sales: CAA, nick.ogiony@caa.com
Producers: Filip Jan Rymsza, Włodzimierz Niderhaus, Alissa Swanzey
Screenplay: Filip Jan Rymsza, Mario Zermeno
Cinematography: Eric Koretz
Editors: Andrew Hafitz, Bob Murawski, Wojchiech Janas
Production design: Marek Warszewski
Music: Cezary Skubiszewski
Main cast: Beau Knapp, Charlotte Vega, Jack Kesy, Olivier Martinez