Multi-disciplinary, meditative journey through Japan to its most famous natural landmark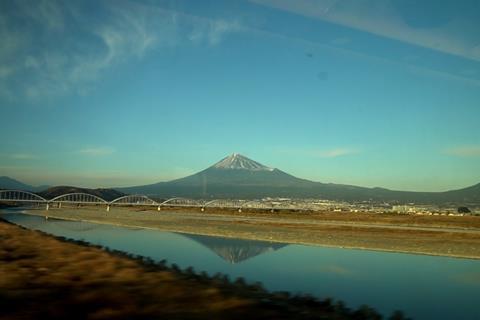 Dir/scr: Pierre Hebert. Canada. 2021. 81mins
Originally intended as the third chapter in his 'Places And Monuments' project, Mount Fuji As Seen From A Moving Train belatedly emerges as the 11th title in Pierre Hebert's long-running series. Two stretches of live action footage from Japan form the basis of an experimental, freewheeling multi-disciplinary feature that also encompasses dance, calligraphy and Hebert's trademark film-stock scratching. It should find a welcome at further animation festivals, and at museums and galleries celebrating Hebert's half century-plus career.
The train journey fades back and forth between live action and animation
Hebert informs us through on-screen titles that the film is designed as an homage to Robert Breer's animated short Fuji (1974). Hebert shot footage in Japan in 2003 that never saw the light of day. In 2018, he made a further trip to Japan. They are now combined here in 'Pieces And Monuments 3/11' which coincidentally is the date in March 2011 of the devastating earthquake, tsunami and accident at the Fukushima nuclear power station. That coincidence is the starting point for 'Places And Monuments 3/11', or Mount Fuji As Seen From a Moving Train.
Mount Fuji begins at a railway station amid all the urgency and noise of the moments prior to departure. During the subsequent trip, the volcano is often obscured by cloud or mist. The film is partly a meditation on the seen and unseen, and also what might be discerned within that apparent invisibility. On the soundtrack we hear tannoy announcements, the trundle of suitcase wheels and the rattle of a train hurtling along a track. Hebert's scratches interject, exploding on to a pitch black screen like bolts of lightning. The freneticism of the scratches is matched to the tempo of the train. The marks arrive like fireworks, sparking jerky dances of doodles, squiggles, twisted shapes and stark outlines.
The train journey fades back and forth between live action and animation. The live footage has a tourist feel as we travel past Sakurajima volcano or Ohayama Cemetry, and witness food markets and travelling couples stopping to take photographs. Hebert adds his own touch by outlining individuals in white or presenting images framed in a white scratched square. There are bursts of colour and occasional glimpses of Hokusai paintings.
What intrigues in a short film format becomes more challenging when stretched to a feature and that starts to be the case with Mount Fuji, although the final third feels more focused. Hebert shows himself at work but also showcases a contemporary dance performance by dancer/choreographer Teita Iwabuchi.
A stop to contemplate the Park Of Peace in Nagasaki prompts a confrontation with the bombing of the city in August 1945. Scratched images, throbbing bursts of colour and intense music combine to effectively convey the sense of devastation on that day. Hebert subsequently visits Yakushima Island and the tranquil footage and sketches of cedar forests, foliage and countryside reveal a sense of nature's ability to heal and endure.
Imprinted throughout with Hebert's sensibility and artistry, Mount Fuji is not without its longueurs but ultimately reaches its final destination of being a thoughtful, highly personal reflection on Japan past and present.
Production company: Videographe
International sales: Videographe, festival@videographe.org
Producer: Pierre Hebert
Cinematography: Pierre Hebert
Editing: Pierre Hebert