Lesley Manville charms the arthouse with this endearing adaptation of Paul Gallico's novel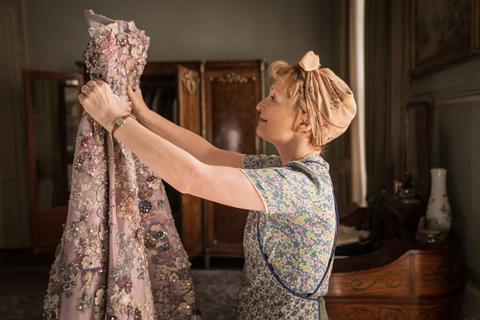 Dir: Anthony Fabian. UK/Hungary. 2021. 115 mins.
Lit from within by the sunny disposition of its main character, Mrs Harris Goes To Paris is a lovely, modest ode to kindness, anchored by Lesley Manville's considered performance as a housekeeper who is tired of feeling invisible. This adaptation of the Paul Gallico novel sells a honeyed fantasy — that people are basically decent, and that having a good heart will be rewarded — but director Anthony Fabian mostly resists overdoing the preciousness, instead thoughtfully and movingly examining how challenging it is to maintain one's optimism in a harsh world.
Mrs Harris lets us savour a rare moment when good things actually happen to good people
Opening in the US on July 15 and in the UK on September 30, the picture will cater to older arthouse crowds, especially those susceptible to swooning over Luciana Arrighi's handsome period production design and Oscar-winner Jenny Beavan's gorgeous dresses. Manville is joined by a strong cast, including Isabelle Huppert and Jason Isaacs, and the Parisian setting should only sweeten the deal for viewers seeking a cinematic escape.
The story takes place in 1957: Ada Harris (Manville) cleans people's homes in London, still holding out hope that her husband Eddie, who has been missing since he went off to fight in the Second World War, will one day return. But Ada's quiet life serving others gets a jolt once she's dazzled by a beautiful Christian Dior gown hanging in one of her client's closets. Filled with desire to purchase one for herself, despite her meagre finances, Ada raises the money and makes her way to Paris, where she visits the House of Dior. But it will take time for the exclusive clothier to fashion her very own dress, which gives Ada an opportunity to meet some of the company's employees — as well as a dashing widower, the Marquis de Chassagne (Lambert Wilson), who she is quite taken with.
Gallico's 1958 book, which launched a series, has been previously turned into films and a 2016 musical, and Fabian (whose last fiction feature was 2013's Louder Than Words) does almost nothing to make the story contemporary. (Ada at one point does let fly with a "You go, girl!") Instead, Mrs Harris has a refreshingly old-school attitude toward civility and courtship, following along with Ada as she charms everyone in her path. Ada's adversaries — most notably, Dior's snooty Madame Colbert (Huppert), who disapproves of this lowly commoner — may initially balk at her stubborn sweetness and assertive manner, but eventually they'll see the error in their ways. The only real suspense is how long it will take those around Ada to realise that her compassionate worldview is so wise.
In the wrong hands, such material could be treacly or smug, but it's a testament to Fabian (who cowrote the screenplay) and his cast that they strike a precise tone that honours Ada's search for happiness while acknowledging the pain she has endured. Manville brings steel to her portrayal, illustrating how this woman, who will have to accept that her beloved spouse is gone, decides to stop waiting for her life to begin. Whether standing up to the snobs at Dior or allowing herself to be taken out by Wilson's fetching aristocrat, Ada slowly comes into her own, and Manville articulates each step of her character's personal metamorphosis. It's touching and inspiring without ever feeling patronising.
To be sure, this Cinderella-esque fairy tale sometimes traffics in cutesy indulgences. For instance, two of the supporting characters — unpretentious model Natasha (Alba Baptista) and nerdy accountant Andre (Lucas Bravo) — are clearly meant to be together after they adorably bonk their heads while both reaching down to pick up some fallen vegetables. But while much of Mrs Harris is predictable, the film's deep wellspring of emotion gives the unsurprising twists and turns a weary resonance.
And the performances are incredibly warm, never cloying, with Wilson particularly appealing as this melancholy widower who helps make Ada feel alive. Huppert seems to be having quite the time playing a stereotypical grump who, like so many of the people in Mrs Harris, doesn't feel seen by the world. That condition is certainly true of Archie, a London bookie who has been Ada's loyal friend for years, and Isaacs gives the man just the right mix of vulnerability and rakishness that we can guess what will become of the character — and are happy to be proven correct by the end. Kindness can be difficult to portray on screen without coming across as Pollyannaish or naive, but Mrs Harris lets us savour a rare moment when good things actually happen to good people.
Production companies: Focus Features
Worldwide distribution: Universal Pictures
Producers: Anthony Fabian, Xavier Marchand, Guillaume Benski
Screenplay: Carroll Cartwright & Anthony Fabian and Keith Thompson and Olivia Hetreed, based on the novel by Paul Gallico
Production design: Luciana Arrighi
Editing: Barney Piling
Cinematography: Felix Wiedemann
Music: Rael Jones
Main cast: Lesley Manville, Isabelle Huppert, Lambert Wilson, Alba Baptista, Lucas Bravo, Ellen Thomas, Rose Williams, Jason Isaacs