Dir. Nabil Ayouch. France-Morocco. 2015. 108 mins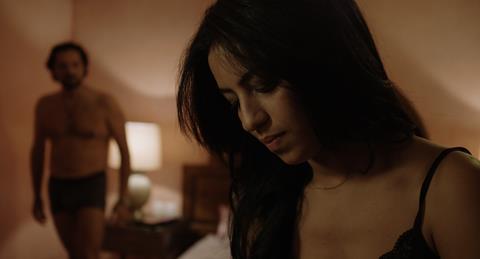 The proverbial 'splendours and miseries' of prostitution are a fictional topic as old as the oldest profession itself. Moroccan drama Much Loved may add few radical insights into life on the game, but what's different is seeing this topic depicted in a North African setting. At a time when questions of female identity and right to self-expression in the Islamic world are hotly debated, this feature by French-Moroccan director Nabil Ayouch - whose films include 2012's God's Horses - offers a vivid, non-judgmental picture of a marginal female subculture in permanent confrontation with the male order. Festivals will snap it up, and provocative subject matter as well as its strong dramatic thrust and performances will ensure modest but solid export potential.
Men, of course, come out looking bad for the most part - predatory European men, it should be said, worst of all.
In Marrakesh, three high-class prostitutes share a flat and eke out a modest living, with the help of a solicitous male assistant, middle-aged Said (Abdellah Didane: a slightly mysterious, unexplored figure). The den mother is older Noha (Abidar), who modeInstly dons a headscarf to visit her impoverished family, but her social position means that they give her the cold shoulder. Younger Soukaina (Karaouane) is in her prime, and still attached to the penniless lover who hovers disconsolately near their flat. And newbie Randa (Lazrak) is a modern girl who's beginning to explore her attraction to women.
Joining the surrogate family later, by way of contrast, is Hilma (Ellaaloui), a naive village girl turned streetwalker, whose barter system of payment - groceries to supplement a meagre fee - contrasts with the wads of banknotes that the others get from their high-rolling clients.
The film occasionally takes a melodramatic turn as the women have altercations, sometimes violent, with punters or sometimes tender off-duty interludes with admirers. But for large stretches, Ayouch takes a strictly realist tack, revealing the daily workings, above all economic, of their work - notably at parties for wealthy Saudis, where they are expected to provide entertainment, sometimes very demeaningly, as well as sexual services.
The performances are terrifically natural, especially in the women's downtime. Time hanging out with transvestite pals reveals another, rarely depicted side of Arab society, and despite over-emphatic accompanying music, Marrakech street scenes show the city's decidedly untouristic side. Men, of course, come out looking bad for the most part - predatory European men, it should be said, worst of all.
Production companies: Films du Nouveau Monde, Barney Production, New District, Ali n' Productions
International sales: Celluloid Dreams, info@celluloid-dreams.com
Producers: Eric Poulet, Saïd Hamich, Nabil Ayouch
Screenplay: Nabil Ayouch
Cinematography: Virginie Surdej
Editor: Damien Keyeux
Production design: Hind Ghazali
Music: Mike Kourtzer
Main cast: Loubna Abidar, Asmaa Lazrak, Halima Karaouane, Sara el Mhandi Elaaloui