Kenneth Branagh directs and stars in this lavish adaptation of Agatha Christie's iconic murder mystery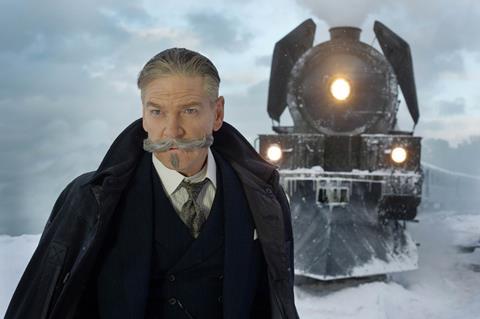 Dir: Kenneth Branagh. US. 2017. 114mins
While Murder On The Orient Express may see master detective Hercule Poirot tackle his most challenging case, director-star Kenneth Branagh doesn't prove comparably formidable, delivering a finely manicured but decidedly uninvolving adaptation of Agatha Christie's celebrated whodunit.
Cosmetic changes matter less than the waxwork-like depiction of the train's passengers
Populated by an international cast packed into stylish costumes amidst a stale air of cosmopolitan sophistication, this stagey mystery lacks the flamboyant electricity and riveting tension that have been the hallmarks of previous versions. Much of the film's problems are encapsulated in Branagh's performance, which is too self-amused to really capture what's so compelling about one of fiction's finest crime-fighters.
Releasing November 3 in the UK and November 10 in America, Murder will benefit from audience familiarity with the Christie novel — to say nothing of its different adaptations, most notably Sidney Lumet's 1974 film and the 2010 British TV version starring David Suchet. Here, a star-studded cast including Johnny Depp, Penélope Cruz, Judi Dench, Daisy Ridley and Michelle Pfeiffer will only sweeten the deal for some audiences, who may gravitate to this Fox offering over frenetic blockbusters such as Thor: Ragnarok.
Set in 1934, the film stars Branagh as Poirot; a sharp, quirky Belgian detective who is supremely confident in his peerless skill at observation and deduction. He'll be tested, however, after boarding the Orient Express in Istanbul; after an avalanche strands the train along its route, a passenger is found murdered — leading Poirot to the realization that the killer must be a fellow traveller.
As with his most lavish Shakespeare adaptations (Hamlet and Love's Labour's Lost), Branagh flaunts a theatrical flair, emphasizing the material's inherently old-fashioned qualities. Rather than worrying about modernizing the text, Branagh gives us a movie that seems from an earlier time. His army of below-the-line talent lend the train, its passengers and their wardrobe a romantic, nostalgic opulence that's proudly, warmly retro. But Branagh, in his direction and especially in his performance, can't help but overdo the cheeky artificiality, which keeps Murder feeling more like a well-designed exercise than a delectable thriller.
For decades, Poirot has been beloved; in part, because of his amusing peculiarity, which has given actors the ability to interpret him in dissimilar ways. Whereas Albert Finney played him as an awkward but relentless pit bull in the 1974 film, Suchet gave audiences a subtler, more soulful take. On the whole, Branagh's Murder tries splitting the difference between those two earlier adaptations — borrowing the extravagant accents and page-turning glee of Lumet's film and the sombre moral reckoning of the Suchet edition — but his Poirot is distractingly adorable and lightweight. Branagh also flashes a knowingly ludicrous moustache (which was how Christie envisioned the detective) that ends up undercutting the character's gravitas and brilliance.
Branagh and screenwriter Michael Green tinker with some of the story's iconic suspects. In this Murder, for instance, the Swedish missionary Greta (played by Ingrid Bergman, who won an Oscar for the 1974 version) has been changed to Pilar Estravados (Cruz), a figure from another Christie work but without all that character's specific qualities. Along those lines, the filmmakers try to throw in some surprises to this oft-told tale while maintaining the most memorable sequences and revelations — presumably, as a way to satisfy ardent fans while not being so reverent that this new film feels superfluous.
But those cosmetic changes matter less than the waxwork-like depiction of the train's passengers, who don't register strongly enough as intriguing or enigmatic. Pfeiffer is dynamite playing the flirty, tempestuous widow Mrs. Hubbard, more than holding her own with Lauren Bacall's indelible grande dame rendition from the Lumet film. But where earlier adaptations either leaned into the colourfulness of Christie's parade-of-eccentrics or attempted a more muted, realistic depiction, this Murder tends to cast the most obvious actors for each role — Dench, say, as the icy Princess Dragomiroff — and then drains them of their vitality as performers.
Shot on 65mm film — another indication of Murder's old-school bona fides — this thriller has a stately pace with an eye for period detail, both in terms of décor and in its portrait of a society. Leslie Odom, Jr, for example, plays the upstanding Arbuthnot (previously portrayed by everyone from Sean Connery to David Morrissey) who, because he's black, immediately raises the suspicions of the white, bigoted passengers. But for Murder's infamous ending to truly move us, we'd need to know these characters better, which Branagh's fussy, cutesy production never allows. Poirot uncovers the culprit, but the director keeps his suspects under glass.
Production companies: Kinberg Genre, The Mark Gordon Company, Scott Free
Worldwide distribution: 20th Century Fox, www.foxmovies.com
Producers: Ridley Scott, Mark Gordon, Simon Kinberg, Kenneth Branagh, Judy Hofflund, Michael Schaefer
Executive producers: Aditya Sood, Matthew Jenkins, James Prichard, Hilary Strong
Screenplay: Michael Green, based on the novel by Agatha Christie
Cinematography: Haris Zambarloukos
Production design: Jim Clay
Editor: Mick Audsley
Music: Patrick Doyle
Website: www.cluesareeverywhere.com
Main Cast: Tom Bateman, Lucy Boynton, Kenneth Branagh, Olivia Colman, Penélope Cruz, Willem Dafoe, Johnny Depp, Judi Dench, Josh Gad, Manuel Garcia-Rulfo, Derek Jacobi, Marwan Kenzari, Leslie Odom, Jr., Michelle Pfeiffer, Sergei Polunin, Daisy Ridley