Ruth Beckermann's casting couch is much more than it seems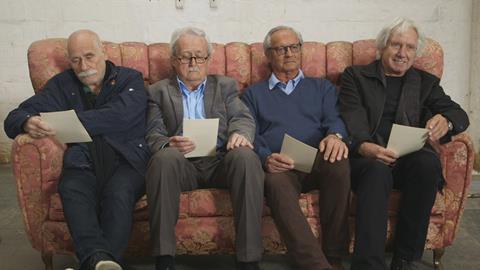 Dir: Ruth Beckermann. Austria. 2022. 100 mins
A hat stand, a disreputable-looking pink brocade sofa, a selection of excerpts from an Austrian erotic novel, published anonymously in 1906. And men, a hundred of them, aged between 16 and 99, who have responded to an open casting for the latest film by Ruth Beckermann, a project which is based on the controversial and salacious book, .Josefine Mutzenbacher' or 'The Story of a Viennese Whore'. What the men don't initially realise is that the audition process – they are asked to read and engage with chunks of explicitly sexual literature – will become the film itself. In a sly role reversal, the lens is trained on men – squirming, preening, performing – on Beckermann's overstuffed casting couch, while, off camera, she scrutinises and interrogates. It's a playful and revealing device, and the film, which won the prize for Best Picture in the Encounters section of the Berlin Film Festival, unpeels ever deeper and often darker male sexual secrets and admissions like a Russian doll.
Beckermann, one suspects, having a great deal of fun with the whole project.
Beckermann's most recent work includes The Waldheim Waltz, which was Austria's submission for the Foreign Language Academy Award in 2019. But Mutzenbacher, which was conceived partly as a response to the restrictions of working at the height of the pandemic, has more in common with her 2016 work, The Dreamed Ones, which explored the letters shared between the poets Ingeborg Bachmann and Paul Celan, and the connection formed between two actors hired to read them. It's a work which should take its place within a broader conversation about contemporary attitudes towards sex and pornography, most likely within the festival circuit.
The film opens with a potted history of the book and its significance. Banned until 1968 in Austria, and rumoured to have been written by Felix Salten, whose other credits include 'Bambi', it takes the form of a memoir written by a courtesan in her fifties recounting her early sexual exploits and awakening, spanning a period between the age of five to 13. Published one year after Sigmund Freud's 'Three Essays on the Theory of Sexuality', in which Freud described his ideas on childhood sexuality, the book is regarded both as a classic of erotic literature and also a rather dubious piece of underage pornography. Either way, it has carved a place in the Austrian sexual psyche, a fact which is evident in the make up of the self-selected group of men who responded to the advertisement that Beckermann placed in a national newspaper.
They are divided, observes one man, between those who are drawn by Beckermann's reputation as a director and those – here he casts a wary glance at the man sitting alongside him on the flesh-pink sofa with its curdled yellow flowers – who are drawn to the text.
And certainly, for everyone who recoils from the material – one man shudders palpably and flings the pages away – there is a contingent that responds more positively to it. "Hot. Nice. Incest. Natural," is one man's emphatic seal of approval. But the point of the film is not to judge but to tease out insights into each man's relationship with the book, their past experiences and, in at least one case, to allow them to spin off into a fantasy scenario involving a lusty bricklayer and a sexually available mother and daughter.
Out of shot but audible, Beckermann's crisp comments and questions are the cause of obvious discomfort in some of the men. After all, she is in a position of power. She has the men obediently chanting sexual slang; she sternly quotes passages to a squeamish grandfather. She is, one suspects, having a great deal of fun with the whole project.
Production company/international sales: Ruth Beckermann Filmproduktio, sekretariat@ruthbeckermann.com
Producer: Ruth Beckermann
Screenplay: Ruth Beckermann, Claus Philipp
Cinematography: Johannes Hammel
Editing: Dieter Pichler
Music: VALIE EXPORT, Ingrid/monsti Wiener