A Czech woman builds a new life in Kabul with her Afghan husband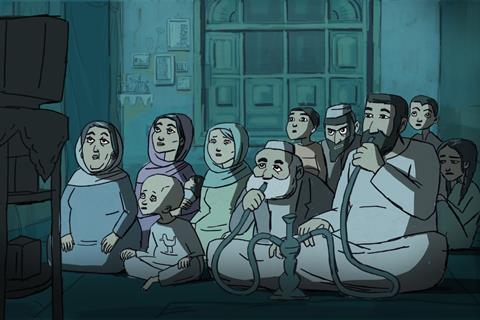 Dir: Michaela Pavlatova. France, Czech Republic. 2021. 81mins
Disillusioned with mediocre Czech men, Helena (voiced by Zuzana Stivínova) fell for Nazir (Haji Gul Asir) the moment she set eyes on him. But as a western woman marrying an Afghan man and moving to post-Taliban Kabul, she must embrace fundamental changes to her life, starting with her name – in Afghanistan she is Herra, and her status as a wife is subordinate to her husband at all times. A winning combination of gorgeous 2D animation and an involving storyline will ensure that My Sunny Maad should appeal to animation fans and beyond following its premiere in competition at Annecy.
Despite its vignette structure, the film finds time to build texture and depth into characters
Based on the novel 'Frista' by Czech journalist Petra Prochazkova (herself married to an Afghan), My Sunny Maad is the third solo feature from Czech director Michaela Pavlatova, following two live action pictures, Faithless Games and Night Owls. Her previous animation work includes the Oscar-nominated 1993 short Words, Words, Words and the Annecy best short film winner Tram in 2012. Her flair for relatable storytelling is matched by the film's striking aesthetic, making this a title which should make the leap from the festival circuit to theatrical release, connecting with a similar audience to that of Persepolis. French rights have already been acquired by Diaphana Distribution.
Kabul, with its buffeting noise and thronging markets, is vividly brought to life by lithe animation which captures the essence of each location, be it Prague, Herra's new family home or the US base where she finds herself working. In addition to the film's visual component, sound design and a lush culturally literate score work in tandem to bring added depth to film's sense of place. But while the backdrop – its blocky architecture, the sensory onslaught, the judging eyes that spot a western woman even under her burka – is vividly brought to life, it's in the human dynamics that the film really comes to life.
A sparse narration sporadically brings Herra's voice to the fore, but what's particularly satisfying is the way that, despite its vignette structure, the film finds time to build texture and depth into characters who are initially introduced as archetypes. The judgemental sister-in-law becomes an ally and, as time passes, a confidante who trusts Herra with her most desperate secrets. And Nazir, traditional in many ways, learns to work with his wife and strike a balance between his expectations and her freedoms (expressed in a glorious fantasy sequence showing Herra and a crowd of Afghan women, hair thick and wild and uncovered, skateboarding through the streets).
And then there's Maad (Shahid Maqsoodi), the outcast child left to fend for himself who is brought into the family home and raised by Herra and her husband when it becomes clear that they can't have children. With his huge, sad eyes and oversized skull, he's a little different from the other children, but he encapsulates the humanity, tolerance, love and hope which is at the heart of this beguiling and sensitively realised story.
Production companies: Sacrebleu Productions, Negativ S.R.O., B Film
International sales: Totem Films hello@totem-films.com
Producers: Petr Oukropec, Ron Dyens, Peter Badac, Katerina Cerna
Screenplay: Ivan Arsenjev, Yaël Levy
Art Design: Michaela Pavlatova
Editor: Evzenie Brabcova
Music: Evgueni Galperine, Sacha Galperine
Main cast: Zuzana Stivínova, Shahid Maqsoodi, Haji Gul Asir, Martha Issova, Hynek Cermak, Ivan Trojan