Claude Lanzmann returns to North Korea nearly 60 years after his last visit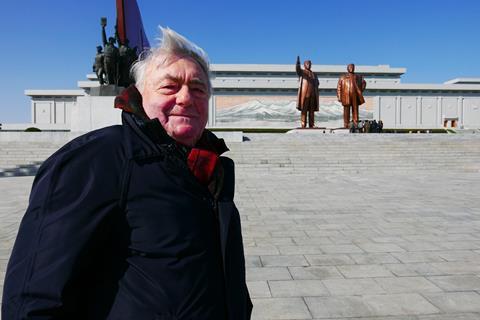 Dir: Claude Lanzmann. France. 2017. 100 mins
In authoritative documentaries such as the classic Holocaust statement Shoah, Claude Lanzmann has shown the power of the voice and narrated memory where visual images can prove inadequate and inappropriate. It's a strategy that comes up against its limitations in Napalm, ostensibly a record of Lanzmann's recent visit to North Korea, and a film frustratingly low on images and built around the director's long-winded account of a romantic encounter he had there in 1958. Viewers hoping for revealing new pictures of a too-little understood culture will feel short-changed visually, much of the film riding on Lanzmann's personal presence as a raconteur who has lived through extraordinary times.
The punchline of the narrative is painful and unmistakably poignant, but the story could have been edited down a lot more economically
The film begins with a brief stopover in Beijing's Forbidden City, as Lanzmann – narrating in voice-over in those inimitably gravelly, gravitas-laden tones – awaits long-deferred permission to shoot in North Korea. He and DoP Caroline Champetier, going ahead and filming anyway, show us corridors of seemingly identical skyscrapers in North Korean capital Pyongyang, a city comprehensively rebuilt after its near-total destruction by US bombers in the Korean war.
Lanzmann offers some intriguing insights on the real project behind the society, and the architecture, initiated by late Communist leader Kim Il-sung – notably the idea that this nation represents an attempt to stop time. Lanzmann's footage of North Korean society now - supplemented by Iris van de Waard's still photos - have an enjoyable travelogue interest, notably some dazzling displays of Taewkon-do.
There's also sparely presented historical background, in particular showing – in harrowing black and white newsreel footage - the devastating effect of the 1950-1953 war on North Korea's civilian population. Then Lanzmann launches in the story that takes up a good chunk of the film, which he narrates to camera. It concerns his first visit to North Korea in 1958, when he was a member of the first Western delegation there, and involves him receiving a course of vitamin jabs from a beautiful Korean nurse. By the time Lanzmann has persuaded the nurse's official retinue to ease off a bit, we've long been wondering where this is going – but a mischievous glint in his eye is starting to give us an idea.
The story drifts ever on, with further episodes involving a clandestine rowing trip and a poignant and revealing exchange in which the nurse's one non-Korean word explains the film's title.
As self-mocking as this ramble sometimes is, it not only fills an inordinate chunk of the film, but also comes across as raffishly romantic in a slightly self-serving way. So his wish to kiss her "pear-like breast" represented "an act of chivalry"? If you say so, monsieur…
The punchline of the narrative is painful and unmistakably poignant, but the story could have been edited down a lot more economically to make its points about the society the nurse lived in 1958, and what the episode might say about North Korea and its ordinary citizens today. As it is, you understand that filming possibilities on his latest trip must have been limited – Lanzmann is visibly, and amusingly, testy at the official escort who will barely let go of his arm. Even so, Napalm feels like a missed opportunity to get much deeper under the skin of a nation that Lanzmann clearly knows better than most observers, and for whose citizens he feels more compassion and understanding than they are often granted.