Cyber-musical from Rwanda showing in Directors' Fortnight displays defiant and dizzying originality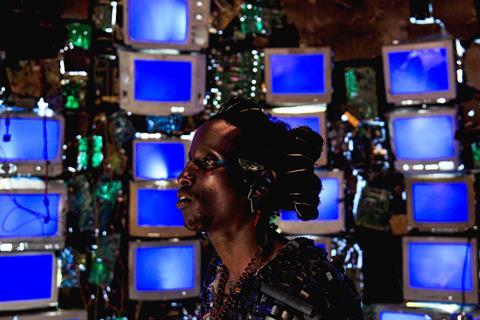 Dirs: Saul Williams, Anisia Uzeyman. US/Rwanda. 2021. 105 mins
This anti-capitalist cyber-musical set in a hacker encampment in a Rwandan tech-junkyard is as dizzyingly inventive as it is frequently incomprehensible. But the fact that viewers might struggle to stay on the same wavelength as the picture, which was co-directed and written by the American poet, actor and musician Saul Williams, doesn't detract from the film's fierce originality and punk iconoclasm. The nub of the story involves Neptune, an intersex runaway (played by both Cheryl Isheja and Elvis Ngabo) who forms a cosmic connection with Matalusa, a grieving coltan miner (Bertrand Ninteretse 'Kaya Free'), triggering a glitch that threatens the power structure which plunders the recourses and the people of the country. But it's a pinwheel of a movie which is constantly sparking and spinning ideas.
As dizzyingly inventive as it is frequently incomprehensible
William's involvement – in addition to writing and co-directing, he also composed the music – will be a key selling point for the film, which also claims high profile producing credits in Ezra Miller and, as a exec producer, Lin-Manuel Miranda. Co-director Anisia Uzeyman made her feature directing debut with Dreamstates (2016), which starred Williams. This project started out as a graphic novel and a musical; its circuitous route to the screen might go some way towards explaining its bracingly unconventional approach. Perhaps a little too out there to cross over to the mainstream, it will connect best with audiences looking to explore the experimental fringes of African cinema: there's a kinship with Fradique's Angola-set feature Air Conditioner. Festivals and curated streaming platforms will be the picture's natural home.
Defiantly lo-fi in approach, despite its tech-infused themes, the film gets considerable mileage out of vivid production and costume design, and spectacular work from the hair and makeup departments. Luminous day-glo facepaint is used to uncannily potent effect, particularly in the scenes which unfold in the parallel nighttime world where Neptune and Matalusa connect. Aside from its distinctive Afro-futurist aesthetic, the film's other main asset is its use of music. From a thrilling early scene which harnesses the rhythms of the coltan mine's labourers, music is integral to practically every frame.
The themes that the film addresses – the disparity between the mineral riches and the economic poverty of numerous countries in Africa, the power and the threat of technology, the way that it can be harnessed as a weapon of oppression or a tool for freedom – are emphatically clear, despite Williams' poetic circularity and embellishment. But while the issues are grounded in the real world, what's intriguing about the picture is the way that it creates an alternative, parallel existence. In this world, the words "unanimous goldmine" are used as a greeting; a human can also serve as the motherboard to a cyber network. Strangers impart wisdom to each other: "One who swallows a whole coconut trusts his anus" is a particularly memorable adage. Does it all hold together? Not entirely. But in its glitchy, rough and ready way, the film has achieved a wholly original piece of world-building.
Production company: Swan Films
International sales: CAA, filmsales@caa.com
Producer: Maria Judice, Ezra Miller, Saul Williams
Screenplay: Saul Williams
Cinematography: Anisia Uzeyman
Editor: Anisha Asharya
Production Design: Cedric Mizero
Music: Saul Williams
Main cast: Cheryl Isheja, Bertrand Ninteretse "Kaya Free", Eliane Umuhire, Dorcy Rugamba, Rebecca Mucyo, Trésor Niyongabo, Eric Ngangare "1Key", Natacha Muziramakenga, Elvis Ngabo "Bobo", Cécile Kayirebwa