A night of stories and drama from an Ivory Coast prison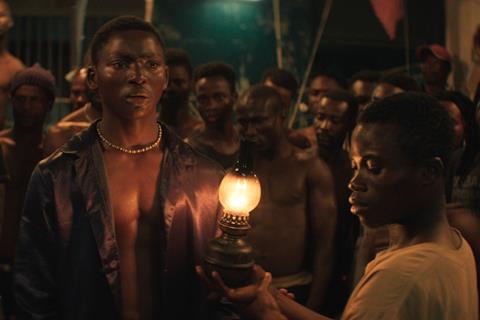 Dir/scr: Philippe Lacote. France/Ivory Coast/Canada/Senegal. 2020. 93 mins.
In a notorious prison deep in the Ivory Coast jungle, a male Scheherazade spins stories on the night of a red moon while a power struggle between inmates threatens to erupt into violence. Philippe Lacote's second dramatic feature after his 2014 Cannes debut Run is a rich, strange creature, an African film in which the MACA prison, with its rules and rituals, is reimagined as a microcosm of Ivorian society, politics, history and culture, and a film whose director becomes a kind of choreographer of underground energies and buried narratives.
An atmospherically shot film about African oral culture
Premiering in Venice's Horizons section, the film shares certain themes and methods with Mati Diop's critically-acclaimed Atlantics, not only in the way it harnesses the supernatural in the service of a film about an African society's present-day problems and lines of fracture. Also tapped by the Toronto and New York selectors, Night Of The Kings may not break through to that title's prestige streaming success but is likely, at the very least, to be embraced by programmers looking for evocative world cinema content.
In Night Of The Kings, an otherworldy mood is there from the onset, as an aerial shot flies over of miles of jungle and cuts to the army van which is bringing a young convict to serve his time in MACA. Surrounded by a sea of green, this brutalist concrete compound seems dislocated from the world, in a different time and space – a sense reinforced by Olivier Alary's eerie soundtrack of screeching, plaintive violin and sax notes, backed by distant jungle noises.
We already know, thanks to an opening caption, that "MACA is a prison with its own codes and laws", ruled over not by its guards but by the Dangoro, "supreme chief" among the prisoners, who must take his own life when he falls ill and can no longer govern. That's exactly what's happening, we realise, as we meet the current Dangoro, a weathered hulk called Blackbeard (Steve Tientcheu), who is dying from some unspecified malady and seeing his authority challenged by the cocky Lass (Abdul Karim Konate) and his gang. Blackbeard knows however that he can buy time by invoking an old prison ritual whereby, on the night of a red moon, a storyteller is selected from among the inmates and told to spin tales.
It's the terrified new arrival who is chosen by Blackbeard to become Roman ('novel' in French), the name traditionally given to the red moon storyteller – whose fate, when he finishes his tale, is, we soon realise, pretty similar to that which awaited the famous Arabian Nights princess. As the night of the red moon approaches, we and Roman meet some of the other denizens of MACA, who seem to have the run of a place which the prison guards never enter, merely observing the action through concrete slits. They have names like Razor Blade and Half Mad; the only white man here is Silence, a cracked weirdo played by every French director's go-to cracked weirdo actor, Denis Lavant.
The prison courtyard, lit by candles and flickering oil lamps, becomes the stage for most of the second half of the film as Roman begins to tell a story, hesistantly at first, about a young crime boss and political hustler called Zama King. Scenes from the story are played out in two ways – first by some of the assembled prison audience, in the form of mime, dance, call-and-response, and a capella improvised songs – and secondly in filmed scenes that dramatise Roman's narrative. As he backtracks in time to the birth of Zama, we suddenly find ourselves in a legendary Ivorian coastal kingdom where the army of a proud queen with supernatural powers is pitted against that of her younger brother.
This is an atmospherically shot film about African oral culture, about riots, street musicians and storytellers. But it also uses the space and denizens of the prison as a metaphor for the divisions and tensions within Ivorian society, embedding its factionalism in a highly ritualised fight between two groups of prisoners, and using Roman's interrupted, back-to-front story (he begins at the end before going back) as a mirror for the many hiatuses and backward slides in the country's recent political history.
Production company: Banshee Films
International sales: Memento Films International, sales@mementofilms.com
Producers: Delphine Jaquet, Yanick Létourneau, Ernest Konan, Yoro Mbaye
Production design: Samuel Teisseire
Editing: Aube Foglia
Cinematography: Tobie Marier Robitaille
Music: Olivier Alary
Main cast: Kone Bakary, Steve Tientcheu, Rasmane Ouedraogo, Issaka Sawadogo, Digbeu Jean Cyrille, Abdul Karim Konate, Anzian Marcel, Laetitia Ky, Vero Tshanda Beya, Denis Lavant