Alain Ughetto traces his family history in this charming, personal second feature animation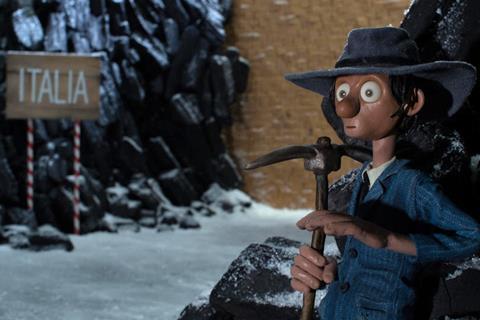 Dir: Alain Ughetto. France/Italy/Switzerland. 2022. 70 mins.
In the early dawn of the 20th century, life for the Ughetto family in their village — Ughettera, located in the Piedmont mountain country of northwest Italy — is increasingly tough. Faced with mounting privations — one scene shows a single potato chopped into fifths and distributed between the younger children of the family — and the lure of work elsewhere, Luigi Ughetto follows the opportunities presented by tunnel- and road-building projects, finally crossing to France and changing the course of the family's history. In this charming, very personal, factually-based stop motion animation, Luigi's grandson, French animator Alain Ughetto, not only traces that history, he also enters into a dialogue with it.
The film balances tragedy with playful moments
No Dogs Or Italians Allowed is Ughetto's second feature animation, after Jasmine, which screened in Annecy in 2013. Crafted from clay and chestnuts, cardboard and rocks, the picture has a pleasingly rough-hewn aesthetic which chimes perfectly with its themes of resourceful and hardy mountain folk making a life out of whatever fate throws their way. Blending personal and broader sociopolitical history, the film offers an intriguing glimpse of a Europe of the not-so-very-distant past which, nonetheless, feels like a different world entirely. It's not an obviously commercial work but, boosted by its success in the competition at Annecy — the film took home both the Jury Award and the Gan Foundation Award For Distribution — both dogs and Italians are likely to find themselves welcomed to further festivals, and might find doors opened to audiences via a curated streaming platform. Gebeka Films will release in France.
The film takes the form of a conversation, between Ughetto, whose own childhood is sketched briefly ("Art is not for us!" says his father) and his grandmother Cesira (voiced by Ariane Ascaride), a solicitous matriarch who fusses over her grandson. Particularly affecting are the playful moments of physical connection between the two — Ughetto's huge animator's hand enters the frame to connect with Cesira's tiny puppet fingers.
Rather than her own tale, Cesira recounts the story of her husband Luigi. The second of eleven children, Luigi is part of a community which is ruled by an unscrupulous local priest, who places not-so-subtle spiritual pressure on his congregation in order to secure choice offerings of food and wine. It's a patriarchal society in which any woman who has the misfortune to be widowed is treated with suspicion and fear, stoked by the priest for his own ends. With not enough work to support the family, and not enough food to buy even if there was money to pay for it, half of the village's population travels to France every year, where Italian labour — and Italian willingness to tackle the most gruelling, back-breaking jobs — is in high demand. It is on one such job — working on the road carved through the Alps — that Luigi meets and falls in love with the foreman's daughter, Cesira.
Luigi and Cesira make a life for themselves in France, but other members of the family are less lucky — the First World War takes its toll on the Ughetto clan. But like the family members, who are fond of singing and dancing, largely because it is a free form of entertainment, the film balances tragedy with playful moments of release, affectionate details, and running jokes involving plastic cows.
Production company: Les Films Du Tambour De Soie
International sales: Indie Sales, info@indiesales.eu
Producer: Alexandre Cornu
Screenplay: Alain Ughetto, Alexis Galmot, Anne Paschetta
Editing: Denis Leborgne
Music: Nicola Piovani
Main voice cast: Ariane Ascaride, Alain Ughetto