James Norton tries to find a home for his young boy in Uberto Pasolini's tender tearjerker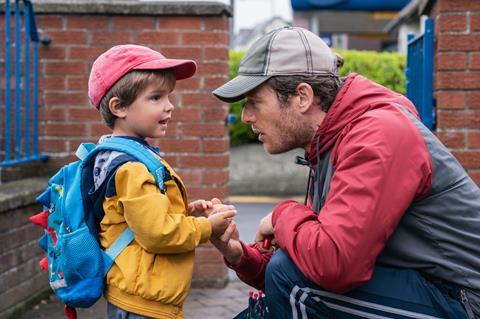 Dir/scr. Uberto Pasolini. Italy/Romania/UK. 2020. 96 mins.
Nowhere Special is a tender story of a life which is ending and another which is beginning. Window cleaner John (James Norton) knows that his four year-old son Michael will only have the haziest of memories of their time together when he dies of the unspecified illness which is now encroaching on his every day life. He also knows that Michael is his life's only real achievement, the knocks and the loneliness of his existence etched on John's face and the tattoos adorning his 34 year-old body. Finding a new family to adopt and care for his boy before he dies will, in some way, ensure it had some meaning. But how do you give your adored son away? And to who?
A tiny Northern Ireland-set tale becomes an almost sensory experience
Uberto Pasolini's film takes a real-life story as his starting point and turns this tiny Northern Ireland-set tale into an almost sensory experience. Key to that is a keenly sympathetic performance by James Norton, an actor viewed usually in the UK through a TV prism (McMafia, Grantchester), although last year's Mr Jones has shown some muscle on streaming services. This is the kind of film – a dying father, a super-cute child (gorgeous Daniel Lamont) – that can struggle to attract paying audiences, but there are rewards here and the only stumbling block lies in some narrative misdirection as opposed to its sad subject matter. Beta has notched up strong sales prior to Nowhere Special's Venice premiere and, whatever the case theatrically, this is clearly holds significant prospects elsewhere, especially for Norton.
Former producer Pasolini's last film Still Life, featuring Eddie Marsan, also premiered at Venice; it too, dealt with loneliness and death. Nowhere Special is even smaller: essentially it's a two-hander between Norton and Lamont who have an easy, cheerful rapport in scenes which can be largely silent but never oppressive. They go to school; they play in the park; and they visit families who are candidates to adopt the expressive young boy. John is looking for something, or someone, he can connect with, with the help of the harried social services who are vetting the potential parents in these most exceptional circumstances. Michael sits in on these meetings, even though his father has not explained to him what is happening, and they talk over his head. But four year-olds can be very perceptive, even when their fathers refuse to read 'When Dinosaurs Die' to them, a book suggested by the counsellors.
Pasolini uses the interviews with prospective families as a way to crack John open; taken into care himself at a young age, he is guarded and has been hurt, especially by Michael's mother, who left them when he was tiny for her native Russia without leaving any contact details. When we demand that cinema opens up to under-represented voices, John is one of them: white, poor, uneducated, alone, and with a troubled past. It's perhaps odd on paper that he would be played by an actor like Norton, but it's also hard, having seen it, to imagine who would do a better job.
Nowhere Special's problem comes when John finds the perfect match: it's clear to the audience, to John, Michael, the social workers, and probably from outer space, that this is the right home for Michael. Yet Pasolini still continues the narrative without any acknowledgment. The viewer knows the game is up, so everyone treads water until John puts his house in order, accepts the inevitable and Pasolini inches towards that feelgood ending he's contriving. It's a credit to everyone involved that it does, actually, feel OK, despite the sadness of it all.
Production credits are a model of restraint. Pasolini and DoP Marius Panduru have an eye for the nondescript in every-day life and draw a pleasing visual symmetry from locations which would look ordinary under any other lens. Whle Michael's clothes and bedding are vibrant and new, Norton is stuck in the same tracksuit throughout, giving a clear indication of where this single father's priorities lie.
Production company: Red Wave Films
International sales: Beta Cinema, beta@betacinema.com
Producers: Roberto Sessa, Cristian Nicolescu,
Screenplay: Uberto Pasolini
Cinematography: Marius Panduru
Editing: Masahiro Hirakubo, Saska Simpson
Production design: Patrick Creighton
Main cast: James Norton, Daniel Lamont, Eileen O'Higgins