Plenty to understand - and laugh at - in this all-gibberish comedy from New Zealand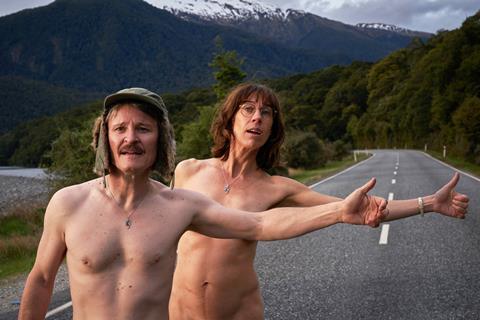 Dir. Armağan Ballantyne. New Zealand/Australia. 2021.100 mins.
Nude Tuesday is a culty comedy from The Breaker Upperer's Jackie van Beek and Armagan Ballantyne. Unlike most films, though, the more you know about it going in, the funnier it becomes. Sure, it's amusing, if you see it cold. But knowing that it was filmed entirely in gibberish made up on set and only sent to UK comic Julia Davis to provide dialogue post-shoot, with no instructions, elevates the left-of-field experience. (It's like the Hitler bunker speech in Downfall which keeps being resubtitled, only in film form.)
Nude Tuesday is a film which fully commits to itself
At least one other set of subtitles has already been created: director Ballantyne (The Strength of Water) and writer/star van Beek want to encourage audiences to write their own. It's not hard to envisage stoned students applying themselves to the task with some zeal down the line, after the film's international rollout using Davis's version (it has already released in co-production territories Australia and New Zealand after festival outings at Sidney and Tribeca).
The 'gibberish' here is remarkably Scandi-tinged, and of course, the idea of nudism will immediately recall the 1970s wave of soft-porn Swedish sauna dramas, not to mention Lars von Trier's The Idiots (1998). With this as a backdrop, Van Beek provides the audience with Bruno (Damon Herriman) and Laura (van Beek), a married couple living on a fictional South Pacific island who are experiencing marital and sexual problems and decamp to a retreat run by a lascivious guru to try patch up their marriage. (Despite talking utter nonsense, there's a enough sweet pathos delivered by van Beek and Herriman in the lead roles to make you root for this loser couple, whatever they might be saying.)
Added to this, we get Davis's surreal subtitles. Laura turns out to be suffering from severe thrush, sending Bruno to the supermarket to get canned fish to cure it - prompting a breakdown on his part. The conference presentation she's stressing out about concerns sexy incontinence pants. They jump at the opportunity to attend a new agey-retreat called Wonderla - or ẄØnÐĘULÄ, as if it was an Ikea flatpack - run by sexual-healing guru Bjorg Rasmussen, played with lascivious aplomb by Flight Of The Conchords' Jermaine Clement. There they are given a goat called Fritz to mind, who becomes a mute onlooker to their continued frustration.
Shot in New Zealand, with pop songs on the soundtrack 'translated' into gibberish, Nude Tuesday is a film which fully commits to itself. Although, in fairness, there's only one Tuesday in the film, and it comes at a frosty climax in which everyone looks as cold as Davis's subtitles suggest. At 100 minutes, it's fair to say Nude Tuesday overstays its welcome a little — it's quite slight, after all - and some of the jokes can be hit and miss. But it's funny nonetheless. And, if you don't like what they're saying, or what happens to Bruno and Laura on their quest for sexual fulfilment - you can always change their fate yourself. There's much here, or in everything we see - which is essentially the film's subtext - that is hilariously open to interpretation. See how you get on.
Production companies: Firefly Films, GoodThing Productions
International sales: Cornerstone Film, info@cornerstonefilm.com
Producers: Emma Slade, Virginia Whitwell, Nick Batzias
Screenplay: Jackie van Beek, from a story by Jackie van Beek and Armağan Ballantyne
Subtitles: Julia Davis
Cinematography: Andrew Commis
Production design: Rick Kofoed
Editing: Nick Myers
Music: Cam Ballantyne
Main cast: Jackie van Beek, Damon Herriman, Jemaine Clement, Ian Zero