Swiss debut about an obsessive gymnast en route to the Olympics is a timely release for director Elie Grappe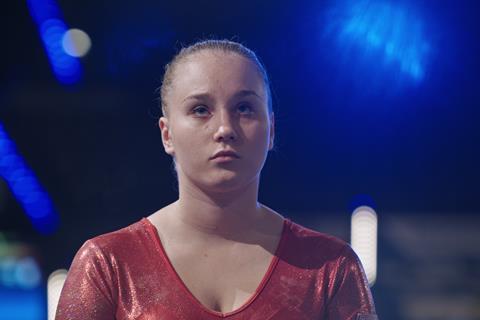 Dir. Elie Grappe. Switzerland. 87 mins.
Using real-life gymnasts to land his debut on solid ground, director Elie Grappe presents a compelling psychological portrait of a dedicated young athlete on the cusp of great success. Olga, which played at Critics Week in Cannes, packs in too much plot - the film would have vaulted home with far less. But there's a grounded authenticity in this hermetically-sealed world of elite sports which should see the arresting Olga travel through festivals, making a name for its director and co-writer on the way. Perfectly timed with this year's Olympics and the well-documented mental issues affecting the gymnasts there, Olga could catch itself on the bars of the zeitgeist and make a bid for theatrical exposure.
At a certain point, the picture almost touchs on body horror
Grappe's film doesn't feel a world away from last year's Cannes Label title Slalom, although the threat to the lonely female athlete here - 15 year-old tough-as-nails Ukrainian gymnast Olga (Anastasia Budiashkina) - isn't a sexual predator. Instead it's her very identity: who is Olga, and what will she lose in order to take her shot at success? She's so absurdly dedicated, and so breathtakingly talented, her teammates call her a robot. But she drives herself too hard, and there's a breaking point.
Where Olga excels is its entree to this world set apart. Grappe has a wonderful eye for the rhythms of training, for the snaps of the beam, the soft thud of the feet, and turns his film into a sort of balletic tribute to the gymnasts' movements. Starting in Ukraine, and moving into the well-funded encampment of Magglingen where the Swiss Olympic team trains, Grappe paints indelible images of physically powerful, mentally vulnerable young women who want to step up to the podium at all costs.
Olga is first glimpsed hard at work in her Ukraine gym, perfecting her signature move the 'Jaeger' on the bars under the watchful eye of her gruff coach - who will later 'defect' to train the Russian team. It's 2013 in Kiev, and Olga's work-obsessed mother, a journalist, has made herself a target for the mighty president/dictator Yanukovych with her outspoken reports of state-backed corruption. On the way home from training, their car is rammed in an assassination attempt: the next shot sees Olga unpacking her bags in Switzerland, where she hopes to join the Swiss team. Home is too dangerous for her.
Olga doesn't give too much thought to signing away her Ukrainian identity in order to grasp sporting success - gymnastics is all she thinks and breathes - but soon the Maidan protests start and Grappe begins to superimpose images from the square into Olga's world. Her best friend Sasha, and her mother, are part of the movement. Their lives are suddenly in danger. And Olga's dramatically-convenient long-lost Swiss family - her father is dead - are not very welcoming, nor his her command of French sufficiently up to scratch to make friends in her new home.
Mentally and physically, beneath that tough exterior, Olga begins to disintegrate - at a certain point, the picture almost touchs on body horror. Grappe doesn't quite trust the psychological ramifications of the situation Olga is in to carry his film, though, adding some plot topspin which threatens to overload it. As a picture of a child grappling with her ambition and her identity, in the face of the existential threat to all she calls home, Olga more than delivers a tense, gripping ride. The ratcheting up of drama and muddy mirroring of a mother/daughter dynamic of obsession with their chosen careers adds very little to the piece, though.
Lucie Baudinaud's camerawork is smartly effective, the use of colour sensitively but effectively applied, especially at night where Olga pounds a blood red track surrounded by snow, or when she throws chalk powder in the dark gym to emerge kabuki-like with her only friend. Grappe's other main assets are his actors: Budiashkina is a terrific presence, and film is in thrall to her powers. Anyone wondering about the mental crises afflicting young gymnasts – or the potential for abuse in this world - will find Olga a true revelation.
Production companies: Point Prod, Cinema Defacto
International sales: Pulsar Content, sales@pulsarcontent.com
Producers: Tom Dercourt, Jean Marc Frohle
Screenplay: Elie Grappe, Raphaelle Desplechin
Cinematography: Lucie Baudinaud
Editing: Suzana Pedro
Music: Pierre Desprats
Main cast: Anastasia Budiashkina, Sabrina Rubtsova, Carterina Barloggio, Tfea Brogli