Sisters united in a car journey across Albania in a rare feature to emerge from that country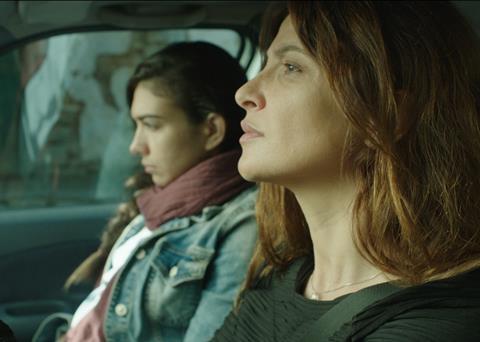 Dir. Florenc Papas. Albania, Kosovo, Macedonia, Italy. 2019. 78 mins
In director Florenc Papas's feature debut, two sisters find themselves first driven apart and then united by the pressures and expectations placed upon them in the course of a fraught car journey across Albania. Strong performances and the fact that quality Albanian feature films are few and far between should ensure that Open Door generates further festival interest following on from its premiere in competition in at Sarajevo.
The drama is low key but there are several beautifully observed moments
With a limited movie industry infrastructure in place in Albania, Papas - also the head programmer of the Tirana Film Festival - developed the film through the Goethe Institute's First Films First (FFF) training programme, with additional support from Eurimages. The result is an effective, economically told story of modern women negotiating the minefield of a deeply traditional society.
Life for Rudina (Luli Bitri), a wife, mother and seamstress who also looks after her in-laws, is a perpetual slog which has eroded her good humour and worse, her hope. Elma (Jonida Vokshi), the younger of the two, returns from Italy pregnant, without a partner and terrified of confronting her authoritarian father with the news. Between them, the two women devise a cover story. But in doing so, it occurs to both that perhaps the acknowledging truth is better than living a lie.
Rudina and Elma are sisters, but the dynamic between them casts Rudina in the adult role of a parent-child relationship. She's the problem solver, the rock on which the rest of the family leans. And Elma's pregnancy was a problem that she had thought solved, having sent money and strict instructions on how to procure an abortion. Elma complains that she was too scared to go through with the procedure. But her fear of hospitals pales beside her very real terror of facing her father as an unmarried mother-to-be. Meanwhile, the stifling influence of the husband that she sees once a year looms large over Rudina. The men don't even need to be a shot in order to be present in a scene.
A desperate Elma persuades her sister to postpone their arrival at the family home in order to try and persuade a college friend to act as her 'husband' for the visit. The obvious problems caused by the knotting together of lies and reality are, it seems, a small price to pay for dodging a village scandal and incurring the wrath of their father. He is a man, we learn, who has very strict ideas about female roles and duty. Meanwhile Rudina admits to herself that slogging away in the drudge role in her domestic set up is not the way she wants to live. And that her love lies not with the husband she was married off to by her father, but with someone else.
Notwithstanding the obviously limited resources, the film makes striking use of available locations. The precipitous winding roads across Albania's mountains evoke the precarious path that women like Elma and Rudina must walk through this conservative society. The drama is low key but there are several beautifully observed moments. Most affecting is the scene in which the sisterly bond is restored by the shared experience of Elma's child kicking in her belly. It's a small intimacy, but it's theirs alone.
Production companies: Bunker Film +, Circle Production, Lupin Film, Award Film & Video
International sales: Patra Spanou Film Marketing & Consulting film@patraspanou.biz
Producer: Eno Milkani, Vincenzo Filippo
Screenplay: Ajola Daja, Florenc Papas
Cinematography: Sevdije Kastrati
Editor: Stefan Stabenow
Production design: Eriona Daka
Music: Alexander Pejovski
Main cast: Luli Bitri, Jonida Vokshi, Maxwell Guzja, Sotiraq Bratko, Guljelm Radoja, Elidon Aliko, Visar Vishka, Jorgaq Tushe, Andi Begolli