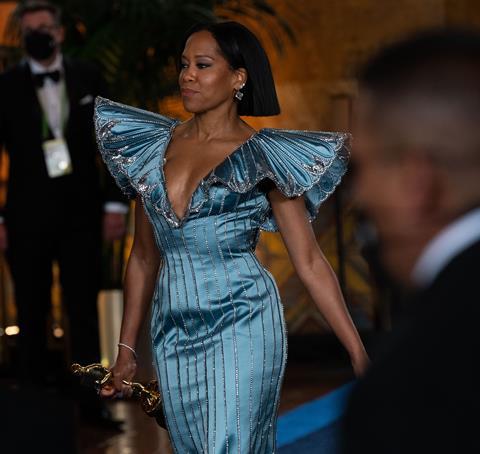 For a while there last year the fate of the entire awards season hung in the balance, let alone that of the Oscar ceremony. So hats off to the Academy and show producers for facing the pandemic head-on and pulling off an in-person 93rd Academy Awards.
That in itself was perhaps the greatest accomplishment of a well-intentioned ceremony that exuded elegance but otherwise appeared to squat uneasily in the tonal hinterland between the traditional shock-and-awe pomp of the Oscars and the boozy bonhomie of the Golden Globes.
A scaled-down affair played out mostly in the art deco Union Station in Los Angeles, kicking off with a 90-minute pre-show in a courtyard featuring pre-taped performances of the nominated best songs. Jovial hosts Ariana DeBose (Hamilton) and Lil Rel Howery (BadTrip) hosted this segment, coaxing platitudes from assembled unmasked talent about the personal motivation behind their films.
Guests in dresses and tuxedos mingled among paper lanterns and eruptions of floral arrangements, gamely getting closer to other human beings than they had perhaps done for the best part of a year. It all looked safe and fun, as one would expect from Steven Soderbergh, whose directing credits include Contagion and Magic Mike, and who was one of three show producers alongside Stacey Sher and Jesse Collins.
The trio had promised a memorable opening minute, which is setting the bar low for a three-hour show, but we get what they meant. It fell on the power-dress shoulders of One Night In Miami director Regina King to deliver those unforgettable 60 seconds.
Clutching an Oscar and striding purposefully into a converted hall inside the station, King was the star of a dynamic tracking shot that was all part of Soderbergh's plan to lend a movie vibe to proceedings. She looked a tiny bit taxed and wobbly when she eventually took her mark on the stage and made brief but pointed reference to the outcome of the trial in Minneapolis of Derek Chauvin, the white former police officer found guilty last week of killing George Floyd, a Black man, whose death last summer sparked global protests.
Already predicting that Regina King walking into the #Oscars will win Best Picture next year pic.twitter.com/apg62K77kC

— Backstage (@Backstage) April 26, 2021
It was a brisk and breezy start that culminated in the first award of the night going to Promising Young Woman original screenplay writer Emerald Fennell.
Through the entire broadcast, nominees and guests sat at sparsely populated tables and booths and occupied stadium seating around the ballroom set. Masks were allowed to be off when on camera, and required to be back on when people were off camera.
The producers had initially declared there would be no Zoom acceptance speeches and seemed to be insisting on in-person apperances by nominees. After an outraged response to that edict, however, they caved and allowed satellite links. Bong Joon Ho cued up the directing Oscar from Seoul, while supporting actor nominee Sacha Baron Cohen stood stiffly with wife Isla Fisher as they beamed in from Sydney, Australia.
Overall it all felt similar to previous Oscar shows, and often flat, especially without the masses (there were 170 at the ceremony compared to the usual several thousand in Dolby Theatre), loud applause and rattling of borrowed jewellery. Throughout the ceremony Union Station continued to operate. A masked commuter straying into the hall looking for Platform 3 would have brought the house down.
Many of the speeches were impassioned and mercifully there was a distinct lack of thanking agents as winners focused on what mattered. Another Round director Thomas Vinterberg broke hearts when he dedicated the international feature film Oscar to his daughter Ida, who died in a car accident days into the start of production.
Mia Neal, part of the Ma Rainey's Black Bottom make-up and hairstyling team, spoke of the grandfather who raised her, a Tuskegee airman in the Second World War who faced racism as a student and young teacher. Tyler Perry, recipient of the Jean Hersholt Humanitarian Award, urged people to refuse to hate.
There were laughs too. Daniel Kaluuya, supporting actor winner for Judas And The Black Messiah, exalted in being alive and thanked his parents for having sex. Supporting actress winner Yuh-jung Youn of Minari flirted with presenter Brad Pitt and said it was merely luck that separated her from the other women in her category.
Glenn Close, in what looked like a scripted moment during a music trivia segment, "surprised" roving presenter Howery by twerking to 'Da Butt', a song by EU that appeared in Spike Lee's 1988 musical School Daze.
There was even time to tease a few upcoming first-look theatrical releases from movies that coincidentally belong to The Walt Disney Company, like show broadcaster ABC. Disney/Fox's West Side Story from Steven Spielberg is due to open in cinemas on December 10, while Oscars show DJ Questlove's directing debut and documentary Summer Of Soul(…Or, When The Revolution Could Not Be Televised) will open in theatres via Searchlight Pictures and debut on Hulu on July 2.
The show raced through a packed 'In Memoriam' section and ended on a bum note. The producers had shuffled the order of prizes so that this year's ceremony ended not with best picture, which was third from last, but lead actress and then lead actor. A calculated bet, perhaps, that the final accolade would go to the late Chadwick Boseman for his towering performance in Ma Rainey's Black Bottom fell flat.
This was not because Anthony Hopkins, in the mild shock of the night and at 83 the oldest lead actor winner in history, did not deserve to win for his magnificent turn in The Father. Hopkins was in Wales during the ceremony and did not tune in to say thanks. In fairness it was very late in Wales. All eyes turn to the two-time Oscar winner's (The Silence Of The Lambs, 1992) lively Instagram account for the scoop.