An ageing film director reflects on his life in the latest work from Pedro Almodovar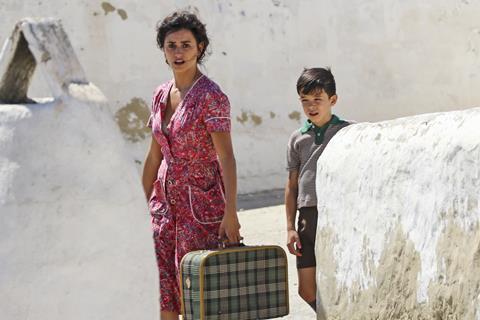 Dir Pedro Almodovar. Spain. 2019. 108 mins
A male figure, bent into an embryonic curl, floats underwater in a swimming pool. It's an image loaded with symbolism, not least the fact that this opening shot to the latest film from Pedro Almodovar heralds a thinly veiled deep dive into the director's own life and work. The figure in the pool is Salvador Mallo (Antonio Banderas), Spain's most celebrated auteur. While the name isn't an exact anagram of Almodovar, there's sufficient overlap in the letters to back up the assumption that Almodovar roundly identifies with his creatively stalled protagonist.
Like its main character, Almodovar's film keep the audience at a cautious distance
Using the device of Salvador's opiate-oiled revery, the film explores his early life, revisiting key Almodovar themes – childhood sexual awakening, the iconic mother figure, Catholicism, Madrid – along the way. The effect is a patchwork rather than an interwoven whole; the wistfully self-reflexive tone will appeal to fans of the less emphatic, more meditative end of the Almodovar spectrum.
While the two films could barely be further apart in execution, there's a parallel here with Michael Haneke's Happy Ending. Both represent the work of filmmakers who, having reached a pinnacle in their careers, choose to look back over what came before. The thing about retracing old paths, however, is that while you may succeed in finding a new angle, you are unlikely to break new ground. The fact that Pain And Glory sits so comfortably within the safe zone in the director's body of work will likely not matter to Almodovar's existing fanbase. But wavering viewers are more likely to be drawn to the film by the presence of regular collaborators Banderas and Penelope Cruz than they are by the somewhat fragmented story.
At this point in his life, the glory of Salvador's past is eclipsed by his current pain. A litany of physical and psychological symptoms is reeled off in a voice over, accompanied by appealingly retro animated diagrams. These are symptoms which all seem to have a symbolic resonance which mirrors Salvador's present state of inertia. The fused spine, for example, hints at emotional calcification and the loss of intellectual flexibility; the lump in his throat is a literal block to match the creative one which has left him adrift and fixated on unresolved issues from the past.
Fellini's 81/2 is an obvious reference point: like the Marcello Mastroianni character, Salvador is apt to escape from the stress of work (or the inability to do so) by drifting off into extended forays into formative memories – flashbacks which are honey-hued to give them a tawny nostalgic warmth. But rather than the frenetic "add chaos to chaos" tactic employed by Fellini to capture his central character's frazzled state, Pain And Glory is more pensive and measured. In his gorgeous art-filled shrine of an apartment – one visitor describes it as a gallery – Salvador is like the sad prince in a post-modern fairytale, surrounded by empty beauty and memories. Perhaps because he can't see past his pain to any kind of future, he's a man who seems more interested in closure than in new beginnings.
It's this which prompts him to reconnect, after 30 years of sullen silence, with the star of one of his early films, now restored and celebrated by the cinemateque. He seals the end of his feud with Alberto (Asier Etxeandia) by smoking heroin with him – it's the first time for Salvador, but as Alberto notes with a mixture of trepidation and respect, he takes to the drug with an energy and commitment which is absent elsewhere in his life. Dabbling in heroin might be Salvador's way of cutting himself of from the world, or it might, as is later revealed, be a means of feeling closer to another figure from his past, one whose addiction torpedoed their relationship.
It's frequently a very stylish piece of filmmaking – scenes are elegantly bridged by a diegetic piece of piano music; the design, colour blocked and accented with copious use of scarlet, is arresting. But the picture is not always as involving as it might be – like Salvador, the story keeps the audience at a cautious distance. But this all changes with one superbly acted core scene in which Salvador reconnects by chance with the lover whose addiction scarred them both. It's the heart of the film. And it's also the point at which Salvador discovers that he can move forward at last.
Production companies: El Deseo
International sales: FilmNation
Producers: Agustin Almodovar, Esther Garcia
Screenplay: Pedro Almodovar
Production design: Antxon Gomez, Maria Clara Notari
Editing: Teresa Font
Cinematography: Jose Luis Alcaine
Music: Alberto Iglesias
Main cast: Antonio Banderas, Asier Etxeandia, Penelope Cruz, Leonardo Sbaraglia, Raul Arevalo, Cecilia Roth, Susi Sanchez, Nora Navas, Pedro Casablanc, Julieta Serrano, Cesar Vicente