Adèle Exarchopoulos, Franz Rogowski and Ben Whishaw make Ira Sachs' latest a 'sexy proposition in every respect'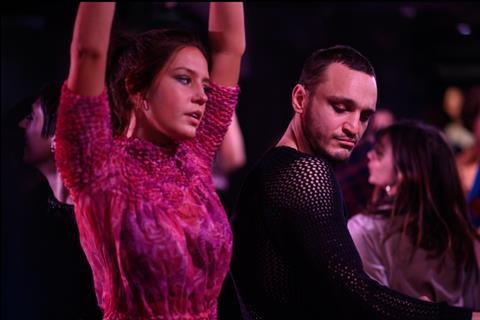 Dir. Ira Sachs. France. 2023. 91 mins
Love Is Strange, to quote another feature by US writer-director Ira Sachs. The same proposition is poked and tweaked from every exploratory angle in Passages, about a three-way tangle of desire and confusion, set in Paris and with an attention-grabbing lead trio of Franz Rogowski, Ben Whishaw and Adèle Exarchopoulos. This is Sachs' second European venture, after 2019's prestigiously cast but somewhat underpowered Frankie. Here, however, Sachs is back on confident and provocative form: after the film bows in the Premieres section of Sundance, it's likely to score widely, quite apart from its appeal on the LGBTQ+ circuit. Its dramatic heft and its stars' upfront audacity make it a sexy proposition in every respect.
Wears its borrowed Frenchness with seductive grace and panache
Mixing English dialogue with a peppering of French, the film starts in a basement club in Paris where youngish German director Tomas (Rogowski) is shooting his latest film – Passages, a clapperboard reveals – and impatiently snapping at cast members in retro garb. Later at the wrap party, a young woman working on the production, Agathe (Exarchopoulos), testily brushes off her current boyfriend. Tomas's husband Martin (Whishaw) is also present, but makes an early exit – after which Tomas sticks around, and ends up sleeping with Agathe. The next morning, he arrives at his and Martin's apartment, and tells him what's just happened, adding, "It was exciting – it was something different…" Unable to share his enthusiasm, the older man tautly keeps his counsel: apparently Martin has been here before with Tomas's volatile turns of desire.
Another passionate but no-frills encounter with Agathe (she keeps on her chunky Doc Martens) might suggest a purely carnal attraction, but their liaison proves to be a serious proposition and Tomas eventually moves in with her. The possessive, demanding auteur can't easily let go of Martin, however, especially once the latter starts a new relationship with novelist Amad (Erwan Kepoa Falé, who recently made a strong impression in Christophe Honoré's Winter Boy). Tomas's impulsive nature will test both Martin's and Agathe's patience, not least because of his literal lack of boundaries: he's equally ready to walk in on Martin without notice as he is to burst into the classroom where Agathe is now working as a teacher of pre-teens.
The film's knot of contradictory feelings might easily have fuelled a brittle comedy, and there's certainly sharp humour in Passages: late for lunch with Agathe's parents, Tomas blithely breezes in wearing the previous night's outfit of crop top and leopard-skin pants, occasioning a priceless double take from Olivier Rabourdin (Of Gods and Men, Eastern Boys) as Agathe's dad. The subsequent meal is, as you might expect, excruciating, but not so comically, and Caroline Chaniolleau's performance as Agathe's mother deserves to shine a spotlight on this French film and TV stalwart.
No less poignant, indeed painful, is an expertly handled moment in which one suddenly excluded corner of the triangle lies alone listening to the full-on sexual encounter between the other two in the next room. Exarchopoulos, of course, made her mark in a film that showed her fearlessness about sex scenes, Blue is the Warmest Colour, but while she's hardly coy in Passages, it's the lovemaking between men that's really frank here, and Whishaw's devoted following may be surprised (and delighted) to see quite how candid he's prepared to be.
French cinema has no shortage of complex, multi-sided relationship dramas, and Passages shows Sachs slipping into this tradition with impeccable ease. If the opening sequences, set in the film world, suggest Olivier Assayas territory, overall Passages is closer to Christophe Honoré, who has consistently explored the fluidities of desire in ways that resist fixed roles and identities. That's a theme that Sachs and regular co-writer Mauricio Zacharias pursue here with incisiveness and audacity, but their take on the possibilities of polyamory is anything but utopian.
The three leads are beautifully matched, although Exarchopoulos's Agathe – despite her intense, multi-layered performance – doesn't emerge in as much focus as the two men. Whishaw's Martin is an expertly nuanced depiction, exuding philosophical fatigue and cautiously held-in resentment. And Rogowski – currently on a roll following German titles Undine and Great Freedom – grabs the limelight to variously horrifying and hilarious effect as an impetuous narcissist with a dangerous lack of self-knowledge. Khadija Zeggaï's witty costume designs illuminate Tomas's character as something of a 21st-century clubland Fassbinder.
The visuals are elegantly but soberly executed, with DoP Josée Deshaies's sharp compositions mapped against the spare but classy backdrops of Pascale Consigny's design. The music is an off-beat mix, ranging from an English a capella folk song by Janet Penfold to a blast of Albert Ayler's free-jazz take on the 'Marseillaise'. The latter accompanies one character's breakneck bike ride through Paris, bringing a final Nouvelle Vague flourish to a film that wears its borrowed Frenchness with seductive grace and panache.
Production company: SBS Productions
International sales: SBS International, contact@sbs-distribution.fr
Producers: Saïd Ben Saïd, Michel Merkt
Screenplay: Mauricio Zacharias, Ira Sachs
Cinematography: Josée Deshaies
Editing: Sophie Reine
Production design: Pascale Consigny
Main cast: Franz Rogowski, Ben Whishaw, Adèle Exarchopoulos, Erwan Kepoa Falé