Ron Howard documents the life of the celebrated opera singer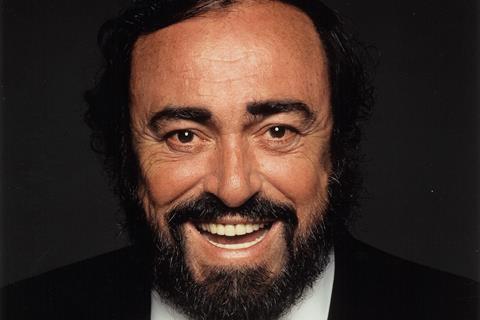 Dir: Ron Howard. US. 2019. 114mins.
A portrait of a man blessed with one of the 20th century's most beloved voices, Pavarotti is, like many authorized, cradle-to-grave biographical documentaries, informative, more than a little reverential, yet entertaining enough. Even for opera neophytes who couldn't tell a soprano from a tenor, Ron Howard's brisk, engaging film capably maps out an art form that Luciano Pavarotti ruled for decades, including enough technical insight to go along with an overview of the maestro's personal and professional highlights. Anyone looking for deeper analysis of this icon and his times will be left wanting — but Pavarotti's charisma and otherworldly singing are decent compensation.
The film succeeds in its primary task, which is to reminder viewers of the man's greatest musical accomplishments
Scheduled for a June 7 release in the States before landing in the UK on July 15, Pavarotti will be heaven for opera fans — not to mention those besotted with the iconic performer, who died in 2007 at the age of 71. But because Pavarotti made inroads with the pop world — U2 frontman Bono is one of the film's talking heads — the movie could have modest crossover appeal as well.
Constructed using archival footage and contemporary interviews with Pavarotti's family, peers, business associates and mistresses, the documentary sketches the life of the Italian tenor, who grew up in the shadow of war to a father who was also a singer. Quickly becoming an international sensation, Pavarotti earns raves for his performances in classic operas such as La Bohème and Tosca. But despite the love of his wife and three daughters — to say nothing of the world's approbation — he occasionally dabbles in affairs and starts to lose his creative drive.
Unlike Howard's 2016 documentary The Beatles: Eight Days A Week, which focused on the Fab Four's touring years, Pavarotti seeks to encompass the entirety of the singer's life in a two-hour film. There are obvious compromises and limitations to this approach, but the Oscar-winning director (assisted by editor Paul Crowder and writer Mark Monroe) does a commendable job of paring this story down to its most appealing and noteworthy elements.
Clearly, Pavarotti is geared to those unfamiliar with opera, and in fact some of the documentary's best sections concern Pavarotti's contemporaries and successors explaining precisely what made his voice so remarkable. These discussions of craft, paired with Pavarotti's own observation that part of the beauty of his vocation was the uncertainty of his instrument, help illuminate the skill and discipline that went into honing what seemed effortless on stage.
The film's initial stretches prove most satisfying because they delve into opera's rarefied milieu, and recordings of Pavarotti's early performances illustrate what a powerful, emotional voice he had, even at a young age. At the same time, Pavarotti lets us hear from his wife Adua Veroni and his daughters, whose warm recollections are complemented by archive interviews with the maestro, a charming, humble figure. Howard recognizes that simply featuring a lot of his magnetic subject will go a long way toward satisfying audiences.
Predictably, Pavarotti was far from a perfect person, however, and the movie dutifully chronicles his infidelities, spending considerable time interviewing soprano Madelyn Renee and former personal assistant Nicoletta Mantovani, whom he married in 2003. Still, Howard keeps a respectful distance — or, perhaps more accurately, the Pavarotti estate's involvement necessitated a polite treatment — and so we're left to wonder about the depth of the betrayal and heartbreak that his affairs caused to those around him.
Regardless, the film succeeds in its primary task, which is to reminder viewers of the man's greatest musical accomplishments. Whether it's the years as opera's brightest star or his later participation in the Three Tenors, which helped raise classical music's popularity globally, Pavarotti was a titanic force who was courted by world leaders and rock artists alike. No question a more nuanced and rigorous exegesis of Pavarotti's contribution and importance to theatre and popular music would be welcome. But for now, Pavarotti has the tenor of a perfectly acceptable fan-service tribute.
Production companies: Imagine Entertainment, White Horse Pictures
International sales: HanWay Films, info@hanwayfilms.com
Producers: Nigel Sinclair, Brian Grazer, Ron Howard, Michael Rosenberg, Jeanne Elfant Festa
Screenplay: Mark Monroe
Editing: Paul Crowder