Brillante Ma Mendoza explores political corruption in this hip-hop-fuelled crime drama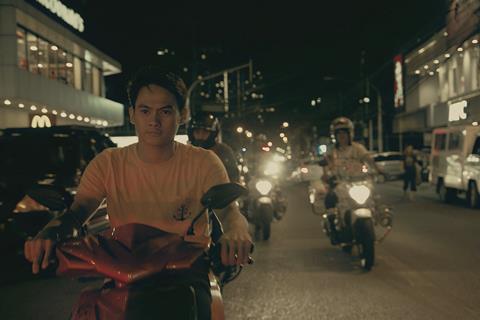 Dir: Brillante Ma Mendoza. Philippines. 2021. 105 mins.
The global art-circuit prestige of Filipino director Brillante Ma Mendoza may wax and wane — his last blaze of glory in that context was 2016's Ma' Rosa, which won a Best Actress prize for lead Jaclyn Jose in Cannes — but he continues to make energetic dramas on both sides of the art/genre divide. While 2019's Mindanao took a family-melodrama approach to contemporary conflict and martial law in the Philippines, follow-up Gensan Punch, recently premiered in Busan, was a boxing movie steeped in street realism.
The rap battles are not surprisingly the liveliest moments
His new film Payback similarly uses genre thrills, plus a hip-hop backdrop and soundtrack, to tell a story of political corruption and of crime high and low. Premiering in Tokyo, where Gensan Punch also plays, it pitches rising star Vince Rillon against a handful of established screen names (Jay Manalo, Nash Aguas, Albie Casino) and various Filipino rappers, whose ferocious performances should be a decided boost to audience appeal, despite the drama's sometimes humdrum crime narrative.
Rillon plays Isaac, a young man who operates a tricycle taxi on the streets of Mandaluyong, but finds his attempts to earn an honest crust going awry when his father gets into deep trouble with motorbike merchant Jepoy Martinez (Casino). Jepoy makes his fortune sending gangs out onto the streets to steal bikes, which he then resells or strips for spare parts — but he also has an eminently respectable reputation as a local politician, as do his equally crooked uncle Rene (Manalo) and his mother Cora (a fearsome grande-dame part played in lofty style by actor/writer/director Bibeth Orteza Siguion Reyna). When Isaac's dad has a consignment of Jepoy's bikes stolen under his nose, Isaac has to work full time for the Martinez clan, who are currently busy pushing their candidature at the local elections, liberally bribing everyone who can help keep them in power.
Meanwhile, Isaac's brother Peter (Aguas) is a participant in local rap battles, in which contenders including William Trauma and Lipkhram appear as themselves. At one face-off, Peter gets a little too ripely inventive with his insults, sparking a riot and starting a murderous beef with rap rival Richard (Khalil Ramos). Between watching Peter's back, keeping Jepoy happy and feeding his own family, Isaac must use all his survival skills — which fortunately include some nifty biking moves in the action sequences that punctuate the film.
The rap battles are not surprisingly the liveliest moments, showing a subculture specifically rooted in Filipino society and the Tagalog language but that otherwise imports wholesale the international behavioural codes of gangsta rap. This familiarity gives the film something of the flavour of a Fast And Furious episode crossed with 8 Mile — but with an undertow of bleak political commentary and a gritty, not to say grubby, edge of urban realism. Even beside other recent realist depictions of street life, it's startling to see how much garbage is strewn around in some scenes. Some genuinely hair-raising sequences involve pest extermination, whether it's the slum fumigations that send armies of bugs scattering or street children catching rats in exchange for rice (this motif is rather awkwardly used to show Jepoy's crueller side, as he feeds captive rodents to his pet piranhas).
The film's tone of realist authenticity is more than a little undermined by such over-the-top moments, others being a nightclub scene that could have been decanted from any US gangland thriller, with supposedly squeaky-clean Jepoy getting down with a sex worker; and a tree catching fire in a lightning storm, just when Isaac is at his most tormented. The best broad touch, though, comes from Cora, doling out cash and leering, "For the greater good" — in English for maximum sleazy effect.
Troy Espiritu's script hits the expected beats without really providing dramatic surprises. But Joshua A. Reyles's desaturated photography maximises the harshness, nicely plays up the sickly neon at night, and ducks and bobs in the thick of the action sequences, while editor Diego Marx Robles keeps up a kinetic staccato pace (all three are seasoned Mendoza collaborators). The end result doesn't nearly equal the punchiness of Mendoza's 2018 drug-war drama Alpha: The Right to Kill, the pace somewhat dragged through over-insistent use of homegrown rap tracks that harp sullenly on the doomier side of thug life. And Rillon's clean-cut persona as the good guy turned bad by necessity is less than magnetic at the film's centre, certainly by comparison with some of the juicier character playing around him.
On the plus side, Mendoza has gone full out to evoke a convincingly detailed world where legit politics meets the underworld, with what may well be real political rallies and rap battles (sometimes the two combine) folding seamlessly into the fictional action along with vivid oil- and rust-imbued glimpses of Jepoy's motorbike chop shop. And a pessimistic payoff makes it clear that Mendoza isn't just indulging in genre thrills, but casting a characteristically jaundiced critical light on the entrenched condition of Filipino political and economic reality.
Production company/international sales: Center Stage Productions, cspco.ph@gmail.com
Producers: Sienna G. Olaso, Guido Zaballero, Vitto P. Lazatin, Belay A. Santillan
Screenplay: Troy Espiritu
Cinematography: Joshua A. Reyles
Editing: Diego Marx Robles
Production design: Dante Mendoza
Music: Diwa de Leon
Main cast: Vince Rillon, Jay Manalo, Nash Aguas, Albie Casino