An injured Croatian footballer questions his entire life in this Croatian feature debut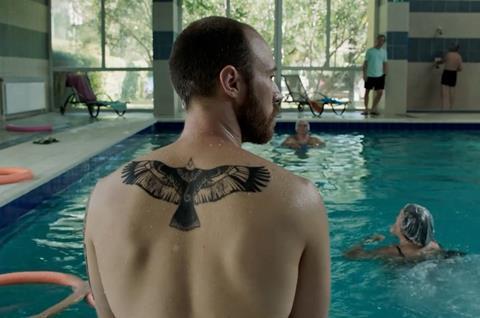 Dir: Filip Herakovic. Croatia. 2022. 87mins
A professional goalkeeper with the nickname of 'Condor', Josip (Edi Celic) is recovering from a skiing injury in a health spa in Croatia's hill country which, like his career, is rather past its heyday. Out of his element and disengaged from his own minor celebrity, Josip starts to see the world with new eyes – even before he drops mushrooms with a hard-partying attendee of a vacuum cleaner sales conference. The feature debut from Filip Herakovic is a wry, glumly funny study of a man in the throes of a profound existential crisis triggered by the realisation that the doors are about to shut on his footballing career, his influencer girlfriend, and all the certainties of life so far.
A wry, glumly funny study of a man in the throws of a profound existential crisis
It's an assured debut from Herakovic, who also co-wrote the screenplay and who cut his teeth as an assistant director on productions including Quo Vadis, Aida?. With its themes of a life at a crossroads and its hotel/sanatorium setting, there's a passing similarity to several other pictures including Lost In Translation and Lourdes. But this picture has a soulful sadness to balance its humour. Josip finds himself an outsider and an observer, and realises just how much of his identity is tied up with the beautiful game. Further festival interest seems likely, and the picture certainly announces Herakovic as a promising new voice.
There's nothing quite like a brush with death to nudge you towards reappraising what's left of life. And, following an off-piste accident which Josip was fortunate to have survived, reminders of mortality seem to be everywhere. A moment alone with a self-relaxation podcast by the pool is interrupted when Josip realises that somebody has drowned. An encounter with the hotel chambermaid (Biljana Lovre) reveals a stack of bed sheets retired because someone had died on them. Guests permanently check out "all the time," says the maid. "Maybe they get too relaxed."
And what Josip is experiencing is a death of sorts. He has drifted so far from his former life that visits from his girlfriend and a footballing buddy are awkward, angular affairs. They eye him with suspicion, their shared language – of selfies and social media posts, of football – has broken down and priorities are starting to shift. Meanwhile Josip, in his unassuming way, is realising the meaninglessness of everything in his life, from his career, to his randomly chosen tattoos, to his nickname. 'Condor' refers to the impressive span of his arms in goal, but, Josip muses, why Condor? And why not Pelican instead? And then there's the echoing emptiness of his psyche. Without football, what is he?
Disengaged from his past, when Josip is mistaken for a vacuum cleaner salesman at the conference he takes on the man's identity. It's a soul-crushing event – all flip charts, bonding exercises and booze-lubricated enforced socialising. But for Josip, it's a glimpse of another possibility. The chance to rebuild himself from the ground up, albeit by appropriating elements of the personalities of other people.
In Josip, the film arguably has an absence at its centre. Which makes Celic's performance all the more impressive. Josip is a passive character, barely reactive at times. Certainly vacant. And yet Celic, understated almost to the point of inertia, is utterly compelling throughout.
Production company: Wolfgang & Dolly LLC
Contact: Wolfgang & Dolly LLC hello@wolfgangdolly.com
Producers: Tamara Babun, Matija Drnikovic
Screenplay: Nikolina Bogdanovic, Filip Herakovic
Cinematography: Tomislav Krnic
Production design: Zeljka Buric
Editing: Iva Ivan
Music: Matej Merlic
Main cast: Edi Celic, Lucija Barisic, Ivan Glowatzky, Marko Petric, Tena Nemet Brankov, Stojan Matavulj, Tanja Smoje, Goran Kosi