Aidan Gillen delivers an entertaining - and occasonally dark - meta-riff on a jobbing actor's life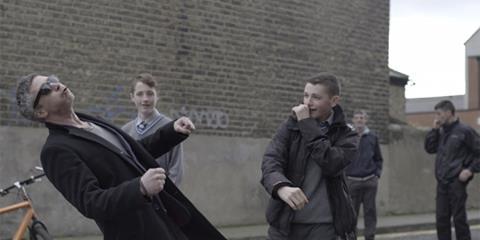 Dir. Jamie Thraves. Ireland, 2017, 75 mins.
Pickups is a low-fi, free-wheeling, 75-minute meta-riff with TV actor Aidan Gillen (Game of Thrones, Love/Hate, The Wire, Queer As Folk) playing an iteration of himself, an actor named Aidan who lives alone with a dog, Echo, struggles to connect with his (real-life) teenage daughter, and has mixed feelings about fame. He has a bad back, can't sleep, and is playing a serial killer – the element which eventually lifts this good-natured Dublin-set whimsy into pure fiction. We hope.
The very grainy low-budget feel works well with the off-kilter air of events depicted onscreen.
Breezing onto the big screen like a small-screen observational comedy, complete with a deadpan voiceover, Pickups has a rather delicious dark tarry underpinning which repeatedly bubbles up to the surface.
The last time the off-kilter double act of director Jamie Thraves and actor Gillen got together the result was the likeable odd-couple comedy Treacle Jr in 2010, and they also made The Low Down a decade previously. Time has moved on, and Game of Thrones has turned Gillen, or Littlefinger, into a global star (much of the film's plot revolves a potential stalker). How that might affect the commercial prospects of Pickups is unknowable – as is whether a unique little essay like this might play on a cable giant, or stick to the festival circuit after premiering at the Dublin Film Festival.
Pickups is essentially a scratchy B-side, delivering bursts of amusing "real-life" moments for the celebrity Aidan which are scored by black fantasy and acerbic notes. Connected only by the narration, this low-budget look at the bizarre world of a working actor never outstays its welcome, and neither does its acute air of self-knowing grate. It starts, with a nod to Thrones fans, with the naked Gillan enjoying violent sex with a partner he eventually strangles. It's for a film, of course, although the meta-Gillen's convincing portrayal of a serial killer escalates to the point where he becomes the "cereal" killer of his friend and fellow actor, Antonia Campbell-Hughes, and it ain't a funny sight.
The world of the professional actor is essentially a mystery; much has been written about the process of transformation, but little makes as much sense as watching it. Thraves and Gillen don't take themselves too seriously here, but they're a sharp-eyed and talented coupling with an easy sense of pace as they convey just how surreal an actor's life can get. And what's reality anyway, in the life of a great pretender? Gillen has always had a flinty edge to his performances, and despite the amusing asides and palpable warmth, he won't let the audience relax in his company here either.
Technically, Pickups is an entry-level vehicle which might struggle to sell itself as a theatrical prospect. But that very grainy low-budget feel works well with the off-kilter air of events depicted onscreen.
Production company/international sales: Pickup Films, pickupsmovie@gmail.com
Producers: Phil Bowman, Jamie Thraves,
Executive producers: Aidan Gillen, Stuart Douglas Hodge
Screenplay: Aidan Gillen, Jamie Thraves
Cinematography: Scott Sandford
Editor: Phil Bowman
Music: Cathy Lucas, Jamie Thraves
Main cast: Aidan Gillen, Antonia Campbell-Hughes, Camille O'Sullivan