Laurynas Bareisa's spare drama explores a mysterious, traumatic crime full of violence and despair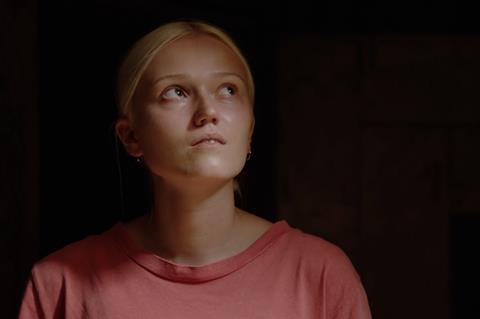 Dir/scr: Laurynas Bareisa. Lithuania. 2021. 91 mins.
Nothing graphic or excessive is seen in Pilgrims, yet in its evocation of some darker aspects of human experience, Laurynas Bareisa's spare drama can justifiably be categorised as a horror story. It plays in Thessaloniki's international competition after premiering in Venice, where it won Best Film in the Orizzonti section. Pilgrims is a striking feature debut from a director with an unconventional vision of the world and uncompromising stylistic approach; stark, minimalist execution allowing, it deserves to make an impression with niche outlets and platforms with a taste for tough-minded exploration.
Cool, unsparing but humane essay on human suffering and its repercussions
With its quiet, largely uninflected acting — and knowingly flat, observational shooting style — the film has us wondering from the off about where exactly it's taking us. The story begins with a young woman, Indre (Gabija Bargailaite), meeting up with a young man, Paulius (Giedrius Kiela), at his mother's house; Indre drives them both to a pleasant-seeming but fairly unremarkable small town somewhere near Vilnius, where they check into rented rooms. They're then seen visiting the outskirts of the nearby airport, where Paulius talks Indre step by step through the events that followed the arrival of someone named Matas. They are next at a restaurant, where Paulius describes an argument that Matas had with someone named Vytenis — and begins to rage at the diners there, as if they're somehow implicated in what happened.
When the pair visit a house in the village — under the pretence of wanting to buy it — we at last fully begin to fathom the exact nature of what Paulius and Indre are attempting to reconstruct. We learn the details of a tale of violence and despair, a nightmarish ordeal that Matas endured some time ago. His experience is the subject of the 'pilgrimage' undertaken by the pair — respectively, Matas's brother and former girlfriend — as if they hope to fully understand the meaning of his experience, or perhaps achieve an ideal solidarity with him, by visiting the places where it happened.
What's shocking — we realise as their quest continues — is quite how implicated certain people were in his fate, complicit in the sense of failing to understand or intervene. It's also disturbing quite how the villagers — people who have known both the clearly disturbed Vytenis and his victim — close ranks, objecting to the pair's investigation, apparently friendly and helpful one moment, hostile the next. What's also upsetting is the sense that somehow violence is a part of the fabric of normal life, only thinly hidden under the surface of the everyday. At one point a local man, Martynas (Paulius Markevicius), shows Indre nearby spots where other horrors have happened – including the site of a mass grave from World War Two, which might suggest a specific comment on Bareisa's part about the legacy of wartime atrocities in this Baltic region.
The deadpan nature of the drama — its horrors described in strangely flat fashion, like an anaesthetised version of true-crime narration — gives the film its singular charge. The matter-of-factness heightens our apprehension of profound madness beneath the appearances of a comfortable, privileged social landscape (there's no sense of deprivation visible in this setting, which evokes a suburb or dormitory quiet town). And, while Paulius's behaviour increasingly suggests deep trauma — significantly, in terms of non-demonstrativeness, a sequence in which he vents his agony has him covered entirely by a bedsheet — Indre's own emotional disturbance doesn't fully emerge till the end, and an extended shot under a bridge. It's a simple but devastating image, and the only point at which director Bareisa allows himself an artistic flourish, however modest.
Otherwise, acting as his own editor, Bareisa very much plays down style. Cinematographer Narvydas Naujalis uses a muted palette, and often holds fixed shots, especially when showing us nondescript spaces such as the interior of a mundane hotel room. Occasionally, a subtle effect — a very slow zoom in, a pan around an exterior, or a more animated shot following characters' movements around a furniture shop — will break the steady pacing and heighten the unease.
Pilgrims is thematically very much in keeping with Bareisa's previous shorts, including 2020's Dummy, which have similarly tended to muse on true-crime stories and measure the effect of violent acts on individuals, whether directly involved or otherwise. This cool, unsparing but humane essay on human suffering and its repercussions is all the more powerful for its troublingly low-key lead performances, and a closing sequence that coolly denies us the superficial gratification of conventional catharsis and release.
Production company: Afterschool Productions
International sales: Reason8 Films, info@reason8films.com
Producer: Klementina Remeikaite
Cinematography: Narvydas Naujalis
Editing: Laurynas Bareisa
Production design: Sigita Simkunaite
Main cast: Gabija Bargailaite, Giedrius Kiela, Indre Patkauskaite, Paulius Markevicius