Tom Cullen steps up to write and direct a love story told in annual chapters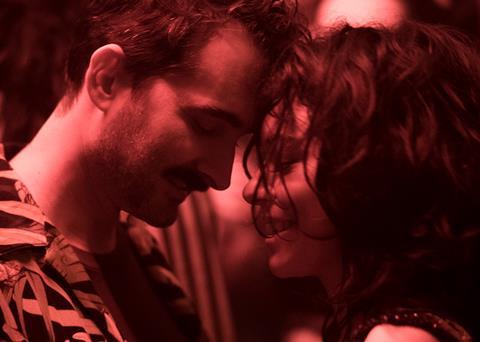 Dir/scr. Tom Cullen. UK. 2019. 81 mins.
As perceptive when it comes to directing romantic dramas as he is acting in them, Weekend's Tom Cullen steps behind the lens with the intimate and evocative Pink Wall. A relationship study structured around six scenes and set across six years, this emotionally vibrant debut flits between the first flourishes of attraction, the content comfort of long-term love and the painful realisation that partners are starting to drift apart — all while serving up a resonant character study, too, thanks to loose, lively performances from Tatiana Maslany and Jay Duplass.
A deeply felt, acutely observed feature
Slowly making the festival rounds after premiering at SXSW, with London its latest stop, Pink Wall is a deeply felt, acutely observed feature. Switching between dream-like and naturalistic cinematography just as it switches between aspect ratios (and vignettes), the film simmers in each moment while building scene by scene. Perhaps too raw for widespread mainstream play, it has the hallmarks of a modest art house candidate in the Blue Valentine mould. Knowing when to hit hard and when to cushion its blows, it crucially leaves a more hopeful imprint than Derek Cianfrance's similar treatise on romantic malaise — which audiences should welcome.
Love can be heady, thrilling, thorny and bleak in Pink Wall, as its opening segment demonstrates. During the fourth year of Jenna (Maslany) and Leon's (Duplass) relationship, it finds these US expats drinking in a British pub with her off-screen brother and similarly unseen business partner. Jenna is an assertive workaholic producer, Leon is an ex-DJ and barely aspiring photographer and, when they're on the same page, they make a breezy, charming double-act. Alas, one moment he's regaling everyone with tales about her professional prowess, then the next they're arguing in a courtyard over their power imbalance.
Cullen moves back to year one, forward to year five and so on, the bulk of his chapters unravelling the same dynamic in a slightly different fashion. In a way, Pink Wall is the cinematic equivalent of an annual portrait, capturing its initially besotted, increasingly strained paramours as life leaves visible and emotional scars. Only the night that Jenna and Leon meet is revisited several times, with the film putting it on the same pedestal the couple has done. It's hardly remarkable — they lock eyes across a dance floor as synth beats pulsate, then while away hours in conversation — but it sizzles with an infectious buzz that they keep trying to recreate.
There's more than a hint of cliché about this idealised, idyllic evening, although that's by design in Cullen's astute script. Each of his episodic scenarios resounds with familiarity, whether Jenna and Leon are having a surprise dinner-date in their apartment, unleashing witty banter over a meal with friends, baby-sitting and discussing their own parental stirrings, or hiking across mountainous plains. Indeed, in situations recognisable to everyone watching, these characters reveal their true natures. The notion that lives and loves are forged and defined in everyday moments isn't unique; however it feels both accurate and earned here.
Fond of long takes but happy to zip about when the mood requires, Cullen comes across as a confident and stylish filmmaker — and, as aided by Bobby Shore's lensing, an expressive and energetic one as well. That said, that Pink Wall rings true is as much a credit to Maslany and Duplass, the pair giving their all in emotionally naked, semi-improvised exchanges. Radiant but never romanticised, Maslany fares best in the more complicated of the virtual two-hander's roles, although that shouldn't surprise. As the film not only makes plain from the outset, but asks its viewers to think about, every relationship is ultimately a balancing act — and, despite the best of intentions, it's always leaning in someone's favour at any given moment.
Production companies: Talland Films, Dignity Film Finance, Two Flowers and A King
International sales: AMP International, info@amp-film.com
Producers: Jamie Adams, Richard Elis, Nigel Goldsack, Maggie Monteith
Cinematography: Bobby Shore
Editing: Gina Hirsch
Production design: Gwyn Eiddior
Music: Chris Hyson
Main cast: Tatiana Maslany, Jay Duplass