Matteo Garrone helms this convincing live-action take on the classic tale of the puppet who wants to be a boy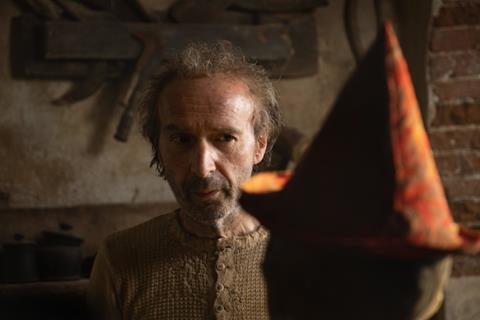 Dir: Matteo Garrone. Italy-France. 2019. 124mins
In his most commercial film to date, due to open wide on 600 copies in Italy a week before Christmas, Roman auteur Matteo Garrone serves Pinocchio straight up – and in so doing, creates the most convincing, funny, touching live-action screen adaptation of Carlo Collodi's remarkable 1883 children's tale yet seen. Implicitly trusting the working class settings and sympathies of his source material, Garrone crafts a fable set in a feudal Tuscany where life is hard, poverty and hunger are real and a judge can condemn a boy for the crime of being innocent. Yet he also does something that only the 1940 Walt Disney animated version (which played fast and loose with Collodi's novel) has managed up to now – he gives the tale a universal emotional resonance.
A film that uses CGI effects sparingly and bangs a drum for old fashioned cinematic artisanship
Whether this will translate into solid box office outside of its home territory is still unknown, as Garrone's film is predicated on the fact that Pinocchio is still as much a part of growing up in Italy as milk and biscuits for breakfast. Elsewhere – even in France, which co-produced – this live action version will have to fight three battles. One is the question of whether to dub or subtitle (in the Italian original version reviewed here, the Tuscan dialect of Collodi's book came through loud and clear). The second is the familiar one facing any film pitched at primary school kids that's not an animation. The third is more specific to Pinocchio – how do you persuade us that the story we think we all know from the Disney version is not the real thing?
One example of this is the nose issue. Although the puppet's long wooden conk features on the poster, there's just one brief scene here in which Pinocchio's nose grows when he lies. That's true to the book, and it's charmingly done here in a film that uses CGI effects sparingly and bangs a drum for old fashioned cinematic artisanship – especially in the prosthetic make-up department, where double Oscar winner Mark Coulier excels himself.
Similarly, although Garrone keep us gunning for his oaky hero in a film in which wonder, resilience and hope win out over the darker tones in the director's filmography — on display most recently in Dogman — he doesn't disguise the cruel streak that Collodi shared with so many other 19th century children's authors. Seeing a seven- or eight-year-old boy strung up on a tree with a noose around his neck and left to die by two robbers could be a difficult sell for parents.
In an homage that is also a fine piece of casting, Garrone hands Roberto Benigni the role of Pinocchio's father, Geppetto; simultaneously nodding generously at Benigni's own messy, misguided 2002 version of the fable, in which he played the wooden puppet, and correcting film history by giving the Tuscan comic the role he should have played all along. Benigni had already demonstrated in Life Is Beautiful that he's good at paternal pathos; he reconfirms the gift here, with compound interest. Making his screen debut, young Federico Ielapi (who endured three hours of make-up each morning on set) coaxes unforced emotion out of a stiff wooden face that – in a nice detail – acquires scratches and nicks in the course of his rough and tumble adventures.
The Blue Fairy's lovely maternal nanny of a servant – a huge snail who is apologetically resigned to the trail of slime she leaves wherever she goes – is one of several vivid minor characters. If Gigi Proietti's Fagin-like Mangiafuoco travelling puppet-show impresario taps into an uncomfortable ethnic stereotype, the scenes in which he and his troupe appear (they walk and talk like Pinocchio, except they're attached to strings) are a delight, digging into the tyranny and emotional dependency that many fairy tales explore.
'Grillo' – the grasshopper mentor that Disney reimagined as Jiminy Cricket – is one of relatively few visual and make-up mishits, but his appearances here are thankfully brief. Another variable quantity is Dario Marianelli's score, which provides a somber background for the film's darker moments, but is too often cloyingly sentimental.
Unlike the dark fairy tale settings of the director's previous, adult-oriented folk tale foray, Tale of Tales, the locations of Pinocchio (which was shot in Puglia, but given a Tuscan makeover) paint a realistic picture of a rural Italy in which the only form of social mobility is the escape into a fantasy world afforded by puppet shows, circuses and fireside stories like this one. When Marina Vacth's ethereal, aristocratic Blue Fairy tells Pinocchio "Those like you are born as puppets, live as puppets and die as puppets", it seems like the film is trying to make a fashionable political point – but the line is lifted directly from Collodi's novel.
Indeed, Garrone and his co-scriptwriter Massimo Ceccherini (who also plays the feline half of the film's deliciously seedy petty criminal and conman duo the Cat and Fox) seem to have grasped something profound about a book written almost 140 years ago: the text doesn't need updating to resonate in today's uncertain world. There's an undercurrent discourse about racism in this story of a boy who is simultaneously "one of us" and something else; when Benigni's Geppetto describes his missing son to a school janitor, "oh, and he's made of wood" is added as an afterthought at the end).
The core of Garrone's Pinoccchio, however, is the boy-puppet himself: a real kid, on the cusp between infancy and long trousers, who is genuinely terrified and scared when his feet catch fire as he dozes in front of the fire, and resourceful enough to learn from his mistakes while fending off and resisting all the adults that try to preach him into good behaviour.
Production companies: Archimede, Rai Cinema, Le Pacte, with Recorded Picture Company, in association with Leone Film Group
International sales: HanWay Films, info@hanwayfilms.com
Producers: Matteo Garrone, Jean Labadie, Anne-Laure Labadie, Jeremy Thomas, Paolo del Brocco
Screenplay: Matteo Garrone, Massimo Ceccherini, from the novel by Carlo Collodi
Production design: Dimitri Capuani
Editing: Marco Spoletini
Cinematography: Nicolai Bruel
Music: Dario Marianelli
Main cast: Federico Ielapi, Roberto Benigni, Gigi Proietti, Rocco Papaleo, Massimo Ceccherini, Marine Vacth, Alida Baldari Calabria, Maria Pia Timo