A remarkable story of bravery and determination against daunting odds in Zimbabwe's first "free and fair" elections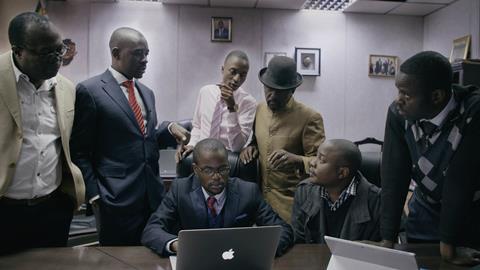 Dir. Camilla Nielsson. Denmark/Norway/US, 2021. 137 mins
Brave people square up to thuggery and the camera in President, a documentary by Camilla Nielsson set during Zimbabwe's 2018 "free and fair" elections following the overthrow of Robert Mugabe. Certainly, the slender, hesitant opposition MDC (Movement for Democratic Change) President Nelson Chamisa is one of them, but it's the testimony of ordinary folk – the election monitor beaten over the head with an iron bar, for example – that makes Nielsson's film so chilling. The casual violence, the stony, brazen-faced manipulation of truth in this African nation shows how difficult it is to get a foot on the ladder of democracy, and how tenuous that hold is – there and everywhere.
Nielsson's film, and its participants, are remarkable, brave, and a touch foolhardy. They all must know there will be consequences.
No matter how forensically you view Nielsson's documentary about the troubled African nation, it's impossible to leave President without a sensation of fear for what happens next to its protagonists. After a world premiere at Sundance, this should to on to gain healthy exposure, although a daunting 137-minute running time could be addressed if President is to achieve its full potential, which surely must include awards.
Mugabe, who ruled the country with an iron and corrupt hand for 37 years, makes an unexpected appearance in President with his own axe to grind. Emmerson 'The Crocodile" Mnangagwa, the current ruler who usurped Mugabe and was his right-hand man for all of that time, isn't about to let go of the ZANU-PF party's grip on the country or its bag of dirty tricks either. The abuse of power is all so deep-seated here that the government feels entirely enabled to send in riot police to break up an MDC press conference in front of the world's assembled media at the drop of a hat – and then change its mind mid-swinging-baton. It's clear that Nielsson wants to remind viewers that this is where assaults on democratic institutions end up.
But Nielsson, whose previous documentary feature Democrats was also set in Zimbabwe (and banned there for a long time), has a slower burn in mind as she follows Chamisa in the run-up to the election. She decides to opt out of covering internal rivalries within the MDC following the premature death from cancer of its charismatic leader Morgan Tsvangirai and starts her film with Chamisa four weeks before the election. A 40-year-old lawyer who has sworn to fight to the death for democracy, he doesn't seem to fit the coat he's wearing, never mind the role he has – president of the MDC – or wants to win. Nielsson's camera watches him grow in stature as the crowds come out to surround him; he begins to come alive onstage and the oppressed people of Zimbabwe, all decked out in the MDC's signature red colour, respond.
Lofty declarations of intent on the part of the country's rulers and the arrival of international observers can do little to shake up an electoral system which has been so corrupted, however. Food handouts at election rallies to a starving populace are hard to resist. With standards so low, a complete overhaul is needed, and it's not about to arrive via the Zimbabwe Electoral Commission (ZEC), one of the villains of the piece. Mnangagwa appoints Priscilla Chigumba to head the government-run body, and Nielsson's camera presents her as a silent Maleficent-like presence, her face surrounded by elaborate coifs as the ZEC presents its version of a "free, fair and credible" vote with a stony-faced brazenness that would challenge any Disney villain. It's also clear that Mnangagwa literally doesn't know what the word "transparent" means.
DoP Henrik Bohn Ipsen really captures the atmosphere of Zimbabwe: the dust and the decay, the motorcades, elaborate villas, feverish expectations and grinding corruption. The country suffered 500 percent annual inflation last year alone, something that – alongside the safety of Chamisa and his supporters – is unlikely to have been enhanced by Covid-19. This is a place where, even during filming by an international crew, office workers at the MDC had their computers seized and were ushered by the military into a transport vehicle, while a fake lawyer pretended to represent them.
There is no protection, but still they fight on. Nielsson's film, and its participants, are remarkable, brave, and a touch foolhardy. They all must know there will be consequences. Hopefully President will get them enough attention and recognition to help mitigate that fact.
Production company: Final Cut For Real
International sales: Cinephil, info@cinephil.com.
Producers: Signe Byrge Sorensen, Joslyn Barnes
Cinematography: Henrik Bohn Ipsen
Editing: Jeppe Bodskov
Music: Jonas Colstrup