Will Sion Sono and Nicolas Cage prove to be the pulpy dream team that genre fans have been anticipating?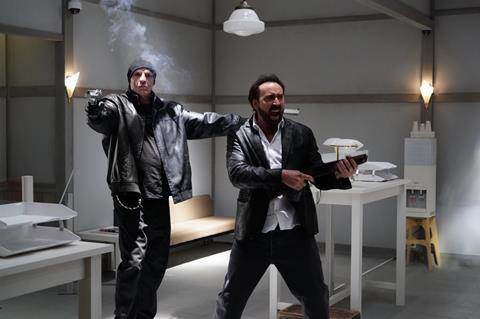 Dir: Sion Sono. US. 2020. 92mins.
A giddy pairing of a gonzo director and an over-the-top actor, Prisoners Of The Ghostland is the English-language debut of prolific Japanese auteur Sion Sono, who finds in star Nicolas Cage a vibrant complement to his genre mashups' feverish intensity. Western tropes, samurai pictures and a Mad Max-esque vision of a barren hinterland all factor into this ragged redemption tale about a criminal sent on a rescue mission, and the film doesn't so much hold together as careen enthusiastically from influence to influence. Cage's claim that Prisoners "might be the wildest movie I've ever made" is debatable, but those hoping his bug-eyed maximalism would be used to good effect won't be disappointed.
At this stage of Nicolas Cage's career, no one should be surprised by his outlandish turn in Prisoners
This Sundance premiere will be distributed in the US by RLJE Films, which previously handled Cage's Mandy and Color Out Of Space. Certainly, he'll be the main draw for this violent post-apocalyptic action-drama, and Sono's cult audience will be also be feverishly anticipating what these two extreme artists have cooked up together.
Cage plays a bank robber who is identified merely as Hero, although he seems anything but as he rots in jail for his latest crime. A powerful warlord named The Governor (Bill Moseley) agrees to free Hero, on one condition: this thief must track down his missing granddaughter Bernice (Sofia Boutella). But Hero has only five days to complete the task — or the detonators in the suit he has been forced to wear will explode.
Shuffling across styles and oddball cultural references — Hamlet and Jim Croce's 'Time In A Bottle' both make cameos — Prisoners is a cheeky picture whose melodramatic grandeur is undercut by the story's knowing preposterousness. Sono often mixes high and low in his films, and that balance of tones suits Cage, whose frenzied focus both honours Hero's sincere desire to turn his life around and dials it up to such a degree that it feels like a put-on. At this stage of Cage's career, no one should be surprised by his outlandish turn in Prisoners — if anything, his demonstratively unsubtle performances have made him beloved — and yet, it remains entertaining to see him go off the rails as Hero bulldozes from one set piece to another.
Toshihiro Isomi's evocative production design gives us a slew of vivid worlds — in particular, The Ghostland, a desolate outpost where Bernice is being held far away from the buzzing city ruled by The Governor. A beautifully decrepit collection of battered scaffolding and bombed-out buildings, The Ghostland was once ground zero for a nuclear attack and features brainwashed prisoners whose bodies have been covered with parts of mannequins, making them look eerily inhuman. Hero rescues Bernice, but he will soon realise they have a tragic past that, as might be expected, is revealed through amusingly overblown flashbacks.
Sono has lost none of his talent for kinetic action or violent shocks. Rest assured the tiny detonators placed all over Hero's suit by The Governor — meant to ensure he never steps out of line — will go off, including the ones placed perilously close to Hero's groin. Prisoners' bloodiness will appeal to the midnight-movie crowd, and it's indisputably a pleasure to watch Cage bellow and wail as parts of him are blown up — leading, at one point, to Hero accidentally having a sword fastened to his arm in place of a pulverised hand.
Aaron Hendry and Reza Sixo Safai's screenplay is largely a road map of familiar antihero-narrative beats as our protagonist goes from being an over-caffeinated crook to Bernice's adrenalised protector. Cage rarely calibrates his performances — they start off big and just get bigger — but Sono offsets his star's exaggerated antics with an ensemble that does some of its own scene-chewing. (Moseley plays The Governor like an evil sheriff from a two-bit western, complete with cowboy hat, even though he resides in an urban environment dominated by Japanese decor and supporting characters in kimonos.)
If there are deeper themes in Prisoners, Sono and Cage seem content to keep that to themselves. It's a shame Boutella doesn't have more to do, relegated to portraying a damsel in distress who proves handy with a blade. But ultimately, she's merely facilitating Sono's adoration for the vitality and excess of pulp. The film is held captive by its myriad influences, but Cage is so high-spirited that you won't mind being its prisoner.
Production companies: Untitled Entertainment, Boos Boos Bang Bang, Eleven Arts, XYZ Films, Patriot Pictures
International sales: XYZ Films, nate@xyzfilms.com and rachael@xyzfilms.com
Producers: Michael Mendelsohn, Reza Sixo Safai, Laura Rister, Ko Mori, Nate Bolotin
Screenplay: Aaron Hendry & Reza Sixo Safai
Production design: Toshihiro Isomi
Editing: Taylor Levy
Cinematography: Sohei Tanikawa
Music: Joseph Trapanese
Main cast: Nicolas Cage, Sofia Boutella, Bill Moseley, Nick Cassavetes